Honeymooning along the Riviera Maya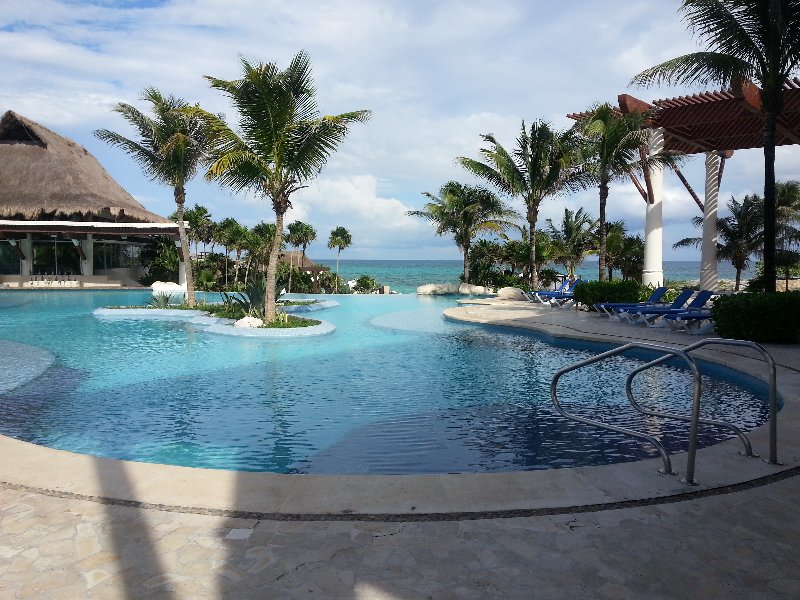 According to the ancient Maya legend of the "magical creation," after the last deluge bulkbal destroyed the world, Hunab-Ku, the god of creation—assisted by 13 other celestial beings—descended into the sea to create the "most perfect place." Today, that special place has been dubbed the Riviera Maya.

Located south of glitzier Cancun, the Riviera Maya has evolved into a unique resort destination with a flavor of its own. Its pristine beauty combined with rites and rituals drawn from the past provide not only a unique vacation experience, but a true balm for the soul.

Since its origins as a sacred spot in the Maya Empire, the area has undergone another magical creation of sorts, morphing from an unknown, sparsely populated paradise along the shimmering Caribbean shores of the Yucatan Peninsula, into an increasingly popular destination for young lovers to honeymoon.

The area offers couples the perfect place in which to combine nuptials and honeymoons in one exotic locale, and it's easy to combine both destinations, if you wish. The sweeping trend, known as a "weddingmoon," promises romantic, upscale and often more affordable packages in breathtaking sites tucked along one of the world's top leisure destinations.

Romance has been in the air along these shimmering shores for eons. History notes that the ancient inhabitants participated in sacred premarital rituals, followed by regal marriage ceremonies and rigorous post-nuptial celebrations.

With a multitude of scenic and memorable sites, it's easy to find a romantic haven along this sun swept coast. Whether you opt for a large resort or select a small, secluded beach setting from which to begin your matrimonial journey, you'll find the perfect spot.

Zoetry Paraiso de la Bonita - recipient of AAA's Five Diamond Award - for instance, offers a honeymoon package which includes oceanfront suite accommodations, daily lover's turndown service, unique in room amenities, a sunset catamaran sail with a champagne toast and a private, champagne massage under the stars.


Ancient Rites and Rituals

As one of the first steps in embarking on the marital path, bridal couples should partake in the energizing temazcal ceremony. Mexico's ancient cultures have long employed this ritual purifying steam bath as a means of healing the body and cleansing the mind and soul.

Unlike steam baths or sweat lodges of indigenous cultures of the north, which were used for ceremonial reasons, the temazcal was used primarily for therapeutic purposes. Nowadays, they are conducted at many area resorts and combine the exotic elements of a Turkish bath, a Finnish sauna and a Native American "sweat hut."

The ritual begins with a short ceremony celebrating Mother Earth's gifts of fire, water, earth and air, setting the pace for this ethereal journey. You eventually end up in a stone igloo, where you go through a series of exercises to purify the mind, body and spirit via special herbs, hot lava stones, steam, natural teas and candles. Herb-infused water is poured over heated volcanic rocks to extract toxins from the body and enhance energy flow from within, as guests form a circle inside a stone structure. When the ceremony is finished, the ritual calls for participants to refresh themselves in the sea.

Shopping and Other Adventures

Be sure to visit Playa del Carmen and spend a few hours browsing Quinta Avenida (Fifth Ave.), the lengthy pedestrian-only path where a slew of bistros, restaurants and cafés vie with boutiques overflowing with designer duds, upscale jewelry, Maya carvings, shiny silver and colorful Mexican handicrafts for your attention.

For a thrilling half-day outing, book a tour with "allTournative" off track adventures. Their van will pick you up at your hotel and will take you to Chikin Ha, where you begin with a bike tour along jungle paths to view plantations worked by modern-day Maya. From there you experience an ancient "purification" ceremony in a mystical cenote (believed to be the gateway to the Underworld by the ancients).

For another typical adventure, head for Xcaret, where Mexican culture, history and ecological diversity for which the area is known are highlighted in one entertaining package. You'll find a vast slate of eco-adventures such as snorkeling in cenotes, swimming with dolphins, horseback riding, scuba diving, bird watching and basic beach pleasures.

Later, head back to your private paradise for a moonlit stroll on the soft powdery beach, leaving your own footprints on the shores of this ancient kingdom. If you listen carefully, you may just hear the echo of the ancient Maya rippling softly to you through the turquoise waves…bidding you, "maalo," goodbye.




Related Articles
Editor's Picks Articles
Top Ten Articles
Previous Features
Site Map





Content copyright © 2022 by Michelle da Silva Richmond. All rights reserved.
This content was written by Michelle da Silva Richmond. If you wish to use this content in any manner, you need written permission. Contact Michelle da Silva Richmond for details.