CD review - Made Out of Babies - The Ruiner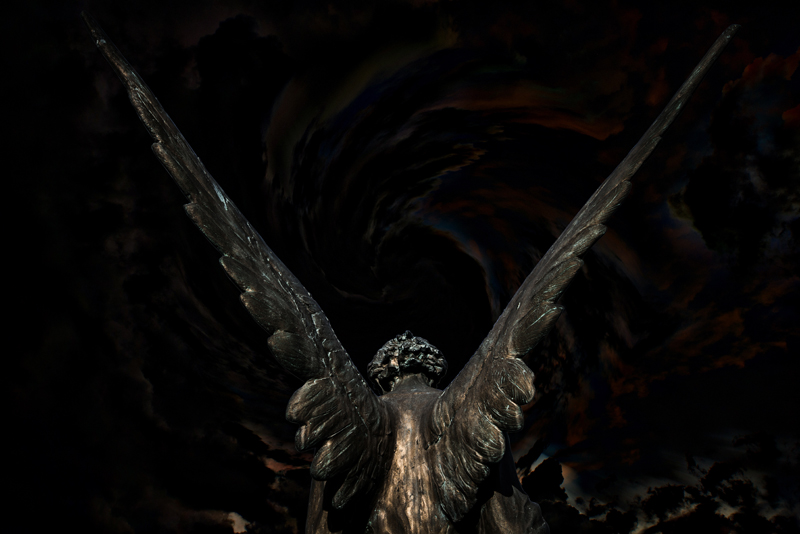 ALERT FROM THE NATIONAL WEATHER SERVICE
I received this news bulletin today and in the interest of public safety, am passing it on to this audience.
"Attention residents of all states, an extremely unstable weather system has emerged and is threatening to become the mother of all storms. Although it started out as a regional disturbance, favorable climate conditions have accelerated it into a more dire menace. Expanding quickly, it has the potential to blanket the continent. Although it retains the standard cone shape, electrostatic power also emanates from it, creating a multi-layered threat. Please turn off all CD players and head for the basements. Breaking with tradition for previous cyclonic activity, we have named this storm Made Out of Babies."
Truth or fiction? We'll have to wait and see. What can be confirmed is that with their latest release Made Out of Babies is like the hurricane which jumps from area to area leaving pockets of un-interrupted everyday life in between their path of devastation. Or like a pair of giant hands have squeezed or molded that cyclone into a tapered, lethal, more precise agent of annihilation. Alternating between cold, calculated dissection and wanton demolition, choosing victims here and there, the band has added some new weapons to their arsenal.
The Ruiner
retains the elements of the two previous Made Out of Babies records, however by subtly crafting their songs with a tinge more melody, the band has become a force to be reckoned with. Not to say that they have grown out of their bludgeoning mode. There's still destruction. Oh god, is there destruction!
The sonic wallop created by guitarist Brendan Tobin, bassist Eric Cooper and drummer Matthew Egan is like oil painting with a chainsaw. Pulverizing, yet still commanding some atmospheric space akin to the biggest guy in a throw-down pit, the essence of Made Out of Babies remains one of aggressive renderings.
And speaking of renderings, somebody has to redo the periodic table of elements. Sure Titanium and Radium are pretty impressive but none compare to the voice of vocalist Julie Christmas. When she opens her mouth, every single note becomes a living, breathing force of nature. Some form icy droplets while others knife out like a puffer fish.
The Ruiner
kicks things off with "Cooker", a little ditty about…..actually, as usual I cannot ascertain what Julie is writing about with her wonderfully obscure lyrics. Perhaps I'm not supposed to. Or I'm just thick. At any rate, "Cooker" does just that --- cooking, frying, generally flambéing everything in sight. The new subtleties come to the fore with a more broad melodic section that showcases the startling nuances of Julie's voice. This is an electrifying song in many ways.
After briefly being lulled into a sense of safety, "Grimace" is like a punch in the mouth. Then another. Possibly the biggest surprise on the record is "Invisible Ink" (which is just exceptional) featuring a chorus most definitely un-Made Out of Babies. It's an olive branch to the people who found the band too unconventional in the past yet they've hardly yielded to more traditional elements. Let's face it. Even an un-Made Out of Babies chorus is still a Made Out of Babies chorus. Rihanna fans look elsewhere.
One of my favorite tracks is "The Major" with its almost spoken word verses, a distinct inversion of the usual brand of frivolities. The chorus has some of Julie's most memorable vocals. "Buffalo" is like the menacing drifter on the highway. Don't pick him up if you value your life. On the surface the demeanor is calm but don't be fooled. Danger lurks around the corner.
The amusingly-monikered "Bunny Boots" is all beautiful savagery, brilliantly conceived and expertly delivered. Likewise "Stranger" before turning back to the bludgeoning with "Peew". Bookending the record on a high note, "How to Get Bigger" is awe-inspiring as it goes from break-neck speed to the more subdued moments where you physically draw closer to the speakers (except in the case of headphones where your ears draw closer).
Upon completion of the first spin of this CD, it's apparent that Made Out of Babies have made tremendous steps forward in their evolution. After the 50th, you're still in awe. To gauge the upside of this band, you'd need a surveyor's transit.
The Ruiner
hardly lives up to its name. It should be called The Lottery instead (as in winning). Absolutely brilliant!!!!
You Should Also Read:
Made Out of Babies website
Made Out of Babies MySpace


Related Articles
Editor's Picks Articles
Top Ten Articles
Previous Features
Site Map





Content copyright © 2019 by Morley Seaver. All rights reserved.
This content was written by Morley Seaver. If you wish to use this content in any manner, you need written permission. Contact Morley Seaver for details.