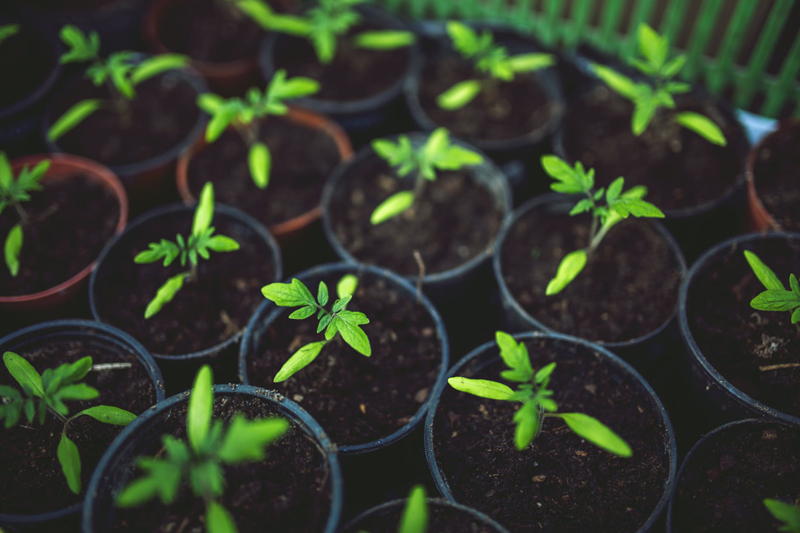 Tomatoes are hardy and vigorous plants. In the first month of their lives, the sugars they produce go toward the production of making new leaves. This can mean that your tomato plants can double their size in a week. As it produces more sugar, the plant begins to have too much. This is when it begins to grow new branches and set on flowers. Depending on the variety, this usually happens when the plant reaches 12 to 18 inches tall. For this reason, many people stake their tomato plants. If they didn't, their plants will almost completely cover an area of four by four feet. By the end of the season,your plant will be so thick that you can't possible get in to pick the fruit without stepping all over your plant. Letting your tomato plant grow like this makes it more susceptible to disease and the tomatoes can rot if left on the ground.

The leaves of the tomato plant need sun to be healthy. If the leaves are cramped or on the ground, they will not receive the necessary amount of sunlight needed to grow. Instead of making sugar to grow, the opposite happens and they use the sugar instead. Staking your tomato plants and pruning them will ensure that more sugar will be used in the production of fruit. Most people think that the more stems your tomato has, the more fruit it will produce. This is true in part, but your tomatoes will be much smaller, and will produce later in the season.

When to Prune and How to Stake

The best time to prune or stake your tomatoes is while the leaves are dry. This will be better for the plant because there will be less risk of disease setting in. Staking the tomato plants while the leaves are dry
will keep you cleaner and less itchy as well. I have discovered that it is not fun to go into the tomato patch while the leaves are wet, because that is when my skin gets irritated and itchy. For determinate plants, all you really need to do is remove the suckers that form below the first flower cluster.

Indeterminate Tomato Plants

For indeterminate plants, most gardeners recommend that you have only four stems. Yes, this will mean less fruit, but they will be bigger. They also take up less space if that is a problem in your garden. My mom used to grow indeterminate tomatoes. She would put wire cages around them to keep them off the ground. She watched her tomato plants and removed all suckers when they formed. A sucker is a stem growing between two stems. Before she found the metal cages, she used to stake them. She would loosely tie the main stem of her tomato plants to a lathe. She would have one end coming to a point so it went into the ground with ease. Using strips of cloth, she would take the top of the tomato plant, or the leading stem and tie it to the stake making sure that the stem is not flush tight against the stake. This is just to make sure that it grows upright. The problem I find with staking is that you always have to keep tightening the ties and making support stakes for the ever-increasing fruit.

Cage Supports

My mother did not use the already-made metal cages you find for sale in stores. She had two halves of a sturdy steel cage that she put around her tomatoes. This kept them off the ground and allowed adequate ventilation. There was no staking the cages to make sure they didn't collapse under the plant's weight. These were made of heavy metal and it takes some strong muscles to bend the end wire. My neighbors use wire cages that they shape themselves. They use wire that has wide spaces between the wires so they can reach in and pick the tomato easily. This is a light wire and they need to put two stakes in to stabilize it so the weight of the tomato plants don't crush it to the ground.

Final Pruning

Guessing about 30 days before the first frost, you should top your plants. This will put more energy into the fruit that is already set on. This is when pruning is really hard to do. That means that your tomato season is close to an end.



Related Articles
Editor's Picks Articles
Top Ten Articles
Previous Features
Site Map





Content copyright © 2021 by Gail Delaney. All rights reserved.
This content was written by Gail Delaney. If you wish to use this content in any manner, you need written permission. Contact Gail Delaney for details.