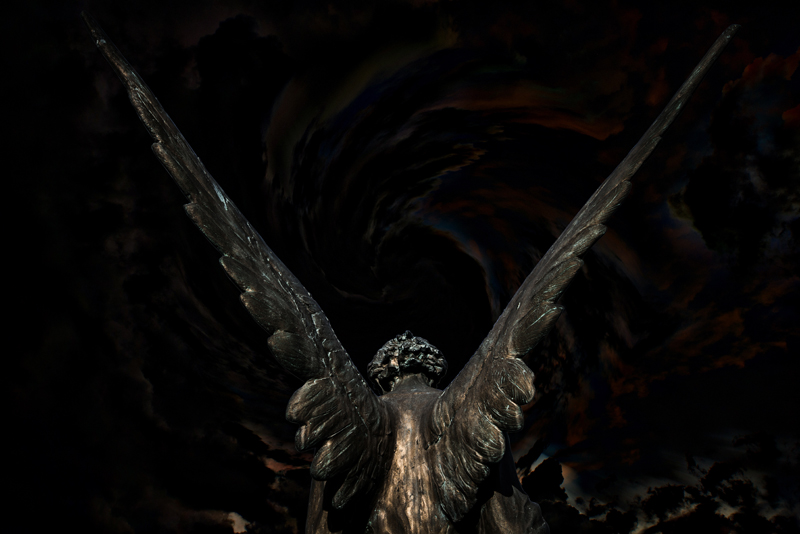 Like some of their British counterparts Deep Purple and Uriah Heep, UFO is a band that refuses to be content to go the classic rock route and rely on merely being a touring act. Instead, they continue to crank out great new material and their latest CD The Visitor is certainly a testament to that.

UFO has been one of my favorite bands since I first came across the record No Heavy Petting in 1976. Intrigued by the record cover, I made the purchase, which is something interestingly enough that I found out in this interview, was quite common. Absolutely flipping for this band, I went back and purchased the other two post-Mick Bolton releases, entranced by the band's ability to combine both hard rock and ear-catching melodies. Of course there were two other main components to the attraction of this band; the absolutely tasty vocals of Phil Mogg and the brilliant guitar work from Michael Schenker.

I truly believe that Mogg should be placed up there with names like Halford, Dickinson and Dio when talking about the upper echelon of hard rock vocalists. True, he doesn't display the vocal gymnastics of some of these fellows but is there a warmer, more satisfying voice than the one that sings "Love to Love" or "Doctor, Doctor"?

The band has been galvanized in recent years by the addition of speedster Vinnie Moore. Eschewing the hummingbird finger work-outs that he uses on his solo records, Moore perfectly complements the band with his melodic bent and although I hate to say it, makes you forget about Mr. Schenker.

It was a real thrill and a pleasure to speak with drummer Andy Parker from the band a few weeks ago. This is Andy's third go-around with the band and it just feels "right" to have him back. The Visitor is the second record Andy has made with the band since rejoining and I spoke with him to find out all about it.

Morley: The Visitor sounds so unbelievably fresh. While a lot of other bands that have been around awhile are content to simply play greatest hits, UFO is not only surviving but thriving. Aside from being obviously more than competent musicians, to what do you owe this sense of vitality?

Andy: That's a really good question. This is my third go-round with the guys and I feel so privileged to be doing this because it wasn't something that I'd actually thought I would do again. After my stint in 1994 when I did Walk on Water, I chose not to tour with them at that time. It was just my personal choice because I didn't feel that the band was as stable as I would have liked it. I think that's probably the best word. And Michael did a great job on the Walk on Water album and there was no problem with me at all. I enjoyed doing it. However, I could foresee problems coming with the live shows which unfortunately I was proven right on that one. So, in my mind I thought that was kind of it, and then I got this phone call in 2005 from Mr. Raymond asking if I would be interested. And it just happened I was in a position to take him up on it and got back with the guys because Vinnie was playing guitar with them. And it was a very different feel. Vinnie is such a great player and such a stand-up guy, and doesn't have maybe the same problems Michael has when it comes to playing live. And that to me is very important. At this stage in my life, I just didn't want to be in a position that I felt that people weren't getting everything they deserved. Michael, I love the guy, and certainly he's a fantastic player and a great guy, but he does have a lot of problems when it comes down to playing live shows. And I just wasn't really interested in that, you know. And then I heard that Vinnie was in the band, and I gave it a try. And it was just such a pleasure for me to sit on the stage with Pete, Phil and Paul and get to spend so much time with this great guitar player. When we all sat down, I knew we'd at least get to finish the set, you know (laughs).

So I guess to answer your question, we don't take ourselves too seriously. We take the music seriously, obviously. But we're out to have fun and for everyone else to have fun. And that's where the energy comes from. And if you love something you do, you just don't get tired of it, do you? Playing with this band is such a huge part of my life. The energy just comes from the pure joy of doing this. I mean, it is grueling, traveling and doing shows but God, what a nice way to get tired.

Morley: You were touring right up until August of last year. Was the band writing for the past while or did you just go into the studio to see what would come out?

Andy: We knew when we came off the road that it was time to write another album. I mean, again, a lot of other bands were being cut from labels and we had this opportunity here and felt privileged that we had a label behind us and they've done a great job with this record so far. So when the time came for another record, everybody just took a couple of weeks and dug into their respective bucket of tricks and came up with what we thought was viable material. And then with technology today (which can sometimes be a blessing and a curse), we were able to email the pieces back and forth to each other. It saves an awful lot of expense and time. So we kind of short-listed about 30 ideas initially that we took to Germany. That's where our manager is based out of so that tends to be our meeting place a lot of the time.

Phil is really interesting. He always has a lot of ideas but most of the time, you don't know what you're going to get out of Phil until right at the very end. I mean, we heard part of the material in rehearsal. But what seems to work for him is, he likes to hear the song structure and he has different ideas and then he figures out which idea works well with what song. He'll come in and sing a couple of lines and then go off to a corner again with his pen and paper and scratch things down. So it's kind of interesting for us because you'll get a flavor of what's coming but not the whole song.

So we took everything to Germany in February of this year and spent 4 or 5 days going over things. And while they were working on some things, I was starting on the drum tracks. So it tends to move a lot quicker than we were used to in the old days. Vinnie likes to work in his own studio in Delaware so once I had the basic tracks down, then we'd ship them to him and he could spend a lot more time with them and that didn't interfere with his personal time as much either.

Morley: What is the band's usual (for this lineup anyway) method for putting together a record? Do you finish one track and move on or do you work at parts of them simultaneously?

Andy: Pretty much we decide first, OK, here's the ones that we're going to go for because by that time, we have a pretty fair idea of the value of the song. I mean, for me to go and cut the drum tracks, I kind of need to know what's going where. By that time, we have figured out how many verses there's going to be, what about the chorus, middle 8, intro, outro, all that. And then I start my tracks. But that doesn't mean that's the way it's all going to come out because once Phil starts working with his stuff, sometimes things work out the way you planned and sometimes they don't. But nowadays editing with digital equipment is a lot easier than it used to be when you used to have chop the tape out and stick it back in somewhere else. It wasn't quite so easy to manipulate things.

What you hear on this record is pretty well the way we put them down. That's nice since sometimes you think, well if that's where I knew he was going with that I might have tended to play it a little bit different. But to be totally honest with you Morley, I don't think that there's a band in the world who doesn't think that about an album. And I don't know many musicians who are always 100% satisfied with what they end up with. But that's all part of the creative process, isn't it? Sometimes you want to try something a little bit different.

But because we've been together for so long, I think that adds to the reason that we don't have to spend that much in the studio putting things down. And of course, it's getting to be that way with Vinnie. And he brings a different feel to the band than Michael does. But they're both fantastic guitarists and both fantastic guys. It's just that it works better for me with Vinnie who is a very calm, stable kind of guy which is what I'm looking for these days. You can only disappoint people so many times before they give up on you. We have a bit of damage repair to do from previous things but so far we've been getting really good reviews live. Last year's tour went really well and I think this one is going to go even better.

For the rest of this interview, look for the link below:


You Should Also Read:
The rest of this interview
UFO website


Related Articles
Editor's Picks Articles
Top Ten Articles
Previous Features
Site Map





Content copyright © 2022 by Morley Seaver. All rights reserved.
This content was written by Morley Seaver. If you wish to use this content in any manner, you need written permission. Contact Morley Seaver for details.