How to make beaded daisy chains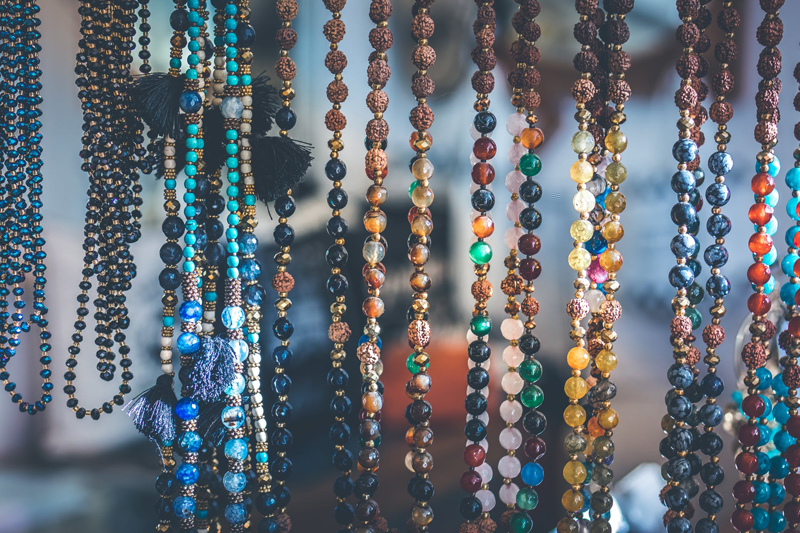 When I was about 12 or 13, a cute guy I spent an afternoon talking to gave me a simple daisy chain necklace he told me an "old hippie" had given him. Being in those tween years, of course I was thrilled. As it worked out, we wound up being just friends, but I still have that necklace.
When my mom saw it, being an old hippie herself, she spent that weekend teaching me how to make daisy chains. It was the first beading I ever did.
Her method was a lot more work than this one is and required going around in circles.
Because this chain isn't very thready or reinforced, I recommend using a strong thread. I used to use doubled Silamide for daisy chains, but now I use SoNo. A lot of people like Power Pro and similar threads.
For the flowered version above, you'll need:
Size 11 seed beads in green, yellow and purple.
I like using up leftover beads in my watercolor dishes for the flowers and green and yellow to tie it all together.
Needles which suit the thread type you are using. I use size 12 short needles for almost everything.
In my instructions, where I refer to purple beads, that means the bead color you are using for the flowers. Yellow is whatever color you are using for the flower centers.
Thread on a stop bead by going through a bead, wrapping the thread around the bead then back up through the bead.
Add 3 purple beads and one yellow, go back through the first purple bead in the opposite direction (going through the top of the bead to the bottom), add 2 more purple beads and go up through the bottom of the purple bead before the flower center.
To make the green parts, add 1 green, 1 purple, 1 green, then pass the needle and thread down through the last purple bead added in the last pass. Add 1 green, 1 purple, and go up through the purple bead that's before the green bead in the middle.
Continue in pattern to make a chain. The last 2 beads of the previous pass are the first 2 of the next flower/section.
When you have the chain as long as you want, remove the stop bead and add clasps.
Don't feel like you have to do daisies using this technique. The other name for this style chain is chevron and it works well for making simple chevrons, stripes, or just simple dot designs.
Here is a blank graph to design your own chain.
The other chain on the bracelet example is an
open daisy chain
.
I can't say enough good about Horace Goodhue's book. If you don't have it in your collection, you should. It's one of the books that a lot of older beaders learned a lot of chains from, Horace spent a big part of his life dedicated to learning these techniques and sharing them. Another newer classic author is Carol Wilcox Wells, and I think you'd enjoy her book a lot too.
You Should Also Read:
Sparkly Chevron Bracelet
Potawatomi Weave
Open Daisy Chains


Related Articles
Editor's Picks Articles
Top Ten Articles
Previous Features
Site Map



Follow @shala%5Fbeads
Tweet





Content copyright © 2023 by Shala Kerrigan. All rights reserved.
This content was written by Shala Kerrigan. If you wish to use this content in any manner, you need written permission. Contact Shala Kerrigan for details.