Micro Pig - TeaCup Pig - Mini Pig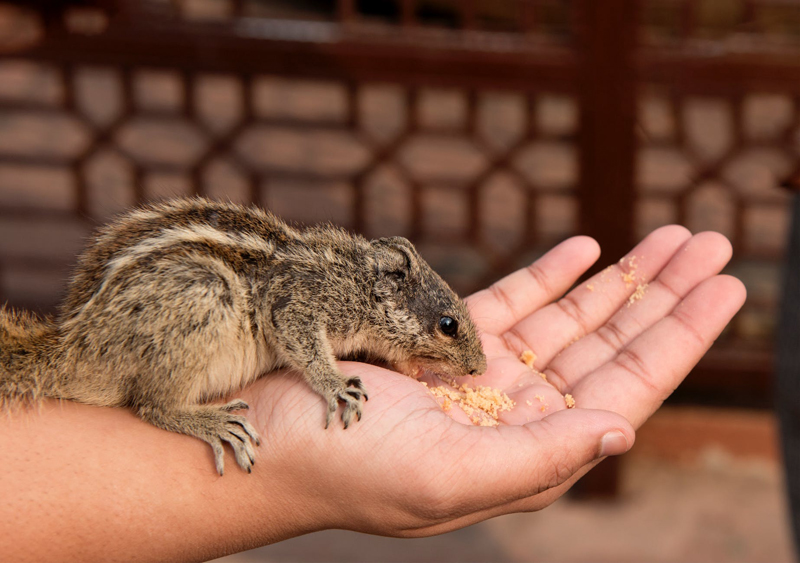 Other than my Exotic Pets home page here at BellaOnline, the Miniature Pot-Bellied Pig is the article that always has had the greatest number of viewers. This makes me wonder, if there isn't an immense demand for small pigs; like a teacup pig, mini pig, or micro mini pig. Granted the Miniature Pot-Bellied Pig at 150 pounds is much smaller than a farm pig averaging around 1000 pounds; that's a half of a ton. However, though many people do it, I can't quite see a 150 pound pig running around my house.
Although, I could fathom tea cup pigs, that weighs all of nine ounces at birth, that grows up to be about 14 inches and 65 pounds; as my companion.
Thank about this, an American Labrador weighs from 60 to 75 pounds. Keep in mind that the pig is shorter and denser than a Labrador. The Labrador is 21 to 24 inches tall, the micro pig about 14 inches, about up to your knees.
The teacup pig is the hottest new pet craze in the United Kingdom. I have only seen a few references in the United States of micro-pigs for sale. These references were primarily in classified advertisements.
The micro-pig, also referenced as a tea cup pig were formally introduce in the United States on the Today Show by the featured breeder Jane Croft who said the micro pig was highly intelligent, clean, and "love to be loved."
According to Croft, the micro pig was produced over time by cross breeding three distinctly different pigs.
The Tamworth, a pig that is ginger to red in color, and is in a medium weight range, sows weighing about 450 pounds and boars around 800 pounds. The Tamworth originated from a wild board and European pig.
The second pig was the Kune Kunes. The word Kune means fat and round and was originally from New Zealand. The Kune Kunes has a wide variation of colors from tortoiseshell to black. The Kune Kunes doesn't usually weight much over 260 pounds.
The third pig would be the Gloucester Old Spots originally from Gloucestershire, England. Interestingly, they have a calm nature. The name of course, suggests spots and spots it has.
The cross between these three breeds brought an amalgam of colors and diverse patterns. In my opinion, the hybridizing of these three pigs doesn't explain the small size. Except, if the smallest was kept and bred with another of the smallest, keep this going over a period of time until you have a teacup pig or a micro pig.
The pet micro-pig or the pet tea cup pig costs in the United Kingdom an equivalent of $1100 US dollars.
As with any pet pig, the micro pig, is highly social, intelligent, and can be very loving. On the other hand, because of these characteristics the micro pig could become very destructive if it becomes bored, left alone longer than it cares to be left alone, or not challenged with enough stimuli. They do enjoy playing.
Caution must be advised, because pigs have a social structure of different grades. The pig in the highest rank may feel threatened by another pig, or socially significant human, if it feels that the other pig or human is taking its position in the rank he feels he is in. Or, if the pig feels like he is in a lower rank and wants to struggle for the prominent rank.
It is a very wise idea to have the micro pig neutered or spayed. Adding hormones to the mix could become a dangerous situation. It can take a week or two, but normally the micro pig will have little problem bonding with your dog or cat. It is always a good idea to supervise the introduction and get acquainted period. No animal is safe with a small child and visa versa. Always, supervise when small children and pets are together.
The micro pigs are the happiest when they live with their humans in their homes and also have a good sized outdoor area in which to play and run around. They need fresh air and exercise as much as we do.
It is suggested that the micro pig is fairly easy to toilet train. With their intelligence I imagine it should be easy. Make sure all items in your home have been picked up, put up, and out of reach from the pet pig. Make sure none of your plants, either inside or outside, are not poisonous or toxic. They can and will open cupboards, make sure all dangerous items, poisons, and toxins are out of reach.
Remember the teacup pig or micro-pig is still a pig and they naturally like to root. They will root up your yard and garden.
As with any exotic pet learn as much as you can before purchasing your pet pig. In addition, know before purchasing your pig if there is a veterinarian that can care for your pet pig. Have his food and supplies ready before bringing home your exotic pet pig.
The micro pig can be fed the same diet as a Miniature Pot-Bellied Pig. See my Miniature Pot-Bellied Pig article for feeding information. Pet pigs need a constant supply of fresh water. These little pigs should be fed twice a day. Do not over feed and make sure he gets plenty of exercise.
The micro pig will require vaccinations and regular checkups for parasites and other problems. Pigs can suffer from dry skin. Use a safe skin oil to help with the dry skin. Make sure shade is always available. Pigs can and do sunburn. Pigs do not perspire. Keep your pig cool should the weather become hot. Special attention should be paid to their feet.
It has been suggested that the micro pig or Miniature Pot-Bellied Pig may be good pets for people with animal allergies because they have hair instead of fur. If you are allergic make sure to spend time with a pig before you purchase a pig.
Miniature pot belly pig for sale can be found under subjects then breeders and sellers. Teacup breeders, micro pig breeders, micro mini pig breeders, are all basicly the same pig and can be found under Subjects and then breeders.
Update
Tea cup pigs for sale again, under subjects and breeders.
The micro mini pig, micro pig or teacup pig is beginning to be bred in the United States, as well, as several European Countries. Update there are quite a few teacup pigs for sale, and micro mini pigs for sale now in the US. Stay tuned for more information. Above all else love and enjoy your pet pig.
NEW! Article Update
Miniature Pot-Bellied Pig
(My Miniature Pig article)
Tiny mini pig picture
Link to mini pig picture being raised by large dog
I found this and had to put it somewhere, it is just too cute.
NEW Update! Where to find breeders, how much do teacup pigs weigh? What do tea cup pigs eat? Who has teacup pigs for sale? Are they truly mini pigs?
Pot-Bellied Pet Pigs: Mini-Pig Care And Training
Pot Bellies and Other Miniature Pigs (Complete Pet Owner's Manual)


Subscribe free to the exotic pets newsletter. It is quick and easy Just glance to the right or scroll a bit to the bottom and subscribe. I will only bug you once a week :) Be the first to be in the know! Your information is always private!

I am also the Bird editor if you enjoy pet birds subscribe to the Birds newsletter. Birds BellaOnline




Diana Geiger Exotic Pets Editoron
This site needs an editor - click to learn more!

You Should Also Read:
Exotic Pet Site Map
Ferrets - A Complete Guide Paperback and Kindle
Exotic Pet Shopping




Related Articles
Editor's Picks Articles
Top Ten Articles
Previous Features
Site Map





Content copyright © 2022 by Diana Geiger. All rights reserved.
This content was written by Diana Geiger. If you wish to use this content in any manner, you need written permission. Contact BellaOnline Administration for details.