CD Review - Cradle of Filth - Nymphetamine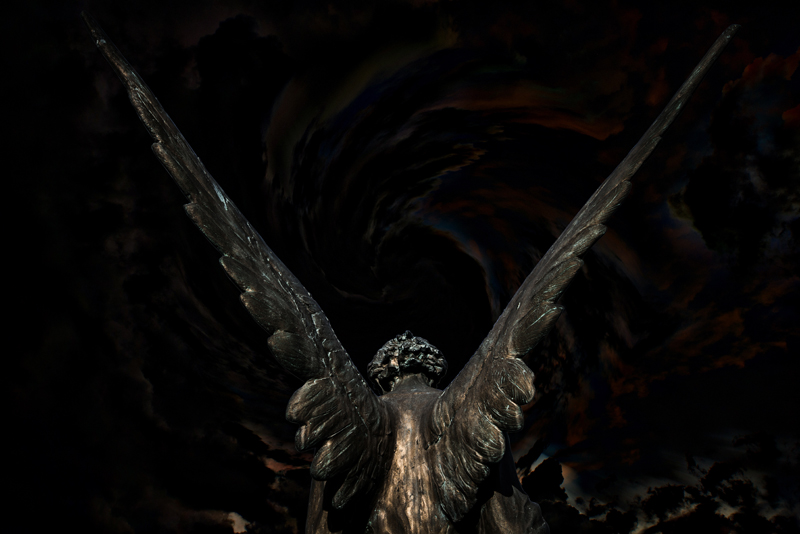 On this, their latest full-length record, British extreme metal band, Cradle of Filth, are like athletes that have reached their prime form. Previous outings have been mostly good with the odd bit of filler here and there (except for 2000's "Midian" which was sterling). "Nymphetamine" boasts 14 tracks that are all way above average. They've also injected a bit more melody by simplifying the ideas slightly and adding a couple of twists. This is the extended version of the original which was launched in September.

One disk one, the choir-of-the-dead beckons listeners closer in the record's intro, "Satyrasis". "Gilded C***" leaps from the speakers like Charles Manson released from jail. Following hot on the heels is "Nemesis", a lumbering behemoth of a piece. Think Godzilla in a pair of Converse. A double bass intro and Maiden-like twin guitar power set the base over which flows the howl and growl vocals of Dani Filth.

One of the many highlights of the record is next, "Gabrielle". A keyboard-fueled intro belies the fury that follows. Dani Filth hits new heights with his piercing screams. Equally impressive is the followup, "Absinthe with Faust". Another Martin Powell (keyboards) intro precedes a driving masterpiece that has swagger emanating from it.

The jewel of the set is the title track, "Nymphetamine (Overdose)". The nine minute tour-de-force begins with a furious pace and howling-wind vocals. In the middle, the song changes gears and features guest vocals from Leaves' Eyes singer Liv Kristine. Kristine and Dani trade verses before hitting an awesome chorus. It's like a song within a song. It then shifts back to the riffing from the beginning of the song. This is easily the best song Cradle has ever done.

The instrumental "Painting Flowers White Never Suited My Palette" cools things off before the jack-hammer drilling of "Medusa and Hemlock". A punk-crossed, Maiden-ish "Coffin Fodder" speeds along like a runaway race car. The stately "English Fire" is both refined and raw with its keyboards and "Dead Man Squawking" vocals.

"Filthy Little Secret" is a gleeful slash and maim exercise that rolls along at a wicked pace. The very Cradle-ish, "Swansong for a Raven" is next, featuring Doug Bradley (of Pinhead fame). The only average cut is the final track, "Mother of Abominations", which is raw and abrasive. It's actually not a bad cut but pales in comparison to the others.
The record finishes with a bonus track, "Nymphetamine (Fix)", which is the middle part of the title track.

On disk two, Cradle covers Cliff Richard??? Yup. Here's a version of the mid '70s hit "Devil Woman" with King Diamond contributing his other-worldly vocals to the chorus. I thought this was dumb at first, but now I can't stop playing it. Two new tracks, "Soft White Throat" and "Prey" are above average. There are two other covers, Bathory's "Bestial Lust" and Ozzy's "Mr. Crowley". An alternate version of "Nymphetamine" is included, this time with Cradle backing vocalist Sarah Jezebel Deva in place of Liv Kristine. It's strange to hear this version after the original and Sarah sings the verses differently. If I had to pick between the two, I'd opt for the original but this is great nonetheless. There is also the outstanding video for this track at the end of the disk.

This is an exceptional record that shows Cradle have clearly raised their game. The production is way better here than on any previous release, thanks to Rob Cagianno (of Anthrax). The band, bassist Dave Pybus, guitarists Paul Allender and James McIlroy, keyboardist Martin Powell, drummer Adrian Erlandsson, vocalist Dani Filth, and backup vocalist, Sarah Jezebel Deva have never sounded better. And the songs are all top-notch.
Lyrically, Dani Filth has reached deep into his bag of goth/mythological prose to pen some sparkling lyrics.

In a perfect world, they would be hitting America in a big way as opening acts to somebody like Slayer (as Dave Pybus suggests). Meanwhile, one of the most visually exciting live acts today has finally captured a set on record that matches their ambitions. Look out 2005. If there's any justice in the world, this should be the year of Cradle of Filth.

You Should Also Read:
Official website


Related Articles
Editor's Picks Articles
Top Ten Articles
Previous Features
Site Map





Content copyright © 2019 by Morley Seaver. All rights reserved.
This content was written by Morley Seaver. If you wish to use this content in any manner, you need written permission. Contact Morley Seaver for details.