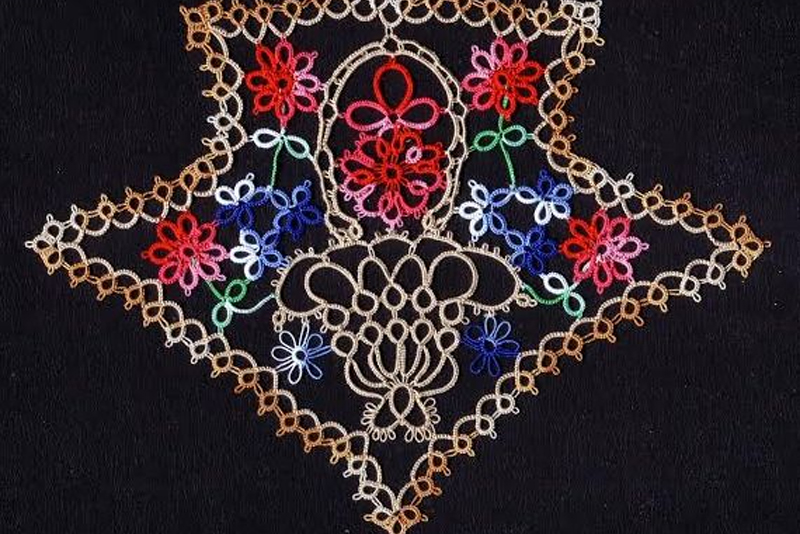 Antique Collar
This antique collar has survived many decades and the tatting is as firm as ever. It is amazing that something which looks so delicate can be so sturdy. It was done in ecru and attached to a piece of cloth that looks to my inexpert eyes like a piece cut on the bias. Note the rust stain where someone has pinned it to a background paper. This should remind all of us to use rust proof pins in our lacemaking.


The pattern consists of two rows of one shuttle work followed by several rows of ring and chain repeat. It is very important in a piece such as this that the picots be regular in size. The finishing row of picots in particular should be done using the picot gauge. A picot gauge is the perfect tool for the job. It is a measuring device used while tatting to insure picots of an exact size, graduated in size as an additional design element, or of a certain length for the purposes of construction, i.e., joining. The picot gauge is held in either of two ways; vertically, at a right angle to the line of progession, or horizontally, parallel to the line of progression while the tatting is accomplished.


Diagram for collar
Directions.
The first two rows are all one shuttle work. It is a line of opposing rings each joined at the side picots. Rows 3, 4 , 5 and 6 are an alternating ring and chain repeat using two shuttles or shuttle and ball. Adjust the width of the collar by adding more rows. And feel free to express yourself by using color instead of the traditional white, ecru or black.
Row 1/2
1. R 3 - 3 - 3 - clr rw leave 3/8" bare thread space.
2. R 3 - 3 - 3 - clr rw leave 3/8" bare thread space.
3. R 3 + (join to ring 1)3 - 3 - clr rw leave 3/8" bare thread space.
4. R 3 + (join to ring 4)3 - 3 - clr rw leave 3/8" bare thread space.
Repeat for length desired. Repeat for Row 2 joining the new rings to the center picot of the rings on row 1.
Row 3
R 4 - 4 + (join to picot of ring on row 2) 4 - 4 clr rw
*CH 2 - 2 - 2 - 2 - 2 - 2 rw
R 4 + (join to last picot of previous ring) 4 + (join to picot of ring on row 2) 4 - 4 clr rw
Repeat from * for length needed. Repeat for Rows 4 - 6, joining rings to the middle picot of the chains of the previous row.
You Should Also Read:
How to use a picot gauge
Traditional One Shuttle Work


Related Articles
Editor's Picks Articles
Top Ten Articles
Previous Features
Site Map





Content copyright © 2023 by Georgia Seitz. All rights reserved.
This content was written by Georgia Seitz. If you wish to use this content in any manner, you need written permission. Contact Georgia Seitz for details.