Guest Author - Lisa Linnell-Olsen
The Lifted Increase is made by lifting the head of a stitch from the previous row on your current row. This is often the most invisible increase you can use in stockinette (knit each row right side.) Depending on which side of the current stitch you place your lifted increase, determines the slant of the increase.
You will also want to make sure you get your increase placed in the right spot.
For a right slanted increase, you want to make the increase first, and then knit the stitch. In the example, I wanted to place the new stitch after the first three row stitches. So I knit the first three stitches, and lifted the increase from the fourth stitch, then knitted the fourth stitch.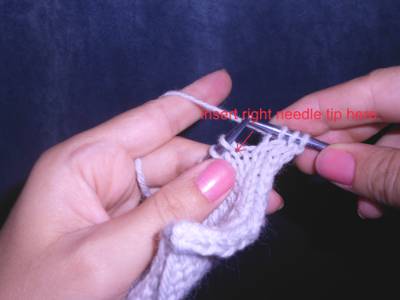 Step 1
Insert the right needle tip into the stitch below where you would normally knit. You do not want to go directly into the very top of the stitch head, but rather off to the side so that you will not be pulling the top stitch along with the increase stitch.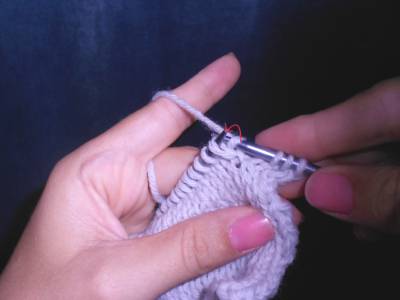 Step 2
Now move the lifted stitch onto the left needle
Step 3
Move the new increase stitch onto the right needle.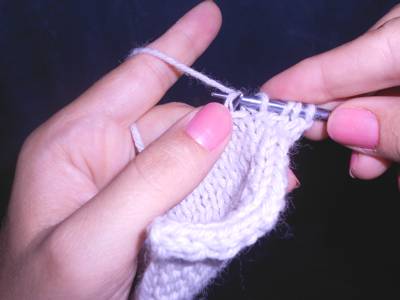 Step 4
Now knit the original stitch. You have made your right slanted lifted increase!
For the left slanted increase, you knit the stitch, and then lift the stitch for the increase. Since I want three selvedge edge stitches before the increase, In the fourth stitch from the end I knit the stitch and then lift the increase.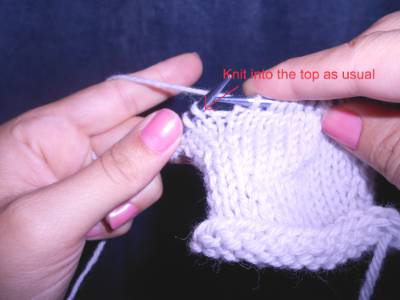 Step 1
Knit into the top of the stitch as you normally would.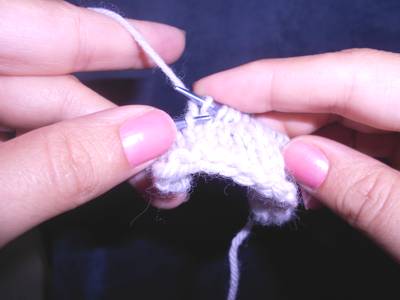 Step 2
Insert the left needle tip into the stitch below of what you just knitted into. Place this on the to left needle tip.
Step 3
Knit into the lifted stitch.
Step 4
You now have a left slanted lifted increase!