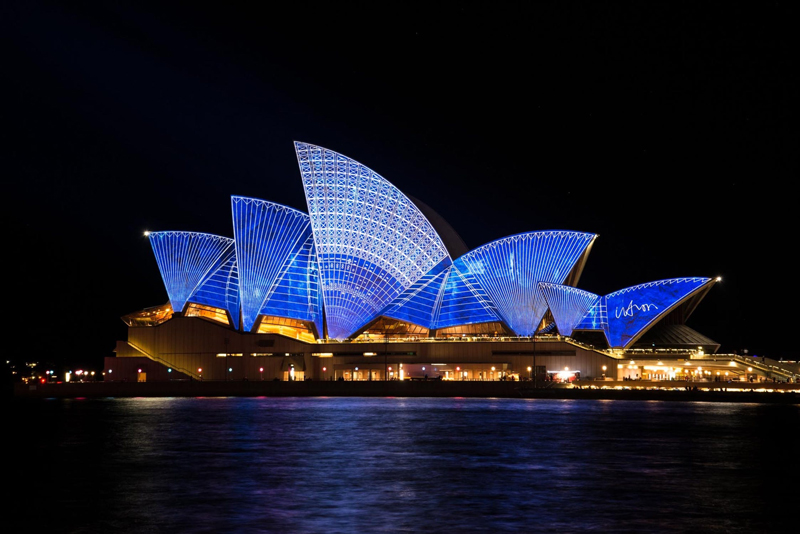 New South Wales

New South Wales really offers a lot for visitors, and all of it within a short distance of the urban sophistication of Sydney. Beautiful beaches lie to the north and south - all easily reached by public transportation - with the beauty of the Blue Mountains just to the immediate west. The award-winning Hunter valley wine region, the rugged outback, alpine skiing, wildlife, surfing, and so much more are within easy distance.

Sydney

Sydney, the capital of New South Wales, was the first colony in Australia, and is now one one of the top international cities in the world. The 2000 Olympics were held here, and truly placed Sydney firmly on the world map. For many visitors, Sydney is the start of any Australian vacation, as most international flights (especially from the US) fly here, and is a major hub for connecting domestic flights within the country.

Major attractions within Sydney include the famous Opera House, the Harbor Bridge, Darling Harbor (and all of its attractions), and the Taronga Zoo. The World Heritage Listed Opera House sits on the edge of the harbor, its great "sails" design known the world over. The three shell-like vaults (which create the "sails" look) house a complex of theatres and halls linked together beneath it. Backstage tours are offered, and an evening performance at the Opera House is the perfect beginning – or ending – to any Australian vacation.

The Sydney Harbour Bridge is yet another structural marvel in the city, and tourists can enjoy a unique view of the city skyline by climbing up the Harbour Bridge on a guided tour, during the day, at sunset, or after dark.

Darling Harbor is the hip and happening center of Sydney, home to many restaurants, night clubs, and other great attractions, like the IMAX theatre and aquarium. The Taronga Zoo is Sydney's award-winning zoo. Special "backstage" tours are offered as well, giving the opportunity for up-close encounters with native Australia wildlife.

Sydney also offers a wealth of international cuisine and fine dining, great shopping, and relaxing harbour cruises. Or take the public transportation up to nearby Bondi (pronounced "Bon-dye") and Manly Beaches to catch some rays. You certainly won't get bored in this city.

Blue Mountains

Named for the haze caused by the eucalyptus trees in the summer heat, the famous Blue Mountains lie only sixty-nine miles west of Sydney. Gorgeous mountain scenery, including the Three Sisters and beautiful canyons, awaits you. Here you can enjoy a scenic railway, cable car rides, horse riding, caving, hiking, camping, and bushwalking.

The Hunter Valley

You don't have to travel all the way to South Australia's Barossa Wine valley to experience some truly amazing wine. One could argue that the Hunter Valley is New South Wales true hidden gem, an amazing valley with boutique (and award-winning) wineries, many with open cellars, some truly luxurious hotels and inns, and all paired together with truly great restaurants. Day trips can be had from Sydney, but truly experience it, I recommend a couple of nights enjoying some of the finest wine produced in Australia. (Definitely plan a visit in February & March when the grapes are harvested!)

Port Stephens

If unspoiled seaside scenery is your goal, look no further than Port Stephens. While volcanic sand and aquamarine waters await you in this eco-oasis, just three hours drive north of Sydney.

The Snowy Mountains

Skiing is not an activity that most people think of when they think of Australia, but the truth is that some great skiing and other snow sports can be enjoyed mid June to late September in the Snow Mountains, right along the border with Victoria, about 250 miles south west of Sydney. In the spring and summer, these mountains are a haven for those seeking hiking, fishing, and boating.

The Outback

This is the Australia as many of us imagine it or have seen from many a movie or photograph: the rugged, arid lands where farmers and herders still make a living today. This inspiring "wild west" (well, not so wild) with its extraordinary wildlife, flowers, and plant-life lies to the far west of New South Wales. Here, too, you can experience some of the rich Aboriginal culture, the first peoples of Australia – a must-have experience to truly understand and appreciate all that Australia is.

As you can see, New South Wales has a lot to offer. You don't have to travel far to experience much of what makes Australia so unique.



Related Articles
Editor's Picks Articles
Top Ten Articles
Previous Features
Site Map





Content copyright © 2022 by Michelle R. Mangio. All rights reserved.
This content was written by Michelle R. Mangio. If you wish to use this content in any manner, you need written permission. Contact Judie Bellingham for details.