I recently travelled the length of the Scenic Rim on my travels from Brisbane to Canberra. The Scenic Rim is a really marvellous location and offers a great holiday destination in its own right.
Mt Warning rises up on the trip through the Scenic Rim.
Situated only 90kms (55 miles) or so from Brisbane and is suitable for a day trip. The roads are sealed and well marked. It is also a popular route taken by those who are making their way to central New South Wales. The road tends to be very winding, and it not advised if you need to be in a hurry. The scenery is awesome, and the visitor will appreciate time to stop and admire the vistas.
The geological formations that give the Scenic Rim its name, have developed over many millions of years. From Toowoomba in the north, south to Warwick and then east to the ocean, this "L" shaped rim was once a volcanic "hotspot", which over millennia has developed into the lushest rainforest and farming region and features no less than six World Heritage listed National Parks.
Not only are there fantastic rainforests situated within the Rim, but there is a diverse and unique range of flora and fauna.
Some of these species are under threat, not by loss of habitat due to suburban sprawl, but to the ongoing and not fully understood risk from Coal Seam Gas wells. Also, and most importantly, the indigenous peoples of the area have abundant stories, rituals and traditional ceremonial areas within the Rim that are respected by all.
Because of the volcanic activity of long ago, the most fertile soils in all Australia are found in this region. As a result, agricultural production is very high and includes beef farming and crops of all manner.
The trekker will really enjoy the public walks and treks that are available in these National Parks. It is possible to climb Mt Barney, Mt Warning and various other rocky outcrops.
Those visitors who prefer a softer experience will love the wineries dotted around the region, and of course the wonderful restaurants, farm stays and the like.
We drove from Ipswich in the north, through Boonah, Kalbar and Rathdowney and eventually over the Queensland and New South Wales border and onto Tenterfield. The countryside is very green as present, owing to the previous two very wet seasons this region has experienced. There are many rest stops along this route, and some are very conveniently situated for great photography opportunities.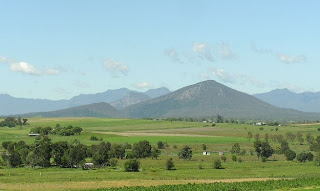 Image Source
There are a huge number of accommodation options in the Scenic Rim. You can stay five star motel accommodation, bed and breakfast if so desire, or even high end camping with a guide. There are simply too many options to list here.
http://www.boonahtourism.org.au/maps/Boonah%20District%20and%20Scenic%20Rim%20Map.pdf
Click here for a PDF map of the Scenic Rim
Here is a few websites might be of interest for you.
Website of the Regional Scenic Rim Council
Website of the Scenic Rim Tourism
Website of Keep the Scenic Rim Scenic
Website of the Wildlife Preservation Society – Scenic Rim