Even the most hardened headbanger has found him/herself humming or singing Christmas classics at one time or another. Well my metal brethren, we now have a Christmas record that was made just for us. Originally released last season, Armoury Records is presenting another go-round for
We Wish You A Metal Xmas
, Christmas classics set to a metal framework.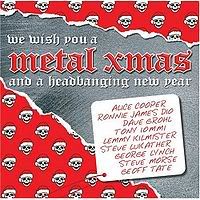 Produced by Bob Kulick along with Brett Chassen, how can you wrong with a group that includes the names of Kilmister, Dio, Tate, Cooper, Iommi and many more? The songs are all pretty much traditional arrangements (albeit with raunchy guitar, bass and drums) and most seem pretty true to the original spirit except for one which we'll get to in a minute.
There are some great performances on the record. The title cut explodes out of the gate and puts your ears in the right mood for this entertaining set of songs. Jeff Scott Soto sounds great and the Kulick brothers trade off a couple of tasty solos. Things get a bit more down and dirty with a terrific version of "Run Rudolph Run" sung by the inimitable Lemmy with support from Billy Gibbons and Dave Grohl.
Speaking of inimitable, "Santa Claws (notice the spelling) is Coming to Town" features everyone's favorite Aunt/Uncle Alice Cooper and John 5 tears off some great parts in this classic. "God Rest Ye Merry Gentlemen" is delivered in a very dramatic fashion courtesy of Ronnie James Dio and Tony Iommi.
One of my favorites on here is "Silver Bells" which has such an undeniable energy that you'll be snapping your neck along to Queensryche's Geoff Tate in short order. Great solo here by Carlos Cavazo (Quiet Riot). Also noteworthy is Tim "Ripper" Owens who electrifies with his take on "Santa Claus is Back in Town".
The song that strays the furthest from the traditional route is the inclusion of "Silent Night". I started laughing when I heard the familiar vocals of Chuck Billy (Testament) belch out the words to this chestnut. Great fun here. Also scoring high on the fun meter is "Grandma Got Ran Over By a Reindeer" with Stephen Pearcy on vocals
All in all, this is a terrific disc that would be of interest to any metal fan based on the wide sweep of stars that participated in the project. Horns up and may you all have a metal xmas!!!
1. We Wish You A Merry Xmas
(Jeff Scott Soto / Bruce Kulick / Bob Kulick / Chris Wyse / Ray Luzier)
2. Run Rudolph Run
(Lemmy / Billy F. Gibbons / Dave Grohl)
3. Santa Claws is Coming to Town
(Alice Cooper / John 5 / Billy Sheehan / Vinny Appice)
4. God Rest Ye Merry Gentlemen
(Ronnie James Dio / Tony Iommi / Rudy Sarzo / Simon Wright)
5. Silver Bells
(Geoff Tate / Carlos Cavazo / James Lomenzo / Ray Luzier)
6. Little Drummer Boy
(Doug Pinnick / George Lynch / Billy Sheehan / Simon Phillips)
7. Santa Claus Is Back In Town
(Tim "Ripper" Owens / Steve Morse / Juan Garcia / Marco Mendoza / Vinny Appice)
8. Silent Night
(Chuck Billy / Scott Ian / Jon Donais / Chris Wyse / John Tempesta)
9. Deck the Halls
(Oni Logan / Craig Goldy / Tony Franklin / John Tempesta)
10. Grandma Got Ran Over By A Reindeer
(Stephen Pearcy / Tracii Guns / Bob Kulick / Billy Sheehan / Greg Bissonette)
11. Rocking Around the Xmas Tree
(Joe Lynn Turner / Bruce Kulick / Bob Kulick / Rudy Sarzo / Simon Wright)
12. Happy Xmas (War Is Over)
(Tommy Shaw / Steve Lukather / Marco Mendoza / Kenny Aronoff)