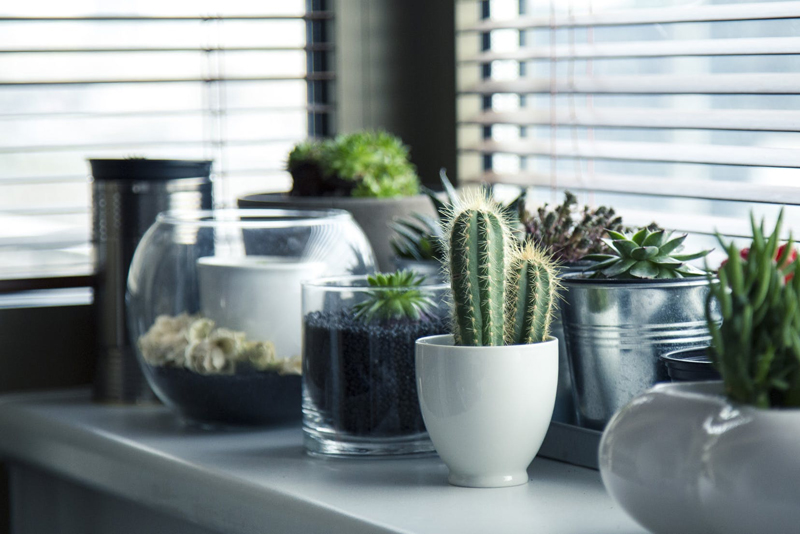 Plants in the
Lithops
genus are an interesting oddity; also known as "Pebble Plants", Lithops look just like small rocks scattered on the ground. Individual plants have two fleshy, succulent leaves opposite each other which can be green but are more often slightly gray or even brown. Streaks or flecks of contrasting color give these plants excellent camouflage in rocky environments.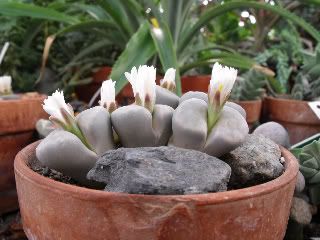 Lithops don't need a whole lot of attention to be happy. What they do appreciate is a lot of sunlight. Full sun is best for a plant kept indoors, provided by placing it very close to a window with a southern exposure. (Make that northern exposure if you're in the southern hemisphere.) If you live somewhat close to the equator in a mild climate, provide some protection for the plant from the sun at midday. Lithops will continue to grow with less than full sun, but a bit more slowly and the plants may not flower.
The flowers produced by Lithops are surprisingly pretty. They resemble white or yellow daisies and often obscure the leaves entirely. Lithops will flower when they are 3 or 4 years old so be patient if you are growing them from seed. Flowering occurs in response to a change in watering at the end of the dormant season, which in this case is summer.
As a rule, Lithops should be watered very infrequently. Water in summer, but only if the leaves begin to take on a shriveled appearance. At the end of summer the plant will break dormancy and begin to show new growth. New leaves will emerge from between the old two and they will take most of the moisture they need from the old leaves as they die away. During this active growth is when you should water Lithops most often, but don't over-do it. No water is needed during the winter.
Lithops should be planted in a coarse potting mix that allows for good drainage; cactus mix is a good option. I recommend using a clay pot instead of a plastic or ceramic one as its porosity will enable the potting mix to breathe and dry out more quickly. You want to be sure that the potting mix is able to dry out completely between waterings to prevent the roots from rotting. Don't water just because the leaves look a little shriveled; if the roots rot off the plants won't get enough water and will shrivel just like a plant that hasn't been watered often enough.
Propagation is typically done from seed, which is a lot of fun. You'll see interesting variations between the plants in a pot of all seed-grown Lithops. Spider mites are the most common pest of Lithops and can mar the surface of the leaves severely if they go unnoticed for too long. Lithops are non-toxic and are a fun way to get kids interested in plants. They don't require a lot of attention, but once someone notices that they are looking at Living Stones, attention is what they'll get.
This site needs an editor - click to learn more!


Related Articles
Editor's Picks Articles
Top Ten Articles
Previous Features
Site Map





Content copyright © 2022 by Lisa Beth Voldeck. All rights reserved.
This content was written by Lisa Beth Voldeck. If you wish to use this content in any manner, you need written permission. Contact BellaOnline Administration for details.