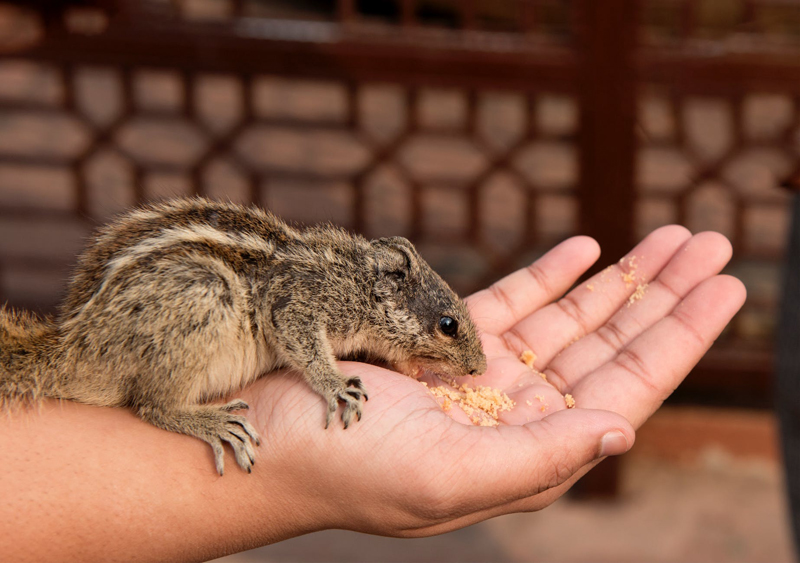 Pets can have periodontal disease in fact the majority do. This can lead to early death, strokes, heart disease diabetes, and awful infections. What can you do?
All pets that have teeth, not just dogs and cats, can have problems with their teeth, gums, anything in the mouth. It is up to you to keep a close watch on the mouth and to keep the teeth and gums clean. The ease of keeping an eye on their mouth will depend on the species of animal.
You can control their diets so that certain foods don't cause bacterial buildup in the mouth (junk foods, soft foods, never sugar). Make sure the veterinarian looks at the gums and teeth each time they visit the veterinarian.
With some animals it is possible to brush the teeth. Make sure you use toothpaste made for animals. These animals can't spit as a human can therefore, can't use the same toothpaste that humans do.
One sure sign that something is amiss is bad breath. Bad breath usually signals a mouth problem though it could also be a gastrointestinal problem. Find a vet that is knowledgeable about dental procedures and have your pet examined.
The problem with dental hygiene and pets is that all pets that have teeth are different and require different diets. One thing we can all do is keep a close watch on our pet's mouth and catch any problem before it gets any worst. It is a huge problem and could account for many of our pet's problems.
I have seen oral care products that are suppose to clean the mouth, prevent gum disease, and other problems, I have never used them so I don't know if they work or not. In fact, I found a lot of private websites selling such products. I saw nothing noting the products had been tested. I would worry about the safety of the products.
Amazon has two products Better Breath Teeth & Gums for Felines - 4 oz – Liquid, or Dog Better Breath, Teeth, & Gums by King Bio - 4oz.Is it possible to use these products off label? I have no idea if it should be used off label, and on what animals it would be safe, if any.
Many of us have "off label" animals as pets and without checking some of these products out with a veterinarian I wouldn't want to mess with these products on animals that are not dogs or cats.
PetzLife Oral Care Gel Wild Salmon Oil 4oz states it is safe for pets. This is supposed to be for tarter control. It has herbs and salmon oil and doesn't appear to be harmful. I believe it may be safe on some of our exotic pets. The other products I have seen concerned me a great deal. Again, call your veterinarian for their advice
PetzLife Oral Care Gel Wild Salmon Oil 4oz



Teeth and pets are getting to be big business. Of course, the reason the business is growing is because there is a need. The more that is learned about dental problems and the relationship to the body the more we are aware of the need of taking care of our pet's teeth. Veterinarian schools didn't teach dentistry. If they have started of late I am not aware. There are a number of new animals and dentistry practices opening.

I read the news item Keep pets' choppers in tip-top shape to protect their health and found it very interesting and wanted to pass in along to you.


Small Animal Dentistry

My Exotic Pet Shop

You can forward this article to a friend scroll down and look for the middle icon circle Tell a Friend after the newsletter subscribe area. You can print a printer friendly copy from there too!

Scroll down a litter further and sign up for the exotic pet's newsletter. Your email is 100% safe, I never even see it. You will receive a newsletter twice a week. Once in a great while an emergency newsletter may go out, but this would be only for a big illness outbreak or other emergency. Subscribe so you will know when new content comes out!

If you have a comment about this article, if you have a question, or just want to say hello, stop by the Exotic Pet Forum! Comment Here

Feel FREE to Contact me anytime. You can reach me via my bio page. Click on my name.

Contact Diana

Be one of the first to follow Exotic Pets BellaOnline on Facebook and Twitter.
Exotic Pets on Twitter
Diana Geiger on Facebook

One thing that turns people off on exotic mammals as pets is the odor of their waste. This is a safe and a solution that works. Great odor control for small mammals Marshall Bi-Odor Internal Waste & Urine Deodorizer (8 fl. oz.) Bi-Odor Waste & Urine Deodorizer for Rabbits, Guinea Pigs, and Small Animals.100% natural supplement deodorizes your pet's stool, urine, and body odors. Just add to your pet's food or water daily.Recommended by top breeders and veterinarians.


This site needs an editor - click to learn more!

You Should Also Read:
Exotic Pet Site Map
Children's Pet House
Exotic Pet Shopping (the safest for your pets)




Related Articles
Editor's Picks Articles
Top Ten Articles
Previous Features
Site Map





Content copyright © 2023 by Diana Geiger. All rights reserved.
This content was written by Diana Geiger. If you wish to use this content in any manner, you need written permission. Contact BellaOnline Administration for details.