Orchid Profile - Paphiopedilum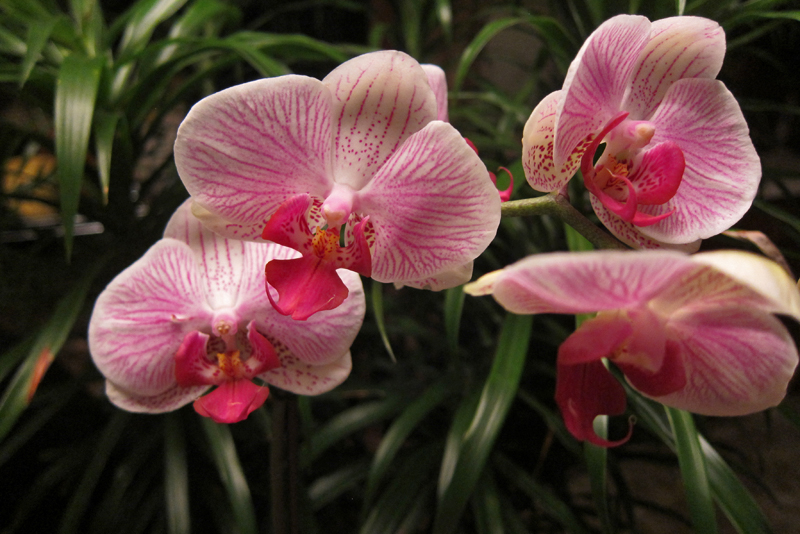 The Paphiopedilum makes a great first orchid. This undemanding plant doesn't need a lot of light, is tolerant of a wide temperature range and has flowers that last a long time.
Also known as the "Lady's Slipper" orchid, the lip of the plant is formed into a cup shape. The upper, or dorsal, sepal is also an unusual shape and can be spotted or lined with color. The Paphiopedilum is easily hybridized and is available in an amazing array of shapes, colors and sizes. The leaves come in two types-- plain or mottled. In the past growers were advised to treat the two types differently, but modern writers suggest that is not necessary.
The basic care is very simple. These plants are ideal for a windowsill as long as some protection from direct sunlight is provided. If the leaves start to turn yellow, cut back on the light intensity. The potting medium should be kept evenly moist since there are no pseudobulbs to store water. Place the plant on a saucer of gravel with water in the bottom to increase
humidity
. Don't let the water level come to the top of the gravel, no orchid likes to have the roots standing in water.
Paphiopedilums should be placed in plastic or glazed ceramic pots. Clay pots tend dry out faster and will need more frequent attention to watering. The potting mix can be a fine grade of bark mixed with some perlite or a commercial cymbidium mix. Repot at least every 2 years, more often if you notice the bark becoming soft and spongy. The roots need an open potting medium to promote good air circulation. Keep leaf rot from being a problem by taking extra care to keep water from collecting at the base of the leaves.
The recommended temperature is between 55 to 60 degrees at night and 70 to 85 during the daytime. Young plants can take even warmer temperatures. The plants fertilizer needs are undemanding, with a diluted solution of a balanced product applied weekly being the usual recommendation.

Paphiopedilum Drury
Buy This Art Print At AllPosters.com


Related Articles
Editor's Picks Articles
Top Ten Articles
Previous Features
Site Map





Content copyright © 2022 by Karen Stewart. All rights reserved.
This content was written by Karen Stewart. If you wish to use this content in any manner, you need written permission. Contact Anu Dharmani for details.