Do You Know Your History?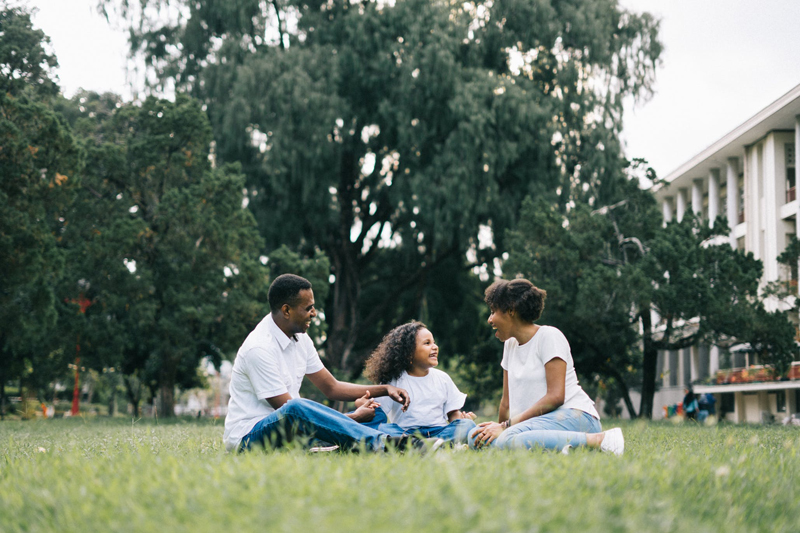 I was always fascinated with history; especially that of my own family. Primarily, because we were a mixture of so many hues and dialects--I wanted to know about my origins. While growing up on Staten Island, New York, I was surrounded by family across the small island.

African-Americans make up about 10% of the island's population. In the early 1800's when free blacks settled on the Island, they found the historical community of, Sandy Ground, the first black community consisting of watermen and oystermen from the Maryland, and Chesapeake Bay area, and other free slaves in the New York area. Slavery was abolished in New York, on July 4th, 1827.

Growing up, I was told stories of how my family was one of the founding families of Sandy Ground. We took pride in knowing that between 1820-1827, a family patriarch traveled with his family and some relatives from Maryland, and the Chesapeake Bay area, and started a farming and oystermen community on Staten Island, along with other freed black men.

I was fascinated about the stories, and how my paternal great grandparents met and fell in love. And how their parents met. The stories are endless. I wanted to know it all. So in order to understand my family history, and what it must have been like; I needed to take a journey. A journey into my paternal family's past. I wanted to know and understand about Sandy Ground, and who were those men and families that settled there, What were watermen? What in the world were oystermen? It was totally fascinating.

I invite you to come along with me to find out what a waterman was, and is. Find out about oystermen. And find out about, Sandy Ground, the first black settlement of freed black men on Staten Island, and it's role in the Underground Railroad.

Who are Watermen?

Waterman is an old English term that best describes the early settlers who made their living harvesting fish, oysters and crabs from the waters of the Chesapeake Bay. Watermen have worked the waters of the Chesapeake since settlers first landed in America. In the late 1700's, the Bay region's economy began to change as recently emancipated blacks found their way to the shores of the Chesapeake and joined the ranks of watermen working the Bay.

By the 1860s, the Chesapeake Bay became the primary source of oysters in the United States, creating an industry in need of a strong labor force. The availability of jobs and relatively low start up costs for new watermen enticed many newly-freed blacks to settle in the region and created new African-Americans communities along the Bay's shores. In addition to harvesting the Bay's bounty, many found jobs building boats and processing the day's catches.

These communities soon became both economic and cultural centers for blacks in the Chesapeake Bay region. As a result of these strong ties, the traditions of black communities were incorporated into the local fishing industry.

During the early 1900's, it was not uncommon to hear men singing while hauling in seines full of fish. These rhythmic songs, known as chanteys, helped the men coordinate their movements and control the pace of the grueling work. Likely derived from songs sung on slave plantations, chanteys are rooted in African tradition. Many watermen believed that the chanteys helped the men haul in nets faster and more efficiently than those who did not sing.

As mechanical equipment to haul in fishing nets replaced the need for human labor, chanteys began to vanish from the waters of the Chesapeake. Today, the chantey singing tradition lives on through a group of retired menhaden fishermen in Virginia's Northern Neck.


What are Oystermen?

Oysterman: one who gathers, opens, breeds, or sells oysters.

Oysterman is also the name of the vessel/boat used to harvest oysters. Some would say that the terms: waterman and oysterman are the same. But to convey the history of what I found in my family's history; the oystermen were poor, black waterman, who were not allowed to own their own boats; but worked on a boat owned by white captains. If you lived along the Bay (Maryland, Chesapeake, Louisiana) oystering was a way of life; a part of the culture, passed on from generation to generation.

In Maryland, you did not see black boat owners; many could not afford it. Black oystermen did what they could to survive, and provide for their families. Many white watermen had crews of both white and black, and allowed the crews to work together. While others did not. It was a constant struggle trying to survive and maintain a living to support one's family while working in the Bay.

Black oystermen heard of the work of the Abolitionists up north, and of course, The Underground Railroad. Some white watermen that had forged relationships with its black crew, and even slaves before the civil war, had begun to aid them in their exodus.

Sandy Ground, Then...

Through family stories, and historical research I was able to find out which family came from where. This part of my history is from my paternal side. I am still uncovering my maternal side.

In the early 1800s, Staten Island had amongst it's residents, many influential African-Americans. Along it's shores, Staten Island became quite profitable for watermen and oystermen. The end of slavery in New York, in 1827, ushered in a new wave of prosperity and opportunity for many African-Americans.

Near the end of the '20s and into the 1830s, former slaves from Staten Island, Manhattan and New Jersey and free black oystermen and women from Maryland and Virginia begin settling at Sandy Ground; flourishing as a center of economic and social life for blacks living along the Eastern Seaboard. Sandy Ground served as an important stop on the Underground Railroad.

Although they first formed a farming community, the oystermen from Maryland, Virginia and Delaware, brought in a new trade. The oystering trade was quite lucrative for this community. At the end of the nineteenth century, Sandy Ground had become like many of the other rural communities on Staten Island, with farms, artists, small businesses and oystermen. Yet, at Sandy Ground fifty percent of the 500 or so residents were African-Americans.

Concluded in next article...
You Should Also Read:
Sandy Ground
Watermen
Northern Neck Chantey Singers


Related Articles
Editor's Picks Articles
Top Ten Articles
Previous Features
Site Map





Content copyright © 2023 by Ruthe McDonald. All rights reserved.
This content was written by Ruthe McDonald. If you wish to use this content in any manner, you need written permission. Contact Ruthe McDonald for details.