Five Tips and Tricks for Crocheting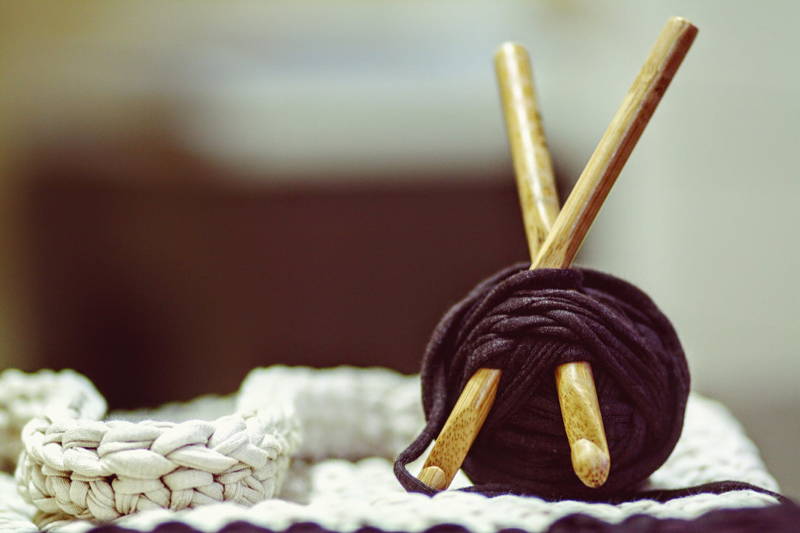 One great thing about any craft is that there are constant changes. Just when you think you've learned everything there is to know about a craft, someone comes up with a new technique, new stitch, new tool, or some such other thing to add something more to learn So, it's a never-ending process of learning new things. Crochet is no exception. They take an Afghan hook and create a double ended hook, or a tool with hooks on both ends and a space of nylon in between, and suddenly the Afghan crochet stitch is called Tunisian crochet. Take a Maltese Lace and create a new tool to do it and suddenly it's called Hairpin Lace.

Although the Hairpin Lace tool (which used to be a long 'U' shaped instrument) now has two vertical metal bars; which are used with two plastic holders, which can be adjusted to a big or small loop, it can also be adjusted with an additional bar to create a lace with a double dimension. One loop is long and the next is short. This is repeated in this manner, or a mix-up of how many long or short loops; or it can be changed to create a shape for various means.

No matter what stitch or skill level you crochet there are a few tips and tricks that I like to pass along to my crochet students. These are helpful suggestions that I use myself and find that, if I make a mistake, it's usually because I'm not following one of the rules. So, I'd like to share them with you.


Tip #1
If you're a multi-tasker, like myself, you might find it easier to place your patterns in some type of binder or page protector to keep up with what you have on the hooks (which are usually stored in box at the end of the couch). Yes, it's a pretty big box.

Tip #2
Some crocheters leave the hook in their UFO/WIP (Un-finish object/Work in Progress). The only disadvantage to this is that you may need that same size hook, later, for something else you want to start. By the time you get around to it, later, you can't remember what size hook that you used on that particular pattern.

There are a few ways to prevent this.
1. Leave the hook in your work. Later, when you have a pattern that calls for that hook, you buy another hook
2. Use a crochet hook guide to tell you exactly what size the hook is (I say this because different brands-and, sometimes, the same brand-can be different sizes; no matter what the manufacturer branded in the hook) this way you can remove the hook when you're done crocheting, for the moment, and use it on a different project.
3. If you want to use a hook that is in your UFO/WIP, measure the hook with your crochet hook so that you know what size it truly is. Then pin a small bit of paper with the needle size on it. (I might even consider having two separate hook holders-one for 'true to size' and the other being a 'different size'). But, always use the same hook measure. Most important, is to make a swatch and see if your work stays true to the pattern.

Tip #3
Weave as you go. I really hate to weave in ends; especially, if I have a separate yarn to use for weaving and then have to weave in those ends as well. So, when changing threads or anywhere that I leave a knot, I make sure to tie those with a square knot (this is usually done by holding the new thread/yarn and working into a square knot-this will help the knot to lay flatter-then I will lay the two ends across the top of the previous row and work my stitches around these stitches). This tucks in the fiber ends and there's no more weaving in later with short ends. This not only works at the end of the row and the middle of the row, but it also works when changing colors either at the end of a row or in the middle of it.

Tip #4
Whether traveling for vacation or to your neighborhood 'meet and crochet' group, it can get difficult to keep your pattern from becoming ruined; either by the weather elements or by shuffling things around. I find that I can protect my patterns and materials in a multitude of ways.

1. Make good use of ring binders. Just before school starts, most department stores have good prices on these binders. Stock up. You'll find that they're useful for a multitude of things.
2. Zip lock baggies, plastic bags (grocery store bags), even clear trash bags can be used to protect your yarn and pattern when you live in elements of continual rain. If you pick one and use it only for transporting your materials, you'll find it'll be worth it's wait in gold (and then some). Another good source is laundry bags. When you pick up a suit, dress, coat or other items you've sent to the laundry or cleaners, you'll get them back in plastic bags. Take advantage of these oversized bags for your bigger projects that you want to travel with.

Tip #5
When I have a difficult time keeping up with rows (usually because they are heavily duplicated), I don't use a row counter. In fact, I've heard many people say that, even that, is difficult to keep up with. And, sometimes trying to keep up with little tic marks can prove wrong also. So, I'll refrain and go to a simple method that I used when I was a child and first learned to crochet.

I take some yarn of a contrasting color and cut about ten pieces of them in measures of approximately 3-4 inches. After I've done ten rows of a given pattern, I'll thread the yarn around a post in the 10th row and loosely tie it there. If I'm only doing about fifty rows, I'll continue leaving little yarn flags around every tenth row. This way, if I'm ever unsure of my count, I can count by tens, rather than starting at 1. If I'm working with a bedspread or tablecloth, I'll generally set my 'marker' at every fiftieth row. I'll leave these markers in place until I finish my project. This greatly cuts down on how many rows I have to crochet over.

I've used these tips and tricks over the years and have passed them down to my crochet students. I've found them extremely useful during my many years of crocheting and hope that you will find them equally as valuable to you.


Related Articles
Editor's Picks Articles
Top Ten Articles
Previous Features
Site Map





Content copyright © 2022 by Beverly Elrod. All rights reserved.
This content was written by Beverly Elrod. If you wish to use this content in any manner, you need written permission. Contact Holly Messenger Aamot for details.