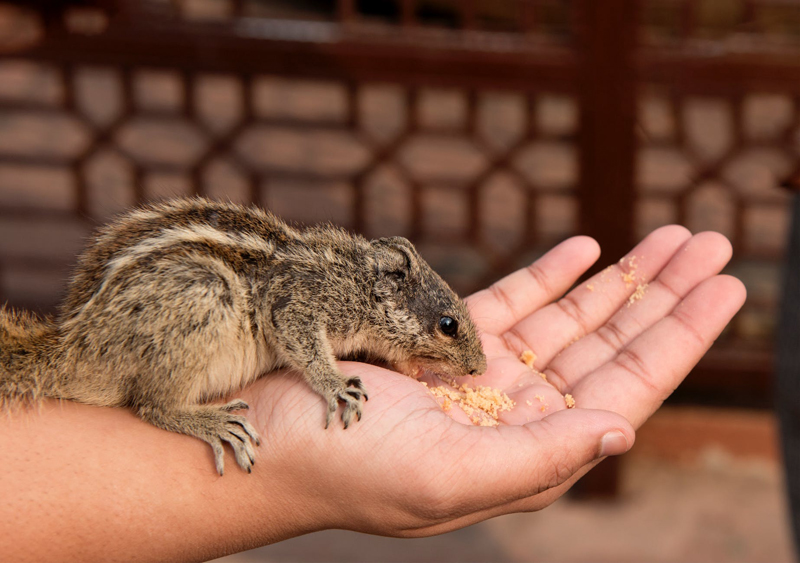 Rat Supplies
My article on pet rat care
Rats are my personal favorite. My kids were raised with rats, hamsters, and other rodents, and I undoubtedly prefer rats. They are sweet and affectionate and are not prone to bite. Mice are also great pets and believe it or not have exceptional personalities. My pet mouse was quite the charmer.
Many of these items in rat supplies will work with a kangaroo rat and other rat varieties from the rodent family. However, the kangaroo rats originally come from the dryer desert areas and have somewhat different needs. For example, they require some insects in their diets.
I have found the BEST toys for pet rats are in the parrot department – you will find interesting but yet hardwood toys that serve as a multifunction of keeping the teeth worn down and keeping them entertained. Stay away from the ropes, strings, chains, and bells where their claws could get stuck.
Many types of pet rats and pet mice can be bought in a variety of pet stores; you will fancy pet rats for sale, pet rats for sale at Petco and PetSmart. You will also find rat breeders under subjects and then breeders and sellers. Here are the best rat supplies and mouse supplies I can find. Soon mice will have their very own page. Welcome to my rat shop!
If you are on a Amazon link they have a 24-hour cookie. So, if you follow my link today, and then decide to think about the purchase the link will expire in 24 hours. By all means think about your purchase but please go back through my shop so that I get credit. Because of this I am changing most of my pet supplies to other programs. I have found far less expensive products in a lot of cases.
Books
This book I recently spotted at a book store, it is sensational
My Pet Rat (All About Pets)



People just don't think training when it comes to rats; they are very intelligent and very social. The training process is great for bonding.
The Complete Guide to Rat Training: Tricks and Games for Rat Fun and Fitness
Cage
Cages are important, the pet rat needs room, the rat cage needs to be safe, aquariums just aren't big enough, nor do they have enough ventilation. Some wire cages are dangerous, the rat may get its feet, leg, or tail stuck, broke, or amputated.
We had a leg get stuck once and while the rat was being rescued by my husband the rat bit my husband hard, only because he was hurting and very severely! Rats RARELY bite. I will never cheap out on a cage again.
I have changed the cage I had in rat supplies. I found a much nicer one for the money.
PETCO Rat Manor Habitat (16.5" L X 22.5" W X 32" H; Black; Wire)
Available Online at PETCO.com. This durable cage provides 4- 3/8" wire mesh levels and ladders that provide a safe and sanitary living space for your pet rat. Construction features 1/2" spaced chew-proof heavy duty welded wire, stain-resistant powder-coated surfaces and a deep scatterless metal base that reduces messes around the habitat. In addition, there are 2 large doors that allow for quick access to your pet and help to simplify cleaning. Easy to assemble interweave wire connection.


PETCO 11" Mesh Wheel (11" Diameter; Assorted) Exercise is essential for rats to stay healthy and happy. Mesh Wheels help to promote health and wellness in your pet keeping them fit for a long healthy life. Our long lasting durable mesh wheel is made of non-toxic pet safe materials and colors assuring your pet will have hours of safe fun and exercise. Easy to clean, set up, and use. Simply hook onto the side of your habitat or place firmly on the base.


Accessories – the things rats must have.
Super Pet Sleep-E-Tent (11.25" W X 11" H; Assorted)
Our Super Pet(R) Sleep-E-Tent is a plush playland and sleepy nest for your pet ferret, rabbit, guinea pig, chinchilla, sugar glider and pet rat. Features a unique design for a variety of uses. Reversible for extended time between washing. Made of quality non-toxic materials for your pet's safety. Unzip two sides to create a hammock. Ultra soft fleece provides a super soft bed. Easily connects inside any wire cage to provide additional layers of living space. Durable materials withstand multiple washings.


Super Pet Critter Cuddle Cup (Assorted A Cozy Cup of ComfortPamper your pet with a plush pillow-soft place to sleep. This fun fabric and flexible form fits easily inside any furry friend's home. Critter Cuddl-E-Cup is the only foam-free bed created to be super safe for your favorite furry friend. It's the perfect place for your pet to nap, rest and nest!SUPER PET FACTSmall animal instinctively depend on hiding as a natural form of defense. They use hollow logs, dense grass and cavities in the ground for a safe and secure sanctuary. Your pets will feel more comfortable and relaxed when you provide them a cozy spot to hide, cuddle up and rest.




PETCO Universal Small Animal Water Bottle (10 oz.)Universal) PETCO Universal Small Animal Water BottlePETCO Universal Small Animal BPA FREE Water Bottle with its innovative design promotes optimum drinking action for your small animal. And, because it is universal, it will fit in almost any habitat! Water bottles are much cleaner than using bowls and don't tip over.




PETCO Small Ceramic Bowl in Eggshell (4.5" Diameter; Off-White) A heavy food dish would come in handy. The bowl features tall sides for generous portions, a high gloss finish for easy cleaning and great looks, and a heavyweight design that resists tipping.


Toys multifunction with rodents they have to chew and love to play.
PETCO Munchie Wood Chews for Small Animals (Assorted)
Give your pet hours of safe chewing fun and satisfy the natural need to gnaw. These real wood chews keep your pet busy, satisfied and help to keep teeth trim and healthy. Perfect for hamsters, gerbils, guinea pigs, rabbits, mice, and other small pets.


Super Pet Small Ka-Bob Treat Dispensing Small Animal Toy (Small; 7.5" Length) Ka-Bobs are perfect for snack time, chew time, treat time.or just anytime. Now you can create a munchy menu of colorful chew choices, special snacks and healthy supplements to tantalize your pet's taste buds. So, go ahead, add more bites, fresh veggies, salt savors or bark bites and watch your small animal go wild with excitement.


Food
A nourishing diet is important to your pet's health and longevity. Kaytee Fiesta has grains, seeds, fruit, legumes, and grasses. This is an excellent diet for your beloved ratties.
Kaytee Forti-Diet Pro Health Rat & Mouse Food (3 lbs.)
Kaytee Forti-Diet Pro health is a seed-based blend of fresh, palatable seeds, grains and fortified supplements that provides the essential nutrients your pet needs for a long, healthy life. Our formula features DHA omega-3 fatty acids which supports heart, brain & visual functions and is naturally rich in antioxidants for general health and immune support. Plus, we've included probiotics & prebiotics to aid in digestive health while the added vitamins and minerals promote healthy bones and proper growth and development. Features a resealable bag that keeps food fresh and tasty.


Kaytee Fiesta MAX Food for Mice & Rats (4.5 lbs.) Kaytee Fiesta MAX Food for Mice & Rats. Kaytee Fiesta is the leading fortified gourmet food for mice and rats. Fiesta's unique formula provides essential nutrients in an exciting mixture of extruded pellets, high quality fruits, nuts, vegetables, specialty seeds and grains. The variety of ingredients with different shapes and sizes provide an enticing and stimulating eating experience for your pet. Fiesta is scientifically formulated and thoroughly tested to ensure you are feeding your pet the best.Fiesta stays fresh in its own resealable bag.




Vitakraft Cheese Wedges Snacks for Mice and Rats (5.66 oz.) Crunchy Snacks for Mice, Rats, and Other Small RodentsEveryone know that mice and rats love the taste of cheese. They also love hard, crunchy snacks they can sink their teeth into. That's why Vitakraft created Cheese Wedges. They're a healthy and nutritious treat with calcium that complement your pet's regular diet.Cheese Wedges make a great change of pace and add variety to your pet rodent's daily routine.




My article on pet rat care here you will find taking care of pet rats, how to train my pet rat, and other crucial information and facts about the pet rat.

My article on the pet mouse

Back to the main Exotic Pets Shop

Be one of the first to follow Exotic Pets BellaOnline on Facebook and Twitter.
Exotic Pets on Twitter

Scroll down a litter further and sign up for the exotic pet's newsletter. Your email is 100% safe, I never even see it. You will receive a newsletter twice a week. Once in a great while an emergency newsletter may go out, but this would be only for a big illness outbreak or other emergency. Subscribe so you will know when new content comes out!

If you have a comment about this article, if you have a question, or just want to say hello, stop by the Exotic Pet Forum! Comment Here

Feel FREE to Contact me anytime. You can reach me via my bio page. Click on my name.

Contact Diana

This site needs an editor - click to learn more!

You Should Also Read:
Complete Exotic Pet Index
Children's Pet House
Exotic Pet Shopping (the safest for your pets)




Related Articles
Editor's Picks Articles
Top Ten Articles
Previous Features
Site Map





Content copyright © 2022 by Diana Geiger. All rights reserved.
This content was written by Diana Geiger. If you wish to use this content in any manner, you need written permission. Contact BellaOnline Administration for details.