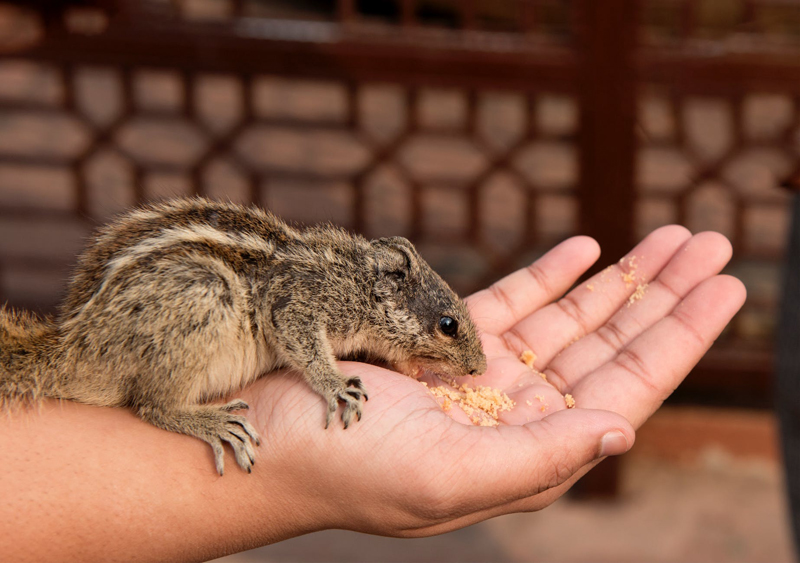 A sugar glider cage needs to be large. You can buy sugar glider cages or you could build your own sugar glider cage. Homemade cages are relatively easy to build.
The cage should be welded wire or mesh; sugar gliders like to climb. The size of the welded wire or mesh needs to be small. If the spacing is over 1/2 inch by 1 inch, the sugar glider can escape. A cage should be no smaller that 24" inches in diameter and 38" tall to contain no more than two sugar gliders. That space is the very minimum sized cage; bigger is better. Sugar gliders love to jump and climb therefore, a taller cage is better than a horizontal cage.
The main structure can be made from wood, PVC pipe, or metal. PVC and metal are much easier to disinfect. I went on a PVC kick for a long while, building everything I could possibly think of out of PVC. It is so easy to use, glue, the stuff that softens the pipes when you use the glue, joints, screw joints; I am sure those are all technical terms, not! The only big problem I ran up against was weight; it was much too light for my bigger parrots. I filled the pipe with sand and that cured that problem.
Sugar gliders love multiple layers in their cages. You can purchase plastic or metal shelves and attach them to the cage sides.
A multiple layer ferret cage makes a good sugar glider cage.
Make sure the cage has a secure fastener and even a lock; sugar gliders are pretty smart little critters and have frequently figured out how to open the latch. I like to keep most my cages, any housing for pets locked, especially since I have a young child in the house. Besides, my animals are escape artists, and wouldn't think twice about letting their next door neighbor escape.
For the floor bottom don�t use pine or cedar shavings they can be lethal to animals. Aspen has always been my favorite.
Remember, cleanliness goes a long way to keeping your sugar glider healthy.
Place live fruit trees branches in their cage, and replace them frequently. This is for two purposes, one, climbing, and two; they need to chew to keep their teeth healthy. Do not use any branches that have been sprayed with poison.
Provide a sleeping box for them to sleep in the daytime, for their comfort and to keep them out of the daylight.
Diana Geiger Exotic Pets Editor
on
**
Pet - Opossums - Possum
**
Sugar Gliders - The Sweetest of the Sweet!
**
Sugar Glider Cages
**
Wallaby - Wallabies - Pet
Sugar Gliders (Complete Pet Owner's Manual)


Ferrets: A Complete Guide available in paperback and Kindle. By Diana Geiger (me:) Five star reviews!






Ferrets: A Complete Guide - Paperback

Ferrets: A Complete Guide - Kindle

PDF Version Ferrets: A Complete Guide (Access to free PDF Reader)
Ferrets: A Complete Guide







Subscribe free to the exotic pets newsletter. It is quick and easy Just glance to the right or scroll a bit to the bottom and subscribe. I will only bug you once a week :) Be the first to be in the know! Your information is always private!

I am also the Bird editor if you enjoy pet birds subscribe to the Birds newsletter. Birds BellaOnline




This site needs an editor - click to learn more!

You Should Also Read:
Complete Pet Index
Ferrets - A Complete Guide Paperback and Kindle
Exotic Pet Shopping (the safest for your pets)




Related Articles
Editor's Picks Articles
Top Ten Articles
Previous Features
Site Map





Content copyright © 2023 by Diana Geiger. All rights reserved.
This content was written by Diana Geiger. If you wish to use this content in any manner, you need written permission. Contact BellaOnline Administration for details.