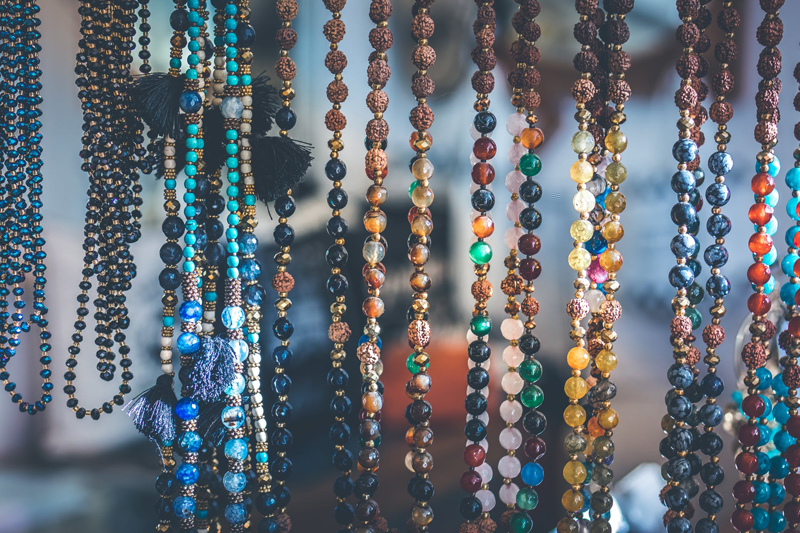 This is a method I've been using to cage polished stones for necklaces for my children for years now. It's a very simple necklace to make and works well for all sorts of things. I like it better than the spirals you can buy in some bead stores. In my example I used a 20 sided die.
As with any wire project, do a practice piece first using inexpensive craft wire before you try it in more expensive wire.
You will need:
Wire- lots of gauges will work for this. In my example I used 22 gauge and 24 gauge sterling which I got at
Halstead Beads
.
Masking tape or other type of tape. I like masking tape or painters tape because it comes off easily
a mandrel that's about the same diameter as what you are making the cage for, look for something around your house. I used a bottle of glitter for this one!
Wire cutters
chain nose pliers
round nose pliers
a small lightweight hammer. I use a little wooden mallet- this is to work the wire a bit so it gets a little harder.
chain or cord- I used a lightly waxed braided cotton cord from
Rings and Things
, I like it because it's inexpensive and holds knots very well.
Something to cage- dice, a small river rock, a pretty marble or bead
If you want accent beads, pick beads that the cord can go through. I just did decorative knots instead for this necklace.
Wrap the thicker (22 gauge in my example) wire around the mandrel 3 times and trim leaving 2.5-3 inch tails coming off each side in opposite directions. Hold it in place and tap it lightly all the way around with the hammer to work harden the wire a bit. Alternatively, use half-hard wire for this step instead of dead soft.
Slide it off the mandrel very carefully holding the loops securely in place, then tape the sides of the loop to hold it together so it stays nicely symmetrical.
Using the thinner wire (24 gauge in my example) do a few wraps around the bottom and top of the loop. Use pliers to cinch it down securely and keep the wires in the loop aligned. The ends of the wire loop will extend past the wrapping to make the bail.
Now you'll make the bail. Bend one end of the wire so it's centered over the wraps, make a 90 degree bend ,then make another bend leaving enough space for a couple wraps and make the loop for your bail. In my example, I actually wrapped the loop twice. Bend the end of the wire parallel with the 90 degree bend.
With the other end of the wire, bend it so it's centered over the wraps, and then wrap the ends of the loop done with the opposite end of the wire.
Trim wire ends.
I laid it down on a hard surface and gave the whole thing a few more light taps to work harden the silver just a little more.
Take the tape off and remove any residue.
Now you need to put your object in it. Start by slipping something between the top and middle loop on one side of your pendant and bend the top side loop so it's at roughly a 60 degree angle from the middle loop. Repeat on the opposite side. Flip it over, and bend one of those loops up approximately 60 degrees. Slip the item in and bend the last loop.
Now it's done, and you have a nice pendant. What I did with mine is put it on a black cotton cord, used a decorative button knot above the pendant, then tied the cord with
sliding adjustable knots
.
The books I like to use for jewelry knots are both by Suzen Millodot.
You Should Also Read:
How to tie sliding knots
Wrapped Loops
Book Review- Totally Twisted


Related Articles
Editor's Picks Articles
Top Ten Articles
Previous Features
Site Map



Follow @shala%5Fbeads
Tweet





Content copyright © 2021 by Shala Kerrigan. All rights reserved.
This content was written by Shala Kerrigan. If you wish to use this content in any manner, you need written permission. Contact Shala Kerrigan for details.