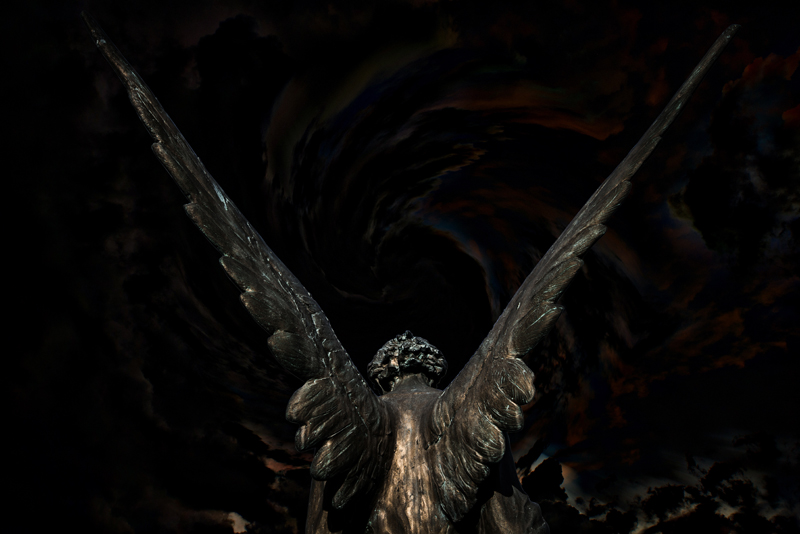 Shroud Eater is a three piece band from Florida that sounds like an excavation project taking place in your sound device. The band (Jean Saiz -guitar/vocals, Janette Valentine - bass and Felipe Torres - drums) recently put out an interesting EP of stoner rock and hope to have their debut CD out later this summer. Jean took some time out to answer a few questions about the band and what they're all about:

Morley: Shroud Eater grabs onto a riff like a pit bull. How does your material come about? Do you keep jamming until you hit upon something interesting or do you hear the riffs in your head at various times when you're not even actually playing?

Jean: The majority of times riffs will come to me while I'm not playing - usually when there's no instrument around. Lately I'll just record ideas on my phone, and then flesh them out on an acoustic guitar, then present them at rehearsal. Other times at rehearsal, when you're listening to what your band mates are playing, or a certain rhythm or whatever and ideas come about that way - so we do a little of both.

Morley: Most of the music I've heard (3 track EP) is instrumental. Is this by design in that you don't want to get in the way of a great riff or just that for your band, lyrics/vocals take a back seat?

Jean: I guess it is by (subliminal) design that our music tends to be more instrumental - for myself, I'm more of a guitar player than a vocalist, so for me the riff is greater than the vocals. However, I do love writing lyrics, just not having to necessarily "sing" them. When we first started playing, we didn't have a vocalist and I wasn't 100% comfortable taking over the responsibilities. About a month before we had to record I decided to step up to the challenge and do it because I was fed up with feeling I had to depend on someone else to put a voice to my thoughts - so most of our songs now are vocal-lite because I was still trying to get comfortable in that role. The newer material we've been working on I'm trying to incorporate more lyrics and vocals but still having portions of the songs remain instrumental.

Morley: Can you please introduce us to the band and give us a bit of history?

Jean: Shroud Eater is myself on guitar and vocals, Janette on bass, and Felipe on drums. Janette and I have been playing music together for the past 7 years - when our last band officially called it quits, we were put in a sort of forced hiatus. We had these handful of songs that we were writing with our previous drummer that were heavier, and at that point we just put them in the back burner and began experimenting with stuff at home. All our equipment was spread throughout the house so there was access to stuff all the time - we were fooling around with drum loops and some keyboards and that sort of thing, but eventually we got that itch to crank up the amps and sweat it out in a band again. So we did some perusing through Craigslist.org and found this ad from a drummer with some rad influences - Bill Ward, Jon Bonham, Slayer, Motorhead, etc... That's how we met Felipe. We met up to jam and that went really well, so a year and change later here we are still bashing it out!

(See the link below for the rest of the interview)
You Should Also Read:
The rest of the interview
Shroud Eater website


Related Articles
Editor's Picks Articles
Top Ten Articles
Previous Features
Site Map





Content copyright © 2022 by Morley Seaver. All rights reserved.
This content was written by Morley Seaver. If you wish to use this content in any manner, you need written permission. Contact Morley Seaver for details.