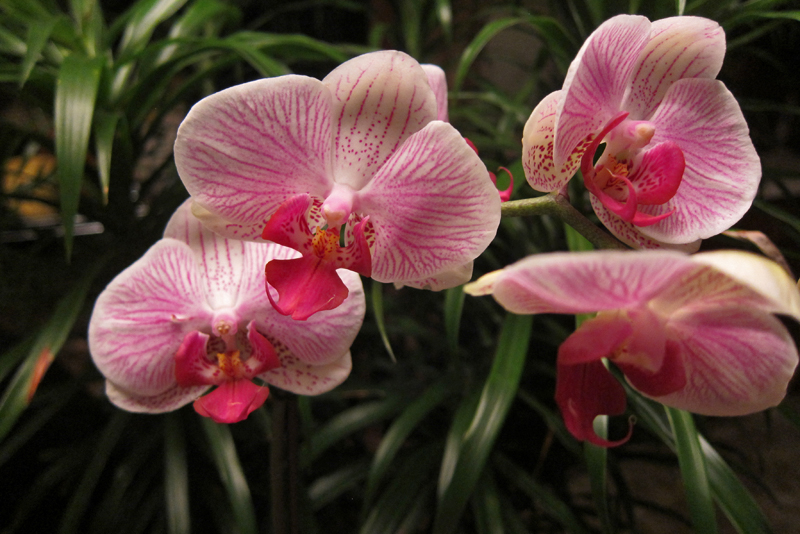 Be careful with roots when transplanting
When you transplant your orchids, it is very important to take extreme care with the roots. New roots are whitish looking with a bright green growing tip. Soaking the plant in water for about an hour will make the roots softer and easier to remove from the pot. If necessary use a blunt kitchen knife to gently detach roots which are adhearing to terra cotta pots.

Flush your orchids once a month
Since fertilizer solutions are basically made of salts, it is important to periodically flush the media in which your plants are growing with plain water in order to remove any buildup or excess salt. If you are growing in terra cotta pots, this will show up as a buildup of salt on the edge of the pots -- a white sprinkling of salt. Once a month, flush thoroughly with plain water and make sure to remove any of the salt buildup as you do so.

Don't over fertilize
Most orchid growers have at one time or another overfertilized their plants on the theory that more is better. Experts agree that orchids need very little fertilizer and recommend 1/4 to 1/2 strength feeding. One of the results of over feeding, especially in Cattleyas, is the production of weak foliage which will grow too fast and then not be able to hold its shape. Be sure that you moderate your fertilizing so that your plants will growing happily and normally.

Keep the growing area neat and clean
Part of the enjoyment of growing orchids is to be able to enjoy the flowers. If your growing area is messy or dirty, the display detracts from the beauty. If you are growing inside with pebbles under your plants to create humidity, one of the problems is the appearance of algae on the rocks. About once a quarter, remove your plants from the area, take the rocks and put them in a container with bleach and allow to soak for about an hour to kill the algae. Rinse well and allow to dry (in the sun if possible) and then replace them. Your growing area will look much better!

Experiment with different orchids
Each of us has different growing conditions. Experiment with different kinds of orchids until you find what grows and flowers well in your particular conditions. You can then get more of the same kind of orchid or crosses which are close to what works for you. Success will lead to more successes and your growing will be more enjoyable.


You Should Also Read:
Getting Ready for Spring Repotting
How to Choose an Orchid-Health
Orchid Growing Tips


Related Articles
Editor's Picks Articles
Top Ten Articles
Previous Features
Site Map





Content copyright © 2018 by Susan Taylor. All rights reserved.
This content was written by Susan Taylor. If you wish to use this content in any manner, you need written permission. Contact Anu Dharmani for details.