Windowsill Orchids Basics - Humidity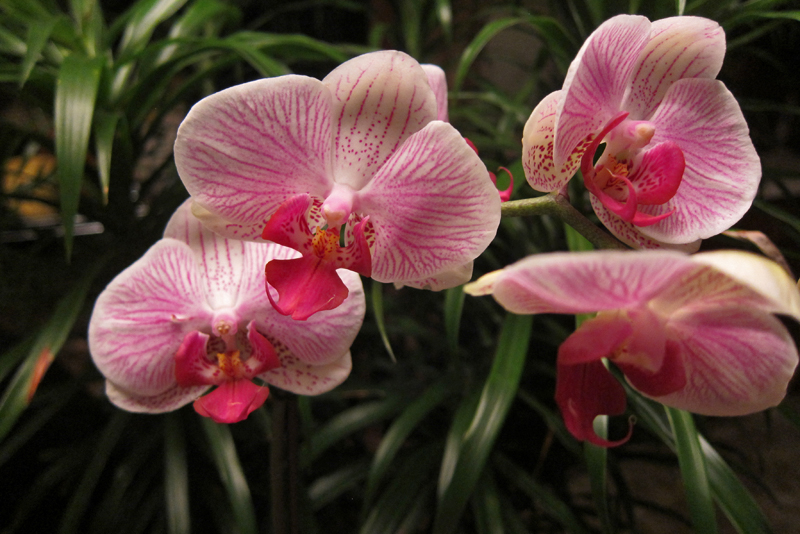 Two of the most troublesome items for indoor growers are humidity and air circulation for your orchids. Most homes are the right temperature for our plants, but especially during the winter months, much too dry as a result of heaters.

There are several options for growers and we'll explore a couple of them. Humidity can be increased simply by growing a number of plants closely together. Using this principle, a windowsill garden will generate some humidity around the plants, but usually not enough for growing your orchids well. One of the most popular methods of increasing humidity is to place the plants in a tray with gravel and put water in the gravel which will evaporate. This is not the best way to do it. Most novice growers will kill their plants with too much water around the roots if they do this. Invest in a humidity tray instead. The trays will keep the roots of the plant from contact with water while providing evaporation to increase humidity as well as allow for watering in place.

A daily misting during the morning hours is also a good way to increase humidity, although you do not want to mist while there is direct sunlight on the plants. Late afternoon is not a good time to mist since in most cases the plants will not have enough time to dry off before nightfall. If they stay too wet during the cooler evenings, there is a good chance that you will encourage mold and mildew on them.

In conjunction with humidity, orchids need good air circulation. A fan moving the air within an enclosed area is the best idea so that you do not move all that nice humid air away from your plants. There are a number of options as far as fans go. One of the best ways is to use those tiny fans with clips. Several of them can be used to circulate air in a circle to preserve humidity while still keeping the threat of mold down to a minimum. You will need to keep these fans running all the time for best results, so have enough of them so that half will be running during the day and half at night. Another alternative is a fan that moves back and forth so that the air is not always blowing in the same direction, but changes as the fan moves. This will ensure that there are few dead spots where mold can take hold.

Your plants will repay you with blooms and good growth when you provide them with the right conditions to grow well.

You Should Also Read:
Growing Orchids for Beginners
Growing Orchids in a Terrarium or Wardian Case
Enough Light for Orchids


Related Articles
Editor's Picks Articles
Top Ten Articles
Previous Features
Site Map





Content copyright © 2022 by Susan Taylor. All rights reserved.
This content was written by Susan Taylor. If you wish to use this content in any manner, you need written permission. Contact Anu Dharmani for details.