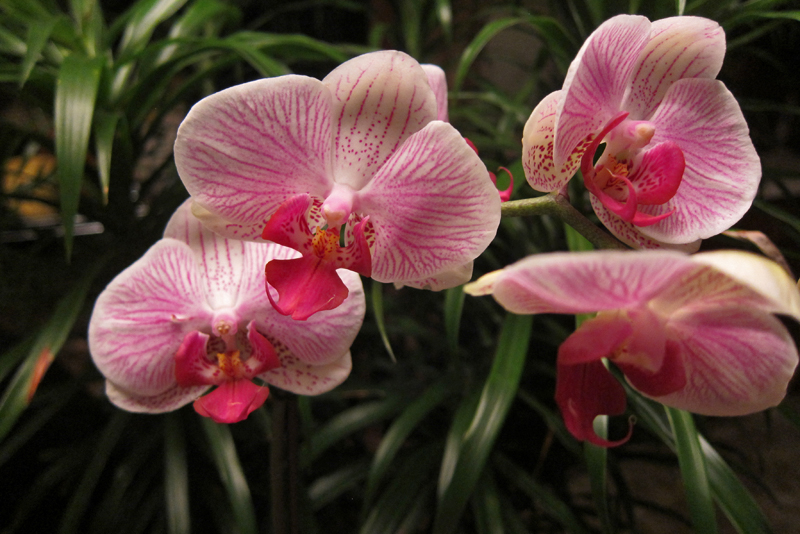 Now that the light is changing
As the season changes, the light intensity will changes in the various section of your home. To be sure that your plants do not get burn or suffers from the lack of adequate lighting, watch for the rotation of sunlight in and around your house. Move your indoor plants accordingly. If you have a plant that needs more light, make sure to change it to a sunny location as the season changes and light shift. In some instances you can keep your orchids in the same location, since the once bright and sunny spot may not be a cooler and shadier part of the house, this could trigger flowering. For instance, the Phalaenopsis will produce flower spikes when night temperature drops to around 50-60 degree Fahrenheit for 8-10 weeks.

How should you feed your plants?
When the temperature cools, keep a close watch on your orchid's medium. If they dry slower than the summertime, stretch out the time of watering. You can water less since the water does not evaporate as fast in the cooler and moist air of autumn. However, if you have forced air heating in your house, you may need to water more often, depending on how fast the orchid dries out. Adjust your watering and fertilizing based on the needs of your orchids.

Prepping your house for wintering plants
If you live in areas with longer winter, it is even more important that you take this preparation seriously. For those with short winter, it may not be as critical, but preparing your indoor space for bringing your plants inside should be planned. Clean the area that you will be putting your plants in. Buy grow lights is you do not have large windows with ample lighting. Get some small fan for air circulation if the space tends to be stuffy and lack air flow. Make sure there are ample stands to put your orchids on, away from the dog's wagging tails or the cat's jumping perch. Animals can easily knock the orchids over and uproot them, creating a disturbance to happy plants. Be careful to choose location that is easy to access for watering and observation of your orchids' leaves and roots, signs of good health.

Cleaning your plants
Before bringing your orchids in, make sure to treat them for pests, clean the pots of unwanted dirt, mold, moss, or other elements that may create problem during the long winter. Dipping your plants into soapy water until all the unwanted creatures crawl out is a good idea. Do trim all the dead leaves and cut off any unwanted old growth before bringing the orchids in.


You Should Also Read:
OrchidMap
Expand your space
Orchid Growing Tips


Related Articles
Editor's Picks Articles
Top Ten Articles
Previous Features
Site Map





Content copyright © 2018 by Haidy . All rights reserved.
This content was written by Haidy . If you wish to use this content in any manner, you need written permission. Contact Anu Dharmani for details.