Machig Labdron, Mother of Chod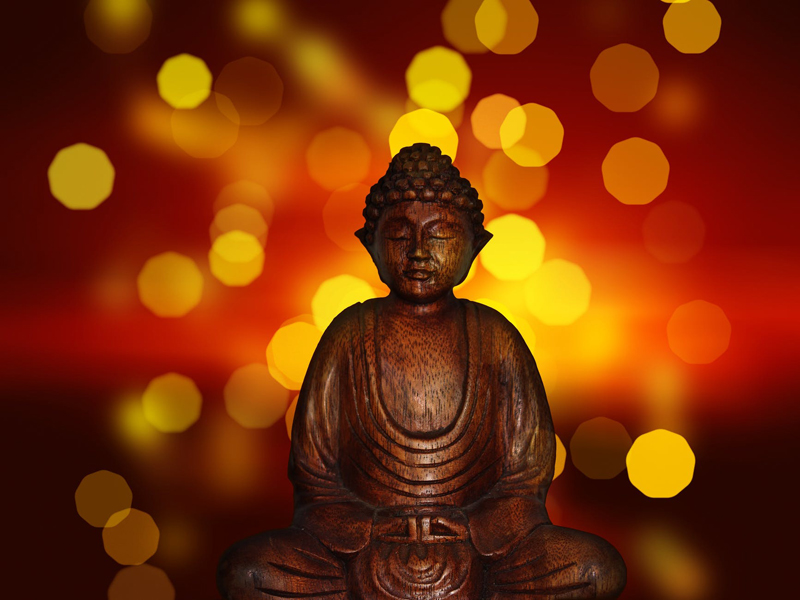 Machig Labdron is one of the most well-known Tibetan Buddhist woman teachers and lineage holders. She lived in eleventh-century Tibet, and is considered a 'mindstream emanation', or
rebirth
, of
Yeshe Tsogyal
, the first major female Tibetan teacher, and consort to Tibet's root guru, Padmasambhava.
Machig practiced and taught the Chod, a unique ritual-based practice for transforming the four inner 'demons' that inhibit enlightenment. The Tibetan form of Chod that Machig taught is unique both because it was established by a woman teacher, and because it is one of the few truly Tibetan-created practices, as opposed to being purely imported from India (although Chod did have Indian antecedents.)
Machig was very likely born into a Bon family, Bon being the shamanic-based spiritual tradition that preceded the establishment of Buddhism in Tibet. In any case, Machig's Chod practice seems to draw upon some Bon-shamanistic practices. As a girl, she worked as a professional
sutra
reader, going out to Buddhist lay homes to read teachings to family members as a form of spiritual teaching, and in order to accumulate karmic merit on their behalf. She was known as an especially gifted and speedy reader, and was especially known for her readings of the Prajna Paramita, or 'Perfection of Wisdom',
sutra
. Her own spiritual longings were awakened when a Buddhist master hearing her recitation questioned her on their actual meaning.
From that point forward, she was very devout, and wishing to avoid marriage and family life, left home as a young woman to join a monastic order. After several years of monastic practice, she eventually left this order, married a fellow practitioner, and raised several children. This also sets Machig apart from many of the other well-known historical female Tibetan mystics, as few had families.
According to legend, once Machig developed and began to teach Chod, news traveled to India, still at that time considered the seat of Buddhism, about her and her new Chod teachings. Since most Tibetan practices at that time traced their roots directly to India, there was initially doubt about the validity of Machig's adaptations. A delegation was sent from India to 'test' her. After a long debate with top Indian Buddhist pundits, and rousing support from her students, her form of Chod was certified as a valid Buddhist Tantric practice, the first such practice to be fully born on Tibetan soil.
Much of the information we have about Machig comes from a biography presented by Lama Tsultrim Allione, a contemporary American Buddhist teacher, in her book
Women of Wisdom
. Lama Tsultrim is herself considered a mindstream emanation of Machig Labdron, and in addition to
Women of Wisdom
has published a book called
Feeding Your Demons
in which she presents a contemporary Jungian-based version of the Chod practice.
In
Feeding Your Demons
, Lama Tsultrim explains the essence of Chod by stating that "The process of feeding our demons is a method for bringing our shadow into consciousness and accessing the treasures it holds rather than repressing it." She also quotes Machig Labdron, on the inner nature of demons, a common theme in Tibetan Buddhist literature:
"As long as there is attachment to ego, there are demons.
When there is no more attachment to ego, 

There are no more demons either!"
For more information on Machig Lapdron and the Chod practice, check out one or both of Lama Tsultrim Allione's books:
You Should Also Read:
Women in Buddhism
Tara Mandala, Tsultrim Allione's Retreat Center


Related Articles
Editor's Picks Articles
Top Ten Articles
Previous Features
Site Map



Follow @mommymystic
Tweet



Content copyright © 2023 by Lisa Erickson. All rights reserved.
This content was written by Lisa Erickson. If you wish to use this content in any manner, you need written permission. Contact Lisa Erickson for details.