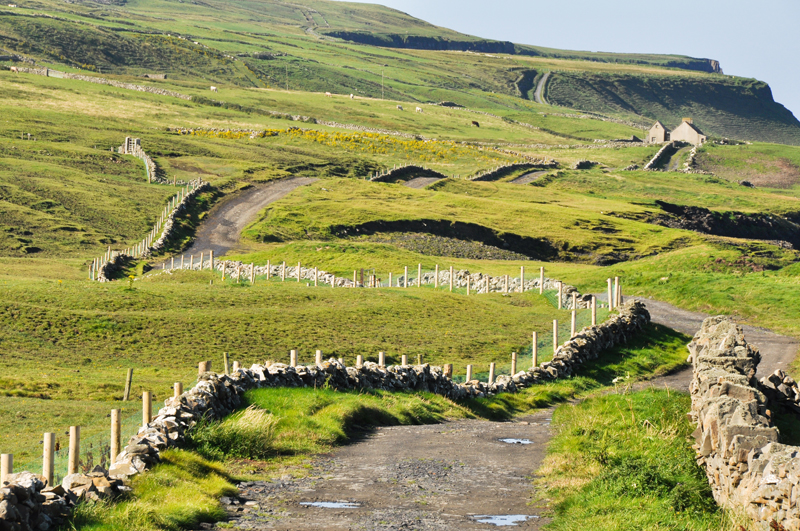 Newgrange is located in the Boyne Valley, just outside of the quaint little town of Slane,on the road towards Dublin. Known as one of the most impressive archaeological finds in western Europe, Newgrange is over one acre in size, and was built over 5000 years ago by new (stone age) farmers.
The enormous tomb is a Neolithic burial site, and is over 400ft long and 40ft high.
Outside there are 97 kerb stones and a entrance stone, some of the stones have Celtic spirals which are etched into them, these ancient markings are road signs of a sort, telling history, names, places, warnings, etc.
The site is probably best known though, for what takes place on winter solstice, (December 21). A beam of light enters the tomb and lights a path to the back of the passage way, this alignment with the sun has been pondered for years, but is believed that the neolithic people saw the sun and the coming of winter solstice as a new beginning, a rebirth, a new years eve of the ancient world.
The only way to see Newgrange up close and personal is to take the tour put on by the visitors center, it lasts about hour and a half and you are allowed to enter the tomb, which I highly recommend, it will give you a shocking perspective of what these people did, how they lived, what they believed, and how they saw the world.
The visitors center has a visual tour of the excavation, along with a gift shop and food court.
Newgrange is one of the most accessible of all the neolithic sites in Europe, compared to Stonehenge ( in England) it is also considered a mythical place, and draws people from around the world.
The waiting list for the solstice tour is close to a 10 year wait. If your interested contact
the office of National Monuments, and have them add your name.
Opening Hours 9.30am-3.15pm in winter
Cost Non-solstice tours of Brú na Bóinne £4, children £2
Country Republic of Ireland
County County Meath
Town Slane
Tel +353 (0) 41 982 4488 (Visitor Center)
Name Office of National Monuments
Number +353 (0) 1 647 3000
Email duchas@indigo.ie
Address 6 Ely Place Upper, Dublin 2, Ireland
Tourist Office
Name Bru na Boinne Tourist Office
Address Bru Na Boinne, Donore, County Meath
Phone +353 (0) 41 988 0305
Email info@meathtourism.ie
Want to know more? Try these books!


Editor's Picks Articles
Top Ten Articles
Previous Features
Site Map





Content copyright © 2023 by Tracey. All rights reserved.
This content was written by Tracey. If you wish to use this content in any manner, you need written permission. Contact Bee Smith for details.