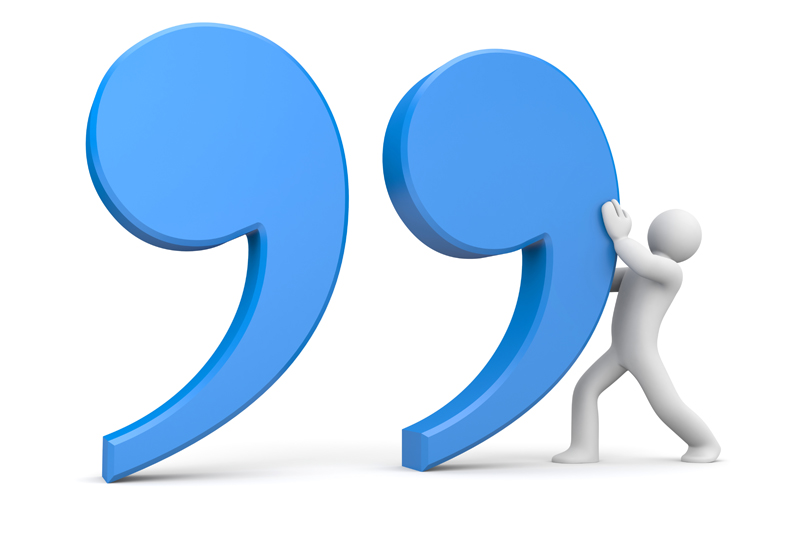 "Every year, it takes more brains to navigate this complicated world. More people are falling below what I call the 'incompetence line' through no fault of their own."
-- Scott Adams
"If you don't like something change it. If you can't change it, change your attitude. Don't complain."
-- Maya Angelou
"The true measure of your wealth is how much you would be worth if you lost all your money."
-- Anonymous
"Every flower must grow through dirt."
-- Anonymous
"Worrying is like a rocking chair, it gives you something to do, but it doesn't get you anywhere."
-- Anonymous
"We are what we repeatedly do. Excellence, then, is not an act, but a habit."
-- Aristotle
"Pleasure in the job puts perfection in the work."
-- Aristotle

"Motivation will almost always beat mere talent."
-- Norman R. Augustine




Many people have gone further than they imagined they could because somebody else thought they could.

"Imagination is the highest kite one can fly."
-- Lauren Bacall
"Not everything that is faced can be changed, but nothing can be changed until it is faced."
-- James Baldwin
"I don't know anything about luck. I've never banked on it, and I'm afraid of people who do. Luck to me is something else; hard work and realizing what is opportunity and what isn't."
--
"The great advantage of being in a rut is that when one is in a rut, one knows exactly where one is."
-- Arnold Bennett
"Having once decided to achieve a certain task, achieve it at all costs of tedium and distaste. The gain in self-confidence of having accomplished a tiresome labor is immense."
-- Thomas Arnold Bennett
"A thought which does not result in an action is nothing much, and an action which does not proceed from a thought is nothing at all."
-- Georges Bernanos
"I wish I could stand on a busy corner, hat in hand, and beg people to throw me all their wasted hours."
-- Bernard Berenson
"Be like a postage stamp. Stick to one thing until you get there."
-- Josh Billings

"He who kisses the joy is it flies lives in eternity's sunrise."
-- William Blake
"No bird soars too high if he soars on his own wings."
-- William Blake
"An expert is a person who has made all the mistakes that can be made in very narrow field."
-- Niels Bohr
"Action springs not from thought, but from a readiness for responsibility."
-- Dietrich Bonhoeffer
"To win you've got to stay in the game."
-- Claude M. Bristol
"Character may be manifested in the great moments, but it is made in the small ones."
-- Phillip Brooks
"Shoot for the moon. Even if you miss, you'll land among the stars."
-- Les Brown
"We got to roll with the punches, play all of our hunches, make the best of whatever comes your way. Forget that blind ambition, learn to trust your intuition -- plowing straight ahead, come what may."
-- Jimmy Buffett, Cowboy in the Jungle (song)

Great Quotes From Great T...


"We either make ourselves miserable or we make ourselves strong. The amount of work is the same."
-- Carlos Castaneda

"Obstacles cannot crush me. Every obstacle yields to stern resolve. He who is fixed to a star does not change his mind."
-- Leonardo da Vinci, Notebooks
"It is not the strongest of the species that survive, nor the most intelligent, but the one most responsive to change.
-- Charles Darwin
"Not knowing when the dawn will come, I open every door."
-- Emily Dickinson
"If you want to keep your memories, you first have to live them."
-- Bob Dylan
"Genius is 99 percent perspiration and 1 percent inspiration."
-- Thomas Edison
"In the middle of difficulty lies opportunity."
--
"Everything that is really great and inspiring is created by the individual who can labour in freedom."
--
"It is never too late to be what you might have been."
--George Eliot

It is Never - George Eliot

"What lies behind us and what lies before us are tiny matters compared to what lies within."
--


"Do not go where the path may lead, go instead where there is no path and leave a trail."
--
"Nothing great was ever achieved without enthusiasm."
--
"Nothing is beneath you if it is in the direction of your life."
--
"Difficulties exist to be surmounted."
--
"Vitality shows in not only the ability to persist but the ability to start over. "
-- F. Scott Fitzgerald
"History has demonstrated that the most notable winners usually encountered heartbreaking obstacles before they triumphed. They won because they refused to become discouraged by their defeats."
-– B. C. Forbes
"Nothing is particularly hard if you divide it into small jobs."
-- Henry Ford.

"Life is a series of experiences, each one of which makes us bigger, even though it is hard to realize this. For the world was built to develop character, and we must learn that the setbacks and griefs which we endure help us in our marching onward."
-- Henry Ford
"Obstacles are those frightful things you see when you take your eyes off your goal."
-- Henry Ford
"One of the greatest discoveries a man makes, one of his great surprises, is to find he can do what he was afraid he couldn't do."
-- Henry Ford
"You can't build a reputation on what you are going to do."
-- Henry Ford
"Watch what people are cynical about, and one can often discover what they lack."
-- Harry Emerson Fosdick
The Road not Taken

Two roads diverged in a yellow wood,
And sorry I could not travel both
And be one traveler, long I stood
And looked down one as far a I could
To where it bent in the undergrowth;

Then took the other, as just as fair,
And having perhaps the better claim,
Because it was grassey and wanted wear
Though as for that the passing there
Had worn them really about the same,

And both that morning equally lay
In leaves no step had trodden black.
Oh, I kept the first for another day
Yet knowing how way leads on to way,
I doubted if I should ever come back.

I shall be telling this with a sigh
Somewhere ages and ages hence:
Two roads diverged in a wood, and I-
I took the one less traveled by,
And that has made all the difference.
-Robert Frost, 1916

"If you break your neck, if you have nothing to eat, if your house is on fire - then you got a problem. Everything else is inconvenience."
-- Robert Fulghum
"He that would have the fruit must climb the tree."
-- Thomas Fuller, M.D.

Inspiration Point, formation from win...

"We must become the change we want to see."
-- Gandhi
"Whatever you do will be insignificant, but it is most important that you do it."
-- Gandhi
"Act as though what you do makes a difference. It does."
-- William James
"The most abundant, least used, and most abused resource in the world is human spirit and ingenuity."
-- Dee Hock
"Every calling is great when greatly pursued."
-- Oliver Wendell Holmes
"The greatest mistake you can make in life is to be continually fearing that you will make one."
-- Ellen Hubbard




"May the road rise to meet you. May the wind always be at your back. May the sun shine warm upon your face, the rains fall soft upon your fields and, until we meet again, may God hold you in the palm of his hand."
-- IRISH BLESSING

"The marvelous richness of human experience would lose something of rewarding joy if there were no limitations to overcome. The hilltop hour would not be half so wonderful if there were no dark valleys to traverse."
--
"We can do anything we want to do if we stick to it long enough."
--
"There are those who look at things the way they are, and ask why... I dream of things that never were, and ask why not?"
-- Robert Francis Kennedy
"Talent is cheaper than table salt. What separates the talented individual from the successful one is a lot of hard work."
- Stephen King
"Whatever you are, be a good one. "
--
"It's not whether you get knocked down, it's whether you get back up. "
-- Vince Lombardi
"None of us has gotten where we are solely by pulling ourselves up from our own bootstraps. We got here because somebody bent down and helped us."
-- Thurgood Marshall
"We are not in a position in which we have nothing to work with. We already have capacities, talents, direction, missions, callings."
-- Abraham Maslow

Bill Mills: 10,000 Meter Gold Finalist


"Every passion has its destiny."
-- Billy Mills

"One can make a day of any size, and regulate the rising and the setting of his own sun and the brightness of its shining."
-- John Muir (1838-1914)
"The difference between involvement and commitment is like ham and eggs. The chicken is involved; the pig is committed."
-- Martina Navratilova
"As for courage and will - we cannot measure how much of each lies within us, we can only trust there will be sufficient to carry through trials which may lie ahead."
-- Andre Norton




"Remember your dreams."
-- Maryanne Radmacher-Herhey
"It is impossible to win the great prizes of life without running risks."
-- Theodore Roosevelt
"The truth of the matter is that you always know the right thing to do. The hard part is doing it."
-- H. Norman Schwarzkopf
"Curiosity will conquer fear even more than bravery will."
-- James Stephens
"If you want to sing out, sing out, and if you want to be free, be free, 'cause there's a million ways to be, you know that there are..."
-- Cat Stevens (song lyric)

"If you employed study, thinking, and planning time daily, you could develop and use the power that can change the course of your destiny."
-- W. Clement Stone
"Never give up, for that is just the place and time that the tide will turn."
-- Harriet Beecher Stowe
"Success is a journey, not a destination."
-- Ben Sweetland
"You may have to fight a battle more than once to win it."
-- Margaret Thatcher
"Try a thing you haven't done three times. Once, to get over the fear of doing it. Twice, to learn how to do it. and a third time, to figure out whether you like it or not."
-- Virgil Thompson
"Go confidently in the direction of your dreams, Live the life you've imagined."
-- Henry David Thoreau
"Never Forget..........To the world you are just one person but to one person you are the world."
-- Unknown

Possibilities: Lighthouse


"The only way to discover the limits of the impossible is to go beyond them into the impossible."
--Unknown

"True terror is to wake up one morning and discover that your high school class is running the country."
-- Kurt Vonnegut
"I always turn to the sports page first. The sports page records people's accomplishments; the front page, nothing but man's failure."
-- Earl Warren
"If your ship doesn't come in, swim out to it!"
-- Jonathan Winters
"The person born with a talent they are meant to use will find their greatest happiness in using it."
-- Johann Wolfgang Von Goethe
"Treat people as if they were what they ought to be, and you help them to become what they are capable of being. "
-- Johann Wolfgang von Goethe
"What does not kill me makes me stronger. "
-- JohannWolfgang von Goethe
"Whatever you can do or dream you can, begin it. Boldness has genius, power, and magic in it. "
-- Johann Wolfgang von Goethe
"When we treat man as he is, we make him worse than he is; when we treat him as if he already were what he potentially could be, we make him what he should be. "
-- Johann Wolfgang von Goethe
"Defeat is not the worst of failures. Not to have tried is the true failure."
-- George E. Woodberry



"We all have ability. The difference is how we use it."--
Stevie Wonder

Provides one of the most complete collections of Free Newsletters for Self Improvement and Personal Growth on the internet.

A Collection of 10,000 Inspirational Quotations.

An Inspiration for Each Day of the Year.

A Guide to Life's Little Challenges
You Should Also Read:
Inspirational Poetry
Dreams Quotations
Life Poems


Related Articles
Editor's Picks Articles
Top Ten Articles
Previous Features
Site Map





Content copyright © 2023 by Danielle Hollister. All rights reserved.
This content was written by Danielle Hollister. If you wish to use this content in any manner, you need written permission. Contact Nicole Cardillo for details.