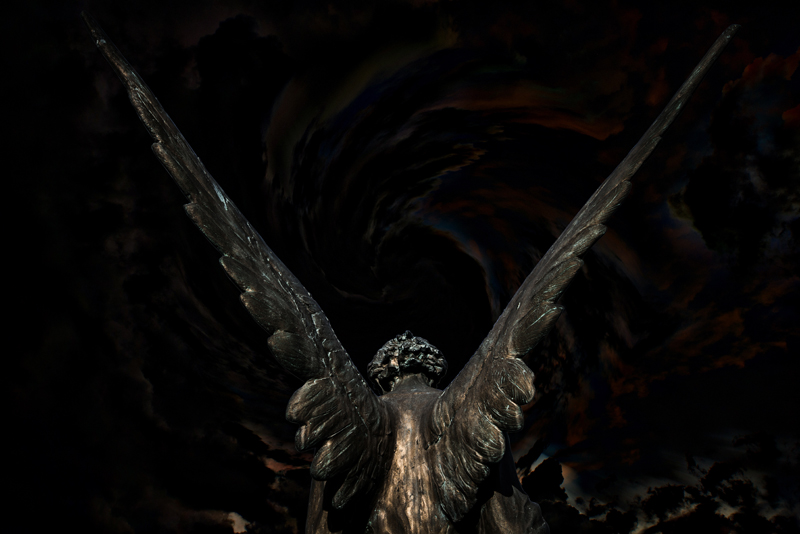 In these days of unstable weather patterns and uncertainty in economic matters, it's nice to have something familiar to reach out for. In this case it's the new record by British space lords
Hawkwind
.
Blood of the Earth
, the band's 25th studio record (and 58th overall!!!) is amazingly fresh for a band that is soon to be entering their 42nd year in existence.
"Seahawks" is a protypical Hawkwind song, starting off with some electronic twiddly-bits before setting into a heavy groove that is as hypnotic as it is unsettling. The song tapers off into an almost new-age ambience before bleeding into the title track which sounds as eerie as deep space itself.
"Wraith" is a fairly aggressive cut that lumbers on like a runaway motorcycle. Great fun this one. In keeping with their penchant for non-linear voyages, the band trots out the beautiful "Green Machine" for some respite on the ears. A very tasty guitar noodles about while the synths dart in and out all around the track.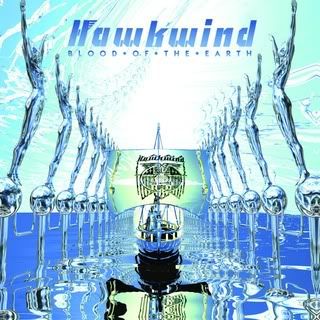 "Inner Visions" has an Egyptian feel (if there is an Egypt on Mars) and I can only imagine this song must be a monster when done live. "Sweet Obsession" embodies a party atmosphere and it gives the record a nice kick in the rear. "Comfey (sic) Chair" gives listeners a chance to recharge before kicking into the impressive "Prometheus", a song with a simple but pleasing groove.
"You'd Better Believe It" is another song made up two components: the hypnotic jam that is the mainstay of the band, and the tranquil head trip that is as equally familiar. One of my favorite songs on this record is "Sentinel", another gorgeous piece that would sound perfectly at home in the '70s. If you were ever to find yourself lost in space, I'm sure "Starshine" would be the soundtrack playing in your head. The song is as morbidly beautiful as an alien planet observed from afar.
I have to admit to straying from Hawkwind in the last few years.
Blood of the Earth
is a compelling argument from the band for me to return to the fold. This is a strong record indeed.
Track Listing
1 - "Seahawks" (Dave Brock) – 6:14
2 - "Blood of the Earth" (Brock, Matthew Wright) – 2:59
3 - "Wraith" (Jonathan Darbyshire, Niall Hone, Tim Blake) – 6:07
4 - "Green Machine" (Hone) – 4:04
5 - "Inner Visions" (Blake) – 4:29
6 - "Sweet Obsession" (Brock) – 4:45
7 - "Comfy Chair" (Brock) – 4:54
8 - "Prometheus" (Darbyshire, Hone, Richard Chadwick) – 5:48
9 - "You'd Better Believe It" (Brock) – 7:11
10 - "Sentinel" (Darbyshire, Hone, Blake, Chadwick) – 6:03
11 - "Starshine" (Brock, Jason Stuart) – 7:11 [bonus track on single CD and vinyl editions]
Lineup for Blood of the Earth
• Dave Brock – guitar, keyboards, vocals
• Mr. Dibs – bass guitar, vocals
• Tim Blake – keyboards
• Niall Hone – guitar, bass guitar, keyboards
• Richard Chadwick – drums, vocals
• Matthew Wright, vocals on 'Blood of the Earth'
• Jason Stuart, Keyboards on 'Starshine'
You Should Also Read:
Hawkwind website


Related Articles
Editor's Picks Articles
Top Ten Articles
Previous Features
Site Map





Content copyright © 2019 by Morley Seaver. All rights reserved.
This content was written by Morley Seaver. If you wish to use this content in any manner, you need written permission. Contact Morley Seaver for details.