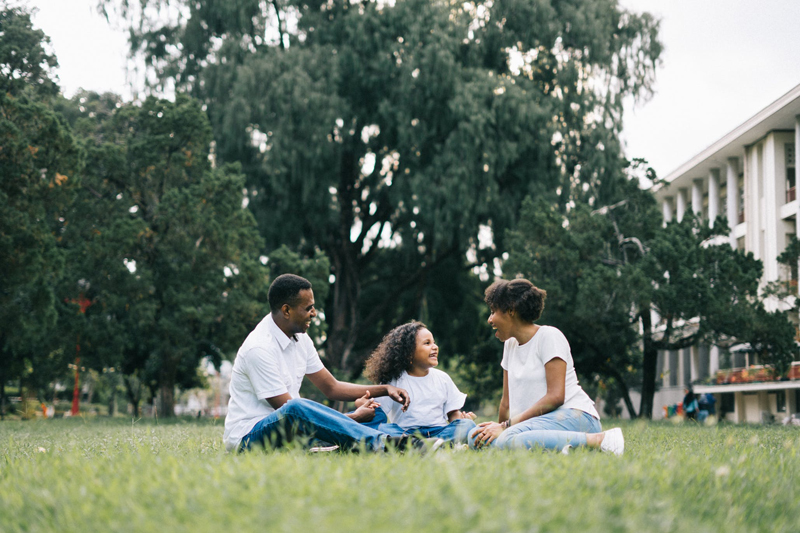 Sometimes we have the habit of asking God over and over again to do something. We'll wait, for a short while, and then ask again. In the world we live in today, where there seems to be instant gratification for every need conceivable, we may begin to expect God to adhere to that same philosophy of, instant gratification. If that is what you expect when you pray; if that is the relationship you expect from God, then you will be waiting a very long time.

God is not a quick fix for our current problems and situations. He is a long term God; a Father who is in it for the long haul—from beginning to end; from eternity to eternity. And because He loves us the way He does, He will not allow us to continue on a path of self-destruction; on a path of hopelessness and despair. He loves us way, too, much.

The heavenly Father understands you, and knows your needs before you even have them. He understands who you are and what you have been through. And He still admonishes us that He will never leave us or forsake us. That He is ever present when we need Him. It is a hard realization to come to the knowledge that it is we that have abandoned God, and not God us.

Don't think you've abandoned God? Sometimes it is not easy to see what we are doing, because of things we may be facing at the time. But have you noticed that you don't talk to God as much as you used to? Have you noticed that you have stopped seeking the will of God, or His instruction? Do you find yourself pulling away from fellowship, or from the house of worship? Sometimes these things are subtle, and they happen in small increments. Then there are times we just outright give up, and declare that God does not love us, that He does not care, because the pain that we are facing is just, too hard to bare. It is so excruciating, that it feels as though that we are going to die at any moment. It really does feel as though God has abandoned us. But He hasn't. He is right there, watching us; reaching toward us. But we can't recognize His hand, because we are blinded by the searing pain in hearts, and the tears that constantly fill our eyes.

There are times that we can't seem to see past the storms that are raging in our lives, and the loss's we have suffered, and the disappointments that we have endured. It doesn't seem fair, and the pain unbearable. But that's when you are closest to God. That is when, your flesh has no more to give, and you are weak, and God can finally be made strong in your life. When the flesh can no longer fight against the spirit, and must subject itself totally to the will of a loving and restoring God.

Does God allow this on purpose? No. Yet when we live a life that is exclusive of God, it opens us to the attacks and onslaught of the enemy. The enemy is always lurking and seeking a way into our lives, into hearts and minds. In first Peter, it tells that the enemy walks around like a roaring lion, seeking to devour us. The last thing that Satan wants is for us to trust and believe in God. The last thing that he wants us to do is have hope. If he can destroy our hop, he has crushed our faith. Because faith is the substance of all things hoped for (Hebrews 11:1).

Make no mistake, that the enemy whispers into our ears, and will try to convince us, that because God did not answer our prayers yet, because we have or continue to suffer such travail, because God seems to be taking so long, that God does not care, neither does He love us. The devil is a liar! But if you entertain those thoughts long, they will eventually seep into your spirit, into your heart, and wreak havoc in your life and emotions.

You know, sometimes life isn't fair. But God's favor is just. Sometimes things, terrible things, are going to happen, because we live in a world that is not governed by God, but by Satan. We live in a world that is always subject to corruption, injustice, and downright disobedience to God. There are times when we will be affected by the things of this world. We will suffer, just as Christ suffered. But we can determine to press on, and believe the Word of God. Believe that God is a promise keeper, and knows what we are in need of. God has designed it that every problem we face, is an opportunity for us to develop the solution that He has placed in us. We are the solutions to the problems.

God is speaking to us, but many of us do not hear. God has equipped you to go through. Maybe you suffered a loss, so that you can rise up and become a voice for those that suffer the same. Maybe, just maybe, you were born to save someone else's life. We don't know everything when we come into this world. He is giving instructions for a better life. He wants to bless us beyond our imagination. He wants to deliver us from our pain. He is watching and waiting. Waiting for us to grab His outstretched hand, and follow what He tells us to do next.


You Should Also Read:
You Are Missed


Related Articles
Editor's Picks Articles
Top Ten Articles
Previous Features
Site Map





Content copyright © 2023 by Ruthe McDonald. All rights reserved.
This content was written by Ruthe McDonald. If you wish to use this content in any manner, you need written permission. Contact Ruthe McDonald for details.