CD Review - My Ruin - Ghosts and Good Stories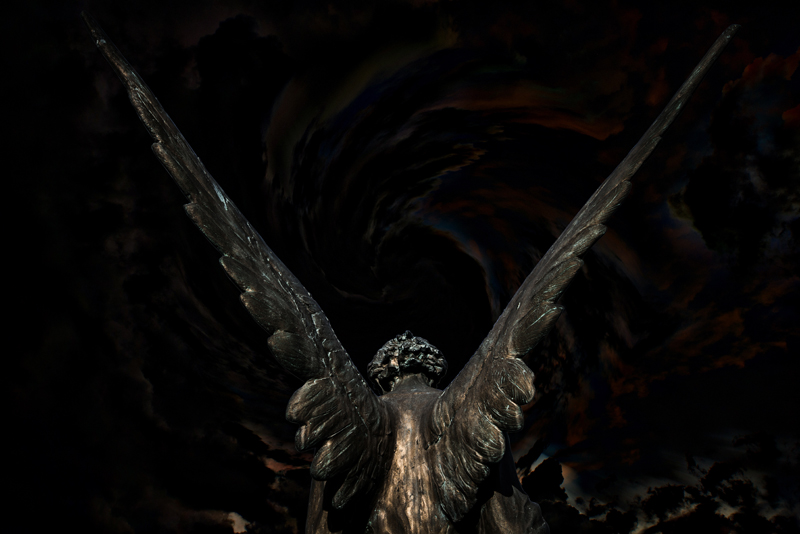 In trying to sum up the newest record by
My Ruin
, this example springs to mind. You know when you play a slot machine and after dropping in the quarter, all the fruit slowly glides to a halt and all the cherries line up? I know, me neither but for the sake of this exercise use your imagination and work with me, OK?
With
Ghosts and Good Stories
, all the cherries have lined up for the now-veteran band in a big way. This is attributable to three main factors; 1) the endless well from which
Mick "Freakin'" Murphy
culls his riffs from, 2) the overall continued evolution of refinement in the songs themselves, and 3) last but not least, the sharpened pen and voice of
Tairrie B
whose increasingly worldly (and otherwise) lyrical matter is brought to life by her commanding vocals.
Now a twosome, the band has been stripped to its core which in fact has always been Tairrie and Mick anyway. Without a rhythm section, Mr. Murphy was cast into the role of bassist and drummer as well as his usual six-string engagements. No problem for Murph as he does this as a matter of course with his solo project Neanderthal. In addition he found time to as co-produce the project. My Ruin was initially Tairrie B's baby but increasingly Mick Murphy has established himself as a bonafide star that can stand shoulder to shoulder with his wife and that is amply evident with
Ghosts and Good Stories
.
Despite the significance of this record it's hard to describe the actual difference between it and the past several. There is no change in direction. I mean, My Ruin is not suddenly Radiohead. This pair knows their bread and butter is the pounding (just this side of sludgy) metal led by metal's first lady of the scream, Tairrie B. Tairrie delivers some of the lines in plain spoken word (reminiscent of their LVRS side project) and although this is not the first time she has done this with My Ruin, this is the most she has done on one record and it helps give the project some color. But there is also something almost indefinable with
Ghosts and Good Stories
that makes it transcend their previous works.
Maybe it starts with the artwork which sets the slightly creepy vibe for the whole affair. The picture is of Tairrie's great grandparents taken in the early 1900s and the black and white shot is somehow unsettling. Then it's time to plug in the disc.
"Diggin' For Ghosts" starts off with a few relaxed blasts from Mick and then launches into a lazy dirge that sounds like a fanfare for Lucifer himself. A double-tracked vocal by Tairrie sets the tone for the record and works nicely to counterpoint the howls that will follow. The song is a great intro to the record, mostly due to the slow tempo with Mick laying down slabs of chords that almost seem like a wolf patiently circling its trapped prey.
The energy level shifts dramatically with possibly my favorite track, "Long Dark Night", a hard-charging banger with a tremendous intro that gets the blood flowing. This song is an ode to insomnia and a search for lost creativity, and is simply a great track. Not far in the family tree is "Excommunicated", a monster of a cut that shows Tairrie B has no peers in the heavy rock game. After a tasty little solo by Murph, Tairrie lets loose with a scream that would make Anselmo run for cover. When the hairs on my head had relaxed, I concluded this was favorite track #2.
Two statement tracks follow. The impressively vicious "Eyes Black" takes a run at Eastern religions/culture where women are forced to wear burkas to cover themselves in public. "Money Shot" is a critique of the women in rock who concentrate more on their physical appearance than the music itself. Particularly amusing are the last two lines which are spoken where, after a deep laugh, Tairrie says, "And I never want to be like you. F**k no!" Mick does a cool little Geezer Butler part in the middle of the track which really adds to the material rather than just holding down the foundation.
Church and religion gone awry gets served notice of condemnation in "Abusing (the) Muse". Tairrie and Mick's love/hate (mostly hate) relationship with Los Angeles is covered in "La Ciudad". The song has a line that says "Face down on the motherf**king pavement" which refers to an incident of mistaken identity where the pair were forced out of their car and flat down on the middle of a highway courtesy of an LA swat team this past summer.
"Suicide Tuesday" is like a series of rabbit punches punctuated by another of those tremendous screams that Tairrie is known for. "Saviourself" has some swagger to it while Tairrie delivers some pointed lyrics like "Well I guess it's true what they say. Friendship is a fashion." Mick lays down a crunchy riff that wouldn't sound out of place on an AC/DC record (OK, a
heavy
AC/DC record). This is a sleeper cut as I thought it was just good when I first heard it but time is a friend to this one as I now love it.
The awesome "Malediction" gets your head banging in short order as Mick brings in a riff that is like a tractor beam, sucking you right in. I have a theory. I bet that the reason his solos always sound so inspired is that he has bionic fingers and they are powered by a internal computer brain. If you break down his riffs, there is never any overlap and his solos sound like they are coming out of nowhere as if once the studio light goes on, the fingers just go "Showtime" and everything flows out unrehearsed.
"Repose" is highlighted by an awesome chorus that is unlike anything else they've done before, and it also features (who else?) Mick Murphy on background vocals. In the cover of Rollins Band's "Turned Out" Tairrie has a foot in both camps as she both speak/snarls her way through the words before decimating the chorus with some unreal screams.
"Deathknell" is a confident summation of the band up to now. A perfect bookend to "Diggin' For Ghosts", this track is hypnotizing with Tairrie's sexy speaking voice. Musically, Mick sounds like Iommi with a dark majestic framework with a slightly less-than mid-tempo gait.
Sonically and lyrically this band seems to be firing on all cylinders. You can hear it on the tracks and witness it courtesy of the accompanying DVD full of studio time showing the creation of the record. I think I say this on every review but despite some trying obstacles, it's hard to picture My Ruin sounding any better than this.
You Should Also Read:
My Ruin website
My Ruin Facebook


Related Articles
Editor's Picks Articles
Top Ten Articles
Previous Features
Site Map





Content copyright © 2019 by Morley Seaver. All rights reserved.
This content was written by Morley Seaver. If you wish to use this content in any manner, you need written permission. Contact Morley Seaver for details.