Summer Orchid Growing Tips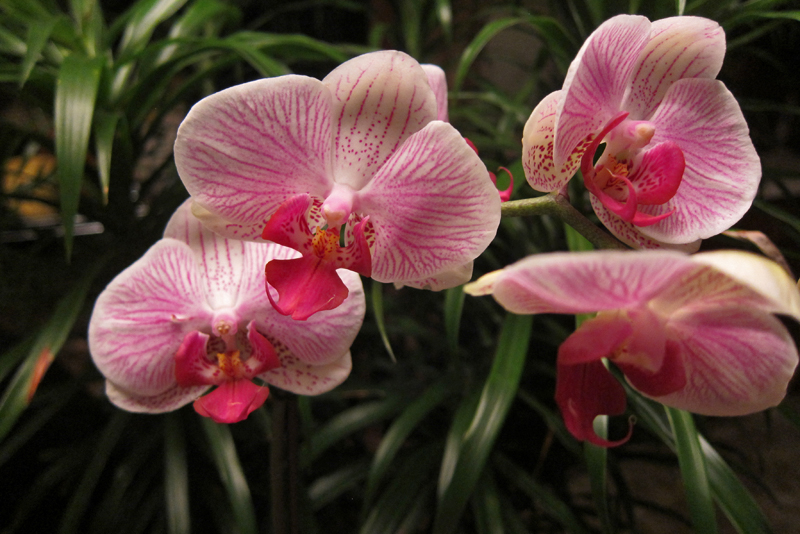 Repot Spring blooming Cattleyas
As your spring blooming Cattleyas finish blooming, this is a good time to repot them. If they're growing out of their pots or if they have been in the same pot for two years they will need repotting in order to keep them growing at their best. Be sure to use soaked new media and clean pots. Don't put in a larger pot unless necessary; orchids bloom better a bit root bound.

To re-bloom your Phals, cut the inflorescence
The general rule of thumb is that if you want to re-bloom your Phals, you need to cut the current inflorescence in June to give the plant time to gather strength for new blooming. If the plant needs repotting, do so when you cut the plant back and give it a chance to grow leaves and store up sugars.

Increase fertilizing during high growth periods
Spring and summer are the top growth periods for orchids. Fertilize once per week while growth is at its peak. As temperatures get hotter, your plants may go into a resting mode. For most of us in the Northern hemisphere, this occurs during July and August. Keep them watered and fertilize lightly. It is better to fertilize in the evening when the temperatures are hot.

Small pots need more water than big ones
Orchids in small pots will dry out faster than those in larger pots during the hot summer months. Put some sphagnum moss on the surface of the media to hold in moisture and spray lightly daily during high heat periods. This should not cause rot since the moss should dry out during the heat of the day as it releases moisture to the plant.

Mounted plants need daily watering
Mounted plants and those in baskets with little media will need watering once or twice a day, especially if there is a drying wind. Check the roots; if they're white they're dry. Some growers recommend watering at night during the summer so that the plant has a longer period to absorb the water.

Misting systems will cool the air
A misting system will cool the air in a greenhouse or around plants placed outdoors. These systems are available at hardware stores for cooling on patios or in barns and will make your plants very happy with additional humidity and cooler air during summer. If you have hard water in your area, be sure to use a calcium filter to remove some of the hard water elements so that your plants don't accumulate minerals.

You Should Also Read:
Orchid Growing Tips #19
Outdoor orchid areas
Growing outdoors


Related Articles
Editor's Picks Articles
Top Ten Articles
Previous Features
Site Map





Content copyright © 2022 by Susan Taylor. All rights reserved.
This content was written by Susan Taylor. If you wish to use this content in any manner, you need written permission. Contact Anu Dharmani for details.