Beaded Beads Inspired by Monkey's Fist Knots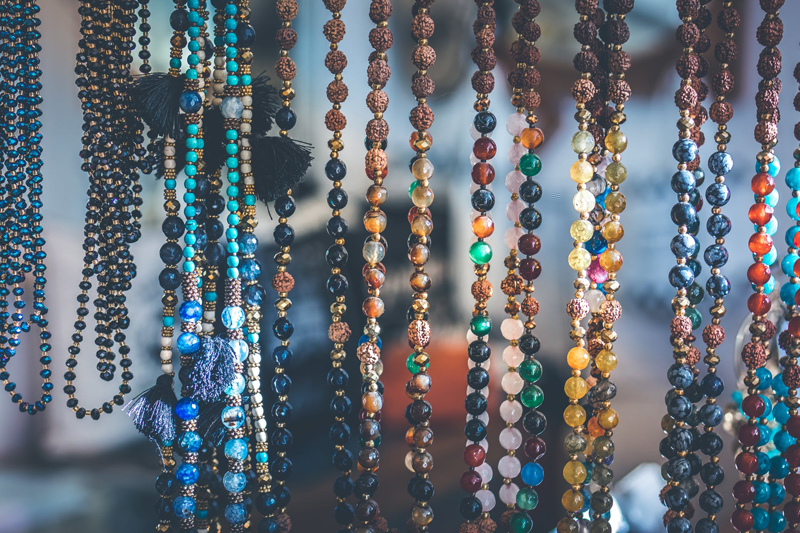 The balls on these earrings were inspired by
Monkey's Fist Knots
.
Instead of being a knot, they are 3 rings of flat peyote connected in the same way the knot is tied. This knot is an excellent way of visualizing 3 dimensions because the wraps go tall, wide, and deep.
You will need:
3 colors of Delica size 11 beads
Beading needles
Scissors
Also helpful- tweezers
For the earrings you'll also need:
2 headpins
some spacer beads
earring wires
The ball is made of 3 strips of peyote, 2 beads wide, and 12 beads long. These work up very fast. Make one in each color. 2 of them you'll close into rings, and the third you'll leave open.
This illustration shows the thread path for the peyote. Put on the first three beads, then pass your needle and thread through the first bead in the opposite direction, knot the tail and working thread tightly against the top of the first bead, then add a bead and go back through the second bead. Zip back and forth that way, adding beads to make the strip.
This illustration shows how to join the ends to make a ring.
After you have the first 2 rings done and the strip made for the 3rd ring, put the first two rings together. One in the other one. From the top it will look like a cross, from the side it will look like this.
Now it's time to add the 3rd ring. This is where tweezers can come in handy. Thread the strip through the inner ring and over the outer ring. Close it up.
Hopefully this helps show what I mean.
Weave in ends and clip them close.
Now the ball is done. You can thread it on a headpin or include it in a necklace by going through the gaps between the rings.
To make the earrings as shown, make 2 of the balls, and 2 peyote stitched beaded beads. Mine are 5 beads long and 6 beads high, zipped shut.
On headpins, put a small heishi type spacer on the headpin, a beaded ball, another heishi, the beaded bead, and a heishi with any other decorative beads you want to finish. Make a loop on the headpin, attach it to the earring wire.
If you want to learn how to tie Monkey's Fist Knots and lots of other great decorative knots, I really recommend Suzen Millodot's books. They are some of my favorites for knot tying for jewelry.(Affiliate links)
Affiliate links in an article provide extra income to me personally. I provide them both as a service and as a way to help fund my own book addiction.
You Should Also Read:
Brick Stitched Tattoo Bracelet
Peyote Stitched Hair Stick
Book Review- Bead and Fiber Jewelry


Related Articles
Editor's Picks Articles
Top Ten Articles
Previous Features
Site Map



Follow @shala%5Fbeads
Tweet





Content copyright © 2021 by Shala Kerrigan. All rights reserved.
This content was written by Shala Kerrigan. If you wish to use this content in any manner, you need written permission. Contact Shala Kerrigan for details.