Guest Author - Marjorie Colletta
The following three books by Nicky Epstein showcase this designers talents, and guide knitters to embellish, change, and think outside the box with knitting.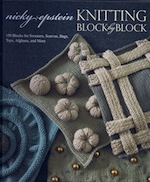 Knitting Block by Block-150 Blocks for Sweaters, Scarves, Bags, Toys, Afghans, and More
There are 150 different blocks that can be mixed and matched to your hearts content or used on the included patterns. Some of the blocks are just frames for embellishments that are created separately and then attached. Some of the blocks use multiple colors. And some use multiple mediums, see the Zip It swatch on page 117. I have to admit I'm not sure whether I like this book or not, I generally steer toward the classic when knitting, since I don't want it to go out of style before I finish making the item. Instead I will tell you the book contains both written instructions and charts for the blocks. In addition, she gives great examples at the end of the book on how to join the blocks. What is totally lacking is any detail in how to attach the embellishments, "Finishing: Sew the flower and stem to block following photo for placement." There are no specifics, such as, should you sew them on with thread or yarn, or how to prevent puckering. That is a big flaw in the book.
This books falls into the category of, you'll either love it or hate it, I suspect. Definitely browse through this book before you purchase it.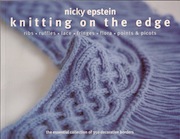 Knitting on the Edge-the essential collection of 350 decorative borders
is one of those books that no knitter should be without. This book lets you take all of the patterns you have and jazz them up and make them special. The pictures and directions are perfect (there are no charts however which is a bit of a draw back, but since most of the instruction lines are just followed once, it is not a big one). In most cases, a knitter of an item starting at the bottom and working up would use a provisional cast on, work their garment without ribbing or edging and when finished remove the waste yarn of the provisional cast on and knit on one of these wonderful edges.
Provisional cast ons are intermediate techniques, but there are examples on the internet of how to approach them. They allow much more flexibility than is usual when starting a pattern, and also make garments more easily re-sizeable.
Once a provisional cast on is mastered this book will open a whole new world of knitting for you. I highly recommend you try these out and this book has gathered many edgings into one volume which makes it easy to use.
Knitted Flowers
Ah, knitted embellishments, love them or hate them, Ms. Epstein is the master of them. This collection of knitted flowers will captivate some of you and alienate others, but I guarantee they will get a reaction out of you.
Knitted embellishments may not be for everyone, but if you are a person who likes them and is looking for ideas, this is the book for you. The pictures and instructions are excellent, with the exception of how to attach the embellishments which have no clear instructions. The flowers themselves are refreshing and often just what you need to make a plain garment, or piece look spectacular.
If you are not inclined to embellish your work, this book can be skipped, but if you want to jazz up store bought sweaters, purses, scarves, etc. or your own creations, take a look at this book.
Disclosure: Review copies of these books were provided by the publishers.
Buy Knitting Block by Block: 150 Blocks for Sweaters, Scarves, Bags, Toys, Afghans, and More
Buy Knitting on the Edge: Ribs*Ruffles*Lace*Fringes*Flora*Points & Picots - The Essential Collection of 350 Decorative Borders
Nicky Epstein Knitted Flowers