Tatting Basics and History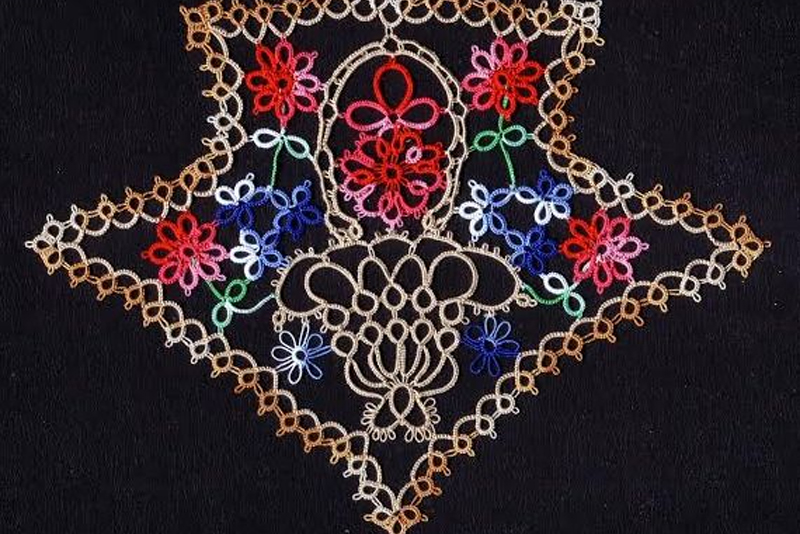 Tatting may be just holes surrounded by thread, but the play of light reflected by the turning threads is a source of fascination, beauty and inspiration. Tatting is one of a great variety of openwork fabrics which can be formed by twisting, crossing, plaiting, looping, knitting or knotting threads by hands plying with needle, hook, bobbin or shuttle.

An inexpensive art requiring only shuttles, thread and patience, tatting is also a surprisingly good method of stress management. Watching the shuttle fly and concentrating on forming the threads into intricate patterns allows the minor frustrations and inconveniences of the day to fade from mind and refresh the spirit. It also helps us to keep in touch with our past and gives the next generation that touch of elegance which is easily forgotten in this "hurry-up" world so accustomed to instant gratification. Tatting is a delight for the mind, the eye and the hand.

Tatting, of all the types of laces, may be the oldest. Although the origins of tatting are shrouded in the mists of history, the basic double stitch, a.k.a. larks' head knot, is the same stitch that has been used on the nets of fishermen for centuries. Unlike knitting and crochet, tatting is a form of lace that does not unravel. Tatting is both delicate in look and sturdy in construction. It often survives longer than the cloth which it embellishes.

Here at Tatting, instructions for all tatting methods will be available, one-shuttle tatting, shuttle and ball thread tatting, multiple shuttle tatting, needle tatting, crochet-tatting and Japanese needle tatting, too. Basic, Intermediate and Advanced tatting techniques directions will include patterns that range from the simplest of tatted edgings to most beautiful cluny tatted motifs.

Lessons and patterns that challenge us and teach us; patterns that preserve the traditional methods and designs and, patterns that inspire us to new techniques, will give both the beginning tatter and the experienced tatter hours of tatting pleasure.

Oddly, in the past, most tatters and other lace makers who published tatting instructions and patterns were named, "Anonymous," or "A Lady," or known just by initials such as "P.P." Today's tatting designers know no such restrictions and are both well-known and widely published. Tatting at BellOnline.com will be pleased to announce new tatting publications and offer reviews of the designer's new and previous designs. Tatting books in languages other than English will be included, too.

Tatting is not just doilies anymore. Although tatted lace does make wonderful doilies, Christmas ornaments, handkerchief and lingerie edgings, it doesn't just have to lie there anymore! Patterns featuring not only traditional shuttle tatting, but also needle tatting, beaded tatting and tatting on wire will enliven your projects. And tatting with wire can produce three-dimensional effects which translate well into flowers for corsages and wall decorations.

Needle tatting allows you to add bling to your tatted lace by using metallic threads. Larger tatting needles can be used with baby yarn to create caps and booties and jackets. Beaded tatting adds extra elegance to special occasion pieces such as valentines, bookmarks, and crosses. Endless possibilities.

Tatting is both a pleasure and a passion.

You Should Also Read:
Using a Flat Shuttle
Beginning Needle Tatting


Related Articles
Editor's Picks Articles
Top Ten Articles
Previous Features
Site Map





Content copyright © 2022 by Georgia Seitz. All rights reserved.
This content was written by Georgia Seitz. If you wish to use this content in any manner, you need written permission. Contact Georgia Seitz for details.