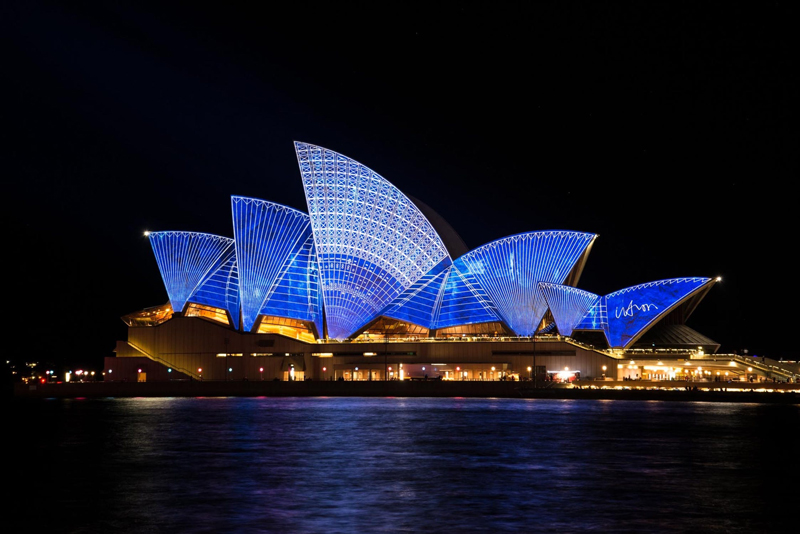 Known as the Festival State, South Australia offers a lot to visitors, from award-winning wine regions, local markets and fine dining to the Outback, the Flinders Ranges, and Kangaroo Island. For those who wish to sample a lot of what Australia has to offer but does not want to travel all over the country, South Australia is the perfect destination.

Nestled on the Adelaide Plains between Gulf St.vincent and the Mount Lofty mountain ranges, the state capital, Adelaide, earns the state's nickname by hosting a myriad of festivals throughout the year, celebrating arts, wine, sport, and the region's ethnic heritage.

An international gateway, Adelaide's airport offers direct flights to the US, or connecting through another gateway such as Sydney. The Indian Pacific rail also stops in Adeliade. Public transportation, and a city well-laid out on a grid system, make it easy and intuitive to get around the city. Numerous parks and open areas, including long stretches of sandy beaches, also make it a beautiful city to stroll around.

If you have a sweet tooth, a stop at Melba's chocolate and confectionary is a must! Also worth a visit are the National Aboriginal Cultural Institute and the South Australian Museum, offering collections of Aboriginal and early Pacific artefacts.

Mark Twain visited the region, and wrote "color, color everywhere" of the surrounding Adelaide Hills to the east of the city. For wine leovers, it is also known for its chardonnay.

The region arond the Murray River, known as the Riverland, is one of Australia's largest wine producing and fruit growing areas. The river provides great opportunity to enjoy the great outdoors, including water skiing, canoeing, and evening campfires along the banks. A journey along the river on the Murray Princess, or even just hiring a houseboat to cruise along and visit the picturesque towns along the way, is a perfect way to enjoy the region.

Three hours north of Adelaide is the Erye Peninsula, home to the world's largest desert cave system. It is a region marked by rocky deserts, native bushlands, and a striking coastline. Whales, seals, and sharks can be watched from the safety of the cliff tops. For those looking for relaxation, try lounging on the beaches or walking in the solitude of the deserts.

Sifty-five miles from Adelaide (just over an hour by car) is the York Peninsula, where visitors can enjoy a more adventurous vacation, such as diving and hang gliding. Innes National Park, home to emus, kangaroos, and unique birds, offers sweeping dunes and rugged coastlines perfect for a coastal walkabout.

Far north of Adelaide is the unique Outback town of Coober Pedy, famous for its opals. In fact, most of the world's precious opals are found here. Visitors can tour a mine and see gems being cut. Coober Pedy is also famous for its Underground Hotel, which makes a truly unique experience for its guests. Many of the local residents live underground, too, to avoid the scorching heat of the day.

The Flinders Ranges, South Australia's largest mountain range, is a beautiful example of the rugged outback scenery of Australia and offers some unique natural scenery, such as Wilpena Pound, a large sickle-shaped natural ampitheatre covering nearly 80 square kilometres. Mount Remarkable and the Pichi Richi scenic railway in the southern part of the ranges are also not to be missed.

Barossa Valley, only 34 miles north of Adelaide, is a not-to-be-missed destination. An easy daytrip out of Adelaide, or a longer stay to take in all it has to offer, the Barossa is arguably Australia's most premier wine-growing region. Its Cabernet Sauvignon is award-winning. If you take your wine seriously, this is a must see. Hot-air balloons, especially at dawn, are also a perfect way to take in the region.

Most visitors, however, flock to Adelaide as a stopping point on their way to Kangaroo Island. Hailed as Australia's Galapagos Island, Kangaroo Island, just 71 miles south west of Adelaide, is home to many of Australia's indigenous wildlife. For those who want to take in as much wildlife as possible in natural surroundings, this is the place to go. Permanent colonies of sea lions and penguins, as well as koalas, wallabies, kangaroos, goannas, echidnas, pelicans, and many more. It is also a paradise for bird-watchers, with over 267 species of birds on the island. Nature-lovers, too, will enjoy the beautiful bush, coastlines, cliffs, and national parks of this island.

South Australia offers a lot in a small area for a visitor wanting to take in as much as they can without a lot of major traveling, and is the perfect compliment to any Australia vacation itinerary.


Related Articles
Editor's Picks Articles
Top Ten Articles
Previous Features
Site Map





Content copyright © 2022 by Michelle R. Mangio. All rights reserved.
This content was written by Michelle R. Mangio. If you wish to use this content in any manner, you need written permission. Contact Judie Bellingham for details.