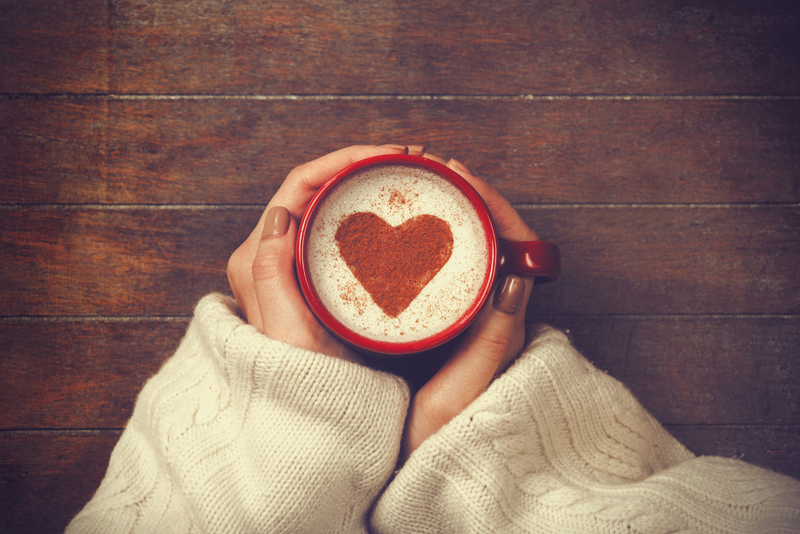 Cables appear to be complicated, but the reality is that if you can knit and purl you can cable. There are mock cables that do not require the use of cable needles and more tricky cables that do require their use. There are a few supplies that will come in handy, but use whichever supplies make the process easiest for you.
First are the cable needles:
Here is a straight double pointed needle and a needle with a bump in the center: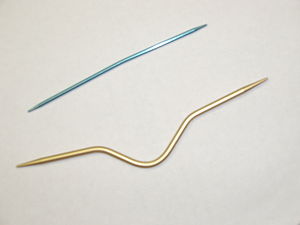 Here is a second picture of a hooked cable needle and a wooden double pointed needle: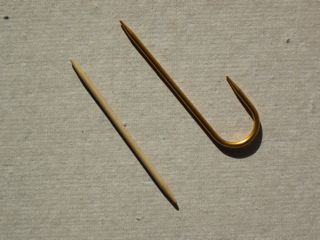 To make a cable the process is to remove stitches from the needle, place those stitches either in the front or the back of the work, knit stitches that come after them, and then knit the stitches that were removed. This creates a cross over of stitches, and the look depends on how many stitches are removed and whether the removed stitches are placed in front or in back of work.
This crossover happens every few rows depending on the specific pattern used, and can create a reversible fabric or a fabric with definite right and wrong sides.
Here is a sample of knitting a cable:
Step One:
Remove stitches from left needle and put on a "cable" needle
Knitting next stitches on left needle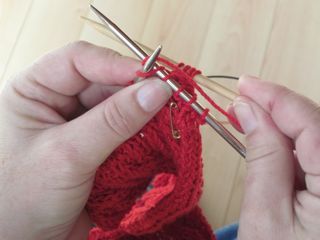 Knitting stitches off the cable needle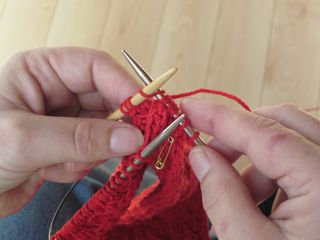 Depending on whether the cable needle is held in front or in back of works determines how the cable will look:
* Needle in front causes the cable to cross to the right (when right side is facing you).
* Needle in back causes the cable to cross to the left (when right side is facing you).
* Reversible Cable (same on front and back)
* Wide Cable more stitches are placed on the cable needle.
* Thin Cable fewer stitches are placed on the cable needle.
* Mock Cable, knit the second stitch on the left needle, but don't remove from the left needle. Knit the first stitch from the left needle, and then move both knitted stitches from the left to the right needle.
* Cables that veer away from each other, knit consecutive cables, first having the needle held in front, then knit a cable with the needle held in back.
Finally, something I find extremely helpful is to put a pin or marker in the row where the stitches are actually moved around, so that I can easily see which row crossed, and can then count the rows until the next cable is to be worked.
Examples of different cables:
You Should Also Read:
Cable knitting tools and techniques
Knitting a swatch or checking your gauge
Power Cables


Related Articles
Editor's Picks Articles
Top Ten Articles
Previous Features
Site Map





Content copyright © 2018 by Marjorie Colletta. All rights reserved.
This content was written by Marjorie Colletta. If you wish to use this content in any manner, you need written permission. Contact Korie Beth Brown, Ph.D. for details.