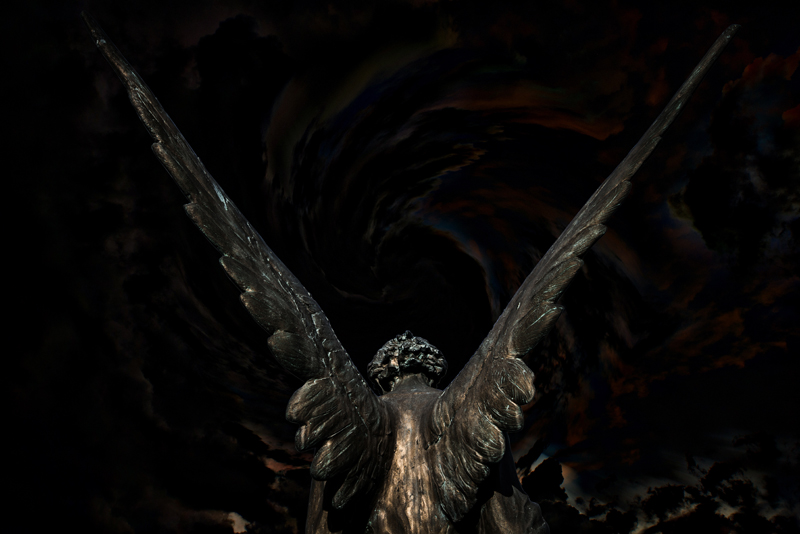 Imagine, if you will, a wide-open desert valley with the sun reflecting off the blond sand making you cover your eyes. The skies are blemish-free of clouds and painted a stirring shade of blue. You hear a low rumble that is fast increasing in volume. As you strain your vision to lock in on two black swarms off in the distance, the ground begins to shake.
You soon realize that the swarms are heading towards each other and the din begins to escalate quickly. You grab your binoculars to get a closer look at the proceedings and are shocked to learn that the swarms are in fact sword-flashing warriors on horseback. The two warring factions are on a collision course, hell-bent on destruction.
As the groups collide, their stallions carry them through confrontation after confrontation. The magnificent animals, with their manes trailing in the wind, are massive and pound the sand while the riders create carnage.
For some reason, I've always had this mental image whenever I hear most
Ill Nino
songs. For me, the New Jersey/New York band's music works best whenever they lock into that rambunctious galloping sound. There are several elements to the band's repertoire that combine to make it unique but the when the drums and percussion are leading the way, sounding like a horse-powered death crew, I'm happiest.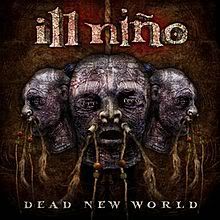 Regrouping. Reloading. Re-energizing. Whatever you want to call it, Ill Nino has spent the last few years looking to get their career to the place they envision it to be after a disappointing stay with Cement Shoes, their previous label. The band felt that the label didn't do enough to promote their last release
Enigma
and signed with Victory Records in hopes of greater success.
I'm happy to report that if you're like me and find your joy in the galloping elements of Ill Nino's songs, you'll be overjoyed with their new record
Dead New World
. There are two profiles to the band (vocalist
Cristian Machado
, bassist
Laz Pina
, guitarists
Ahrue Luster
and
Diego Verduzco
and drummer/percussionists
Dave Chavarri
and
Danny Couto)
--- the sweet and the sour; the brutal and the beautiful. Sometimes one displays dominance over the other. Most of the time the pair co-exists in harmony with the sweet spot for one or the other taking the spotlight only briefly.
On this record, the band finds a perfect symmetry between the two. The guitars slash like those warrior swords and Machado utilizes his pit-bull growl to match his more melodic offerings. The songs are robust with enthusiasm and aggression yet retain an ear-friendly flavor that is the featured entrée on this aural menu.
Dead New World
opens with a bang as "God is For the Dead" makes your speakers all bullet-y. Cristian's vocals are double-tracked with both the guttural and the clean versions teaming up. Chavarri and Couto make their presence known throughout and best of all, the chorus is excellent when that galloping rhythm gets chugging.
If anyone thought Ill Nino has gone soft in recent years, they should check out more than a couple of the cuts on
Dead New World
. "The Art of War" is a full-on blitzkrieg as is the abrasive "Mi Revolución" which is particularly compelling considering the melodic nature of the chorus is thrust against the aggressive verses proving to be a marriage made in…well, wherever these things are made when dealing with a metal band.
Not to be outdone, "Serve the Grave" is a fist against face song that again doesn't sacrifice anything in the melody section. "Killing You, Killing Me" rips through with breakneck speed only taking the foot off the throat to throw in a killer flamenco guitar solo. "Scarred", which is the closing song, flexes its muscles and sounds better after several listens to me than on the first play.
"Against the Wall" is the first single and it's a brother song to "God is For the Dead" --- hard-hitting but with great melodic sensibilities pulling it in the right directions….and once again….those clashing horse-ridden warriors.
"Bleed Like You" is excellent, starting off with a riff full of attitude before shifting into a great verse followed by an equally great chorus. Cristian sounds no better than on "How Could I Believe", which is punctuated by a tasty guitar solo that should be heard from more often.
"Ritual" starts off with an acoustic guitar before cranking into a riff that will throw your neck out of alignment. In that familiar juxtaposition, the aggression is not watered down as it buoyed by a great melodic hook and both sides of Cristian's voice is brought to the fore.
Interestingly enough, the boys include a cover of the Smashing Pumpkins' "Bullet with Butterfly Wings". They do a good job but one questions covering a song without truly making it their own. I would have omitted this one in favor of the band's own material which is good enough for me.
For my money, the standout song on this record is "If You Were Me". The verses sparkle but the chorus absolutely rips --- a melodic gift!!! The way Cristian's voice is layered on here (as with a lot of the tracks actually) really gives the song depth.
From beginning to end, there isn't a bad cut on
Dead New World
. If I was the producer, I might have insisted on a few more solos to satisfy the guitar freaks out there (OK, me) and I would have replaced the cover with another original. Having said that, these are minor quibbles when talking about a record of this quality.
This is definitely the most balanced, complete output by Ill Nino.
Dead New World
is anything but!!!
* Editor's note: In the interest of full disclosure, I received this CD free of charge from the record company.


Related Articles
Editor's Picks Articles
Top Ten Articles
Previous Features
Site Map





Content copyright © 2019 by Morley Seaver. All rights reserved.
This content was written by Morley Seaver. If you wish to use this content in any manner, you need written permission. Contact Morley Seaver for details.