Exotic Pets and Your Significant Other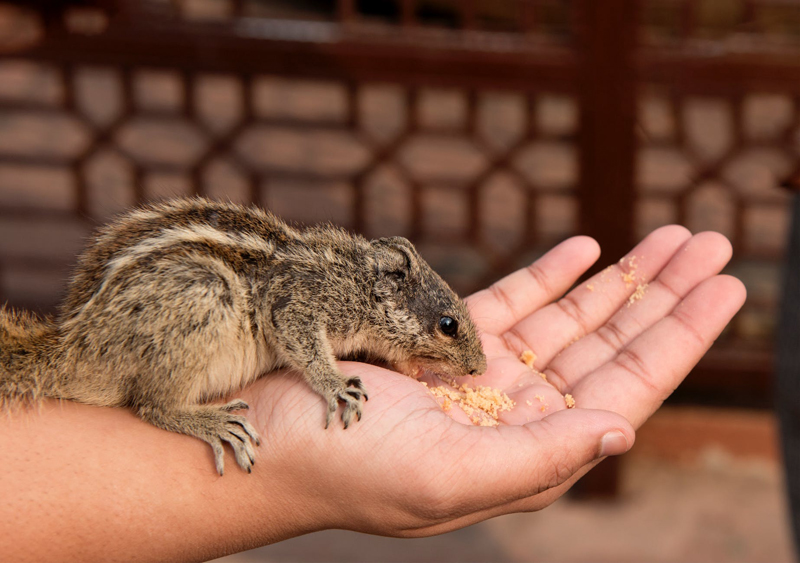 I am not quite sure that my future husband knew what he was getting himself into when he married me. It evidently worked out OK since we are approaching our 13th wedding anniversary. Having exotic pets was as normal to me as eating dinner once a day, or taking a shower.
I really didn't think about poor George and my menagerie of pets when he came up to Northern Minnesota to move me to Southern Minnesota before our wedding.
The day I moved it was winter and quite chilly. I had the cages covered to keep them as warm as possible. Both vehicles were packed and warmed up before we began bringing the animals out. The truck was loaded and my boat was hitched to my car.
The first cage to be loaded was quite large and high. George asked, "What is in this cage?" I answered, ferrets. He then inquired how many ferrets. "Just seven ferrets," I answered.
George has always been very easy going. He didn't bat an eye. We then went to grab a big pet carrier. "What is in here," he asked. "A skunk I answered, just one," I quickly added. His eyes started to look around the room at the number of pet porters and cages. "I told you I had pets, exotic pets and even unusual pets." He answered, "You said you had unusual animals but didn't mention you had a zoo."
We all adjusted. He quickly became an animal lover as much as I am. It didn't take long to add a few exotic animals of his choosing to our family, including raccoons.
His mother even babysat my skunk on our honeymoon at her house. That is an interesting story in itself.
I would like to dedicate this article to my husband George. During the last couple of months I sustained a serious injury on top of an old injury. I spent three weeks in the hospital and am still basically flat on my back. I am thankful to George because he takes excellent care of the animals and waits on me hand and foot. His mother, now in her 80's also lives with us. His brother was supposed to take care of her during the initial recovery time but could only handle it a few days before he hauled her back to our place. Our only conclusion was putting her in a rest home. We found a place for her to live, just a few minutes before her arrival George was getting ready to walk out of my hospital room. An awful dread set heavy on my chest. I said George; somehow we have to make this work out. I wouldn't want to ever be in a rest home. He of course, was thinking the exact same thing.
George has full responsibility for everyone. The animal cages are cleaned, they always have fresh water. He makes sure everyone gets out for his or her playtime; he cooks, cleans, and runs to me every time he hears me drop something, which seems to happen every few minutes.
I want to thank you George for being my best friend and a remarkably kind and loving person. In addition, thank you for being a wonderful father to my exotic pets and my daughter who was a handful, a teenager when we got married! Also, thank you for honoring the fifth commandment, Honour thy father and mother.
I am sure there are many significant other and exotic pet stories out there that should be told. Please email me by going to
ExoticPets
and clicking on my name. I would love for you to share your stories!
Here are exotic pet pictures and funny animal pictures
Exotic pet raccoon picture, raccoon learning to be a raccoon cap or a hair piece?



My husband George






Our brat coon who stole my pastry, he didn't give it back either. YOU take it away from him lol.




Mustn't forget the ferret pictures





The sock thief, no sock is ever safe if it is on your foot or not.




Enjoy exotic pets YouTube – Ferret videos
ferret video

Amazon has a 24-hour cookie. So, if you follow my link today, and then decide to think about the purchase the link will expire in 24 hours. By all means think about your purchase but please go back through my link so that I get credit.
Kindle 3G Wireless Reading Device, Free 3G + Wi-Fi, 3G Works Globally, Graphite, 6" Display with New E Ink Pearl Technology,/B> There are many great books about unusual animals and exotic pets for the Kindle Reader. Do you know how many times I have moved across country and had to donate just about every book I had to the local library, many times over, hundreds if not thousands of books? EBooks are much cheaper. Besides books, there are magazines, newspapers and other great reading material. Imagine not having stacks of magazines you would like to save.

"Simply put, it's the best dedicated ebook reader you can buy… Amazon has managed to increase the contrast on the Kindle in a way that sets it above the Nook, Sony Readers, or any other dedicated ebook reader we've tested." - PC Magazine"


Just one example of a Kindle EBook


My Exotic Pet Shop - opens a world of products safe for your pets from A-Z including product and book reviews

If you have a comment about this article, if you have a question, or just want to say hello and get to know other pet owners, stop by the Exotic Pets BellaOnline Forum! Comment Here

You can forward this article to a friend scroll down and look for the middle icon circle "Tell a Friend" it is right after the newsletter subscribe area. You can print a printer friendly copy from there too!

Scroll down a litter further and sign up for the exotic pet's newsletter. Your email is 100% safe, I never even see it. You will receive a newsletter once a week. Once in a great while an emergency newsletter may go out, but this would be only for a big illness outbreak or other emergency. Subscribe so you will know when new content comes out!

Facebook blog

Follow Diana Geiger editor of Exotic Pets BellaOnline!

Exotic Pets BellaOnline on Twitter


Feel FREE to Contact me anytime. You can reach me via my bio page. Click on my name.Contact Diana



This site needs an editor - click to learn more!

You Should Also Read:
Exotic Pet Site Map
Children's Pet House (For Kids)
Exotic Pet Shopping (the safest for your pets)




Related Articles
Editor's Picks Articles
Top Ten Articles
Previous Features
Site Map





Content copyright © 2023 by Diana Geiger. All rights reserved.
This content was written by Diana Geiger. If you wish to use this content in any manner, you need written permission. Contact BellaOnline Administration for details.