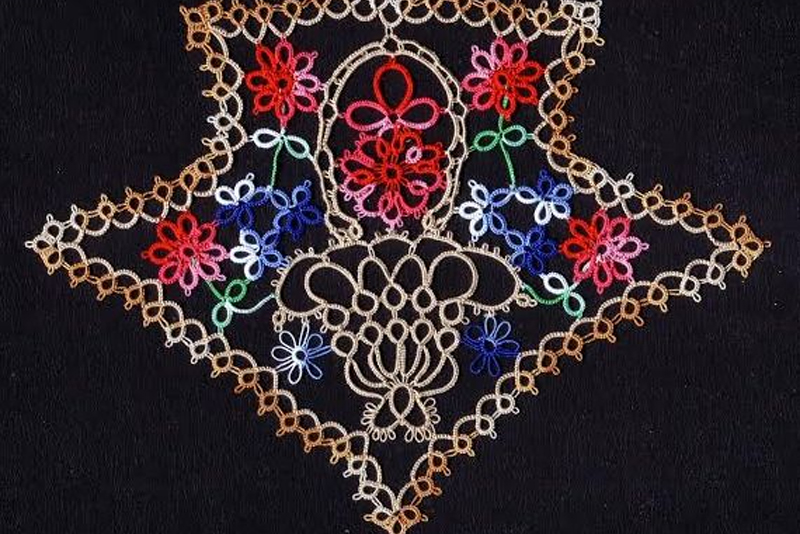 The new tatter must be ever vigilant to prevent the dread tatting disease,"Gapsosis." As Gina Shillitani demonstrates in this edging with a cloverleaf and chain repeating pattern, the spot below the ring(s) and before the next chain commences is the area where it is most likely to find an unwanted gap in the lace. Gapsosis is most often found when tatting with soft threads such a pearl cottons. 6-cord tatting thread with a hard twist is less likely to have this problem. Please compare the space below the cloverleaf in the upper photo with the same cloverleaf in the lower photo. The gap is extremely obvious and detracts from the overall appearance of the lace.
There is a simple remedy. Identify the spot where the gap shows, take out the following element, probably a chain. Now fold the last tatted element, probably a ring, back over the previous chain. Hold the ring on top of the chain like holding an Oreo® Cookie sandwich. Position the work and prepare to tat the chain. Set the first half stitch extremely firmly. Repeat with the second half stitch. Now unfold the ring and return both ring and chain to normal tatting position. Look now for any possible gap. Finding none, complete the pattern using this method as needed.
Should you still find a gap below the rings, you may need to rotate the left wrist outwards to remove that last little smidgen of unwanted space. After some practice, it will no longer be necessary for you to stop and fold back the ring and your hand will be able to feel when the last little bit of gap is gone.


The problem = GAPSOSIS




The preferred result = No GAPSOSIS





Step 1
Examine the work and locate the gap below the first ring.



Step 2 Fold ring two back over the chain.



Step 3 Rotate the work and prepare to chain.
Keep the ring on top of the chain.



Step 4 Tighten each half stitch of the first double stitch of the chain firmly.



Step 5 Unfold ring. Note there is no gap now. Continue pattern.



Related Articles
Editor's Picks Articles
Top Ten Articles
Previous Features
Site Map





Content copyright © 2023 by Georgia Seitz. All rights reserved.
This content was written by Georgia Seitz. If you wish to use this content in any manner, you need written permission. Contact Georgia Seitz for details.