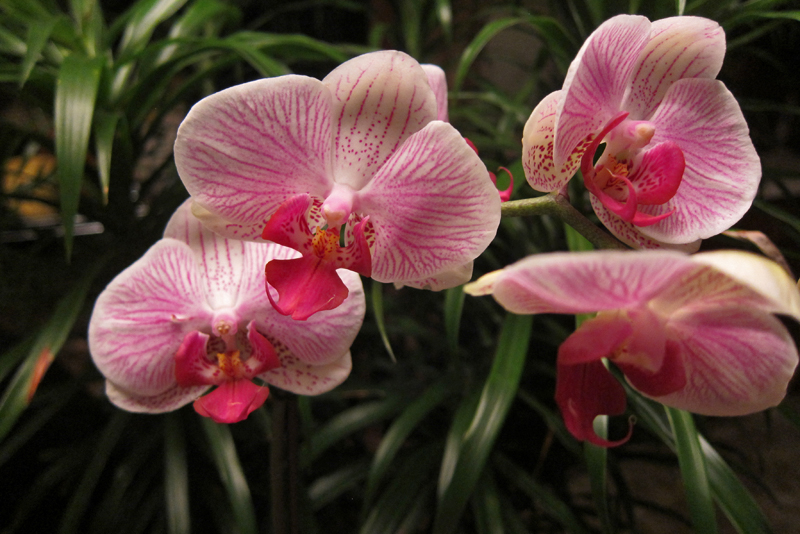 When starting out as a new orchid enthusiast, do not go out and spend money on expensive plants. You can find the common Phalenopsis with bloom from grocery or hardware stores. But you can also visit green houses and look for their discount section. Often the out of bloom or the old blooming plants are put on sale.

If you go to orchid shows there are sometimes on sale plants that are sold on promotion or that some growers may have too many of the more common plants and they are selling to make room for the rarer plants.

Before buying, inspect the plants thoroughly. Look for the plants that do not have signs of sickness on the leaves (usually with black blotches on the leaves or some yellowing). Make sure not too many of the leaves are wrinkled, because wrinkles leaves or seudobulbs of the plants could mean that they've been starved of water for too long. Sometimes there may be more than one plant in the pots and buying these can be good deals because you can divide them when you get home.

Also pay attention to the roots. There should be some green, healthy looking roots. The dead roots are often limp, dried and brittle. Touch the roots and the leaves to make sure they are firm. Do inspect the base of the plants and verify that there are no small insects.

After you bring them home, put them near a sunny window, checking that the place is not too drafty. Do not put it near your other plants. Place them in quarenteen by not letting them near the other plants. That way, if there are diseases or insects on the new plants they do not infect your current collection.

Do not worry that your orchids are not the rare ones, learn to grow the common and cheap orchids first before working your way to the more complicated and rarer species.

If you want to put your plants outside by graphing them to trees, make sure you put them outside under shades so that they would not be burned by the sudden exposure to the sun. Most orchids that had been cultivated indoor, like any plants, need time to be adjusted to the harsh light of direct sun.

With careful checking everyday, your orchids' needs can be met. You can also catch any new sickness early on and can look for timely treatment.


Related Articles
Editor's Picks Articles
Top Ten Articles
Previous Features
Site Map





Content copyright © 2018 by Haidy Ear-Dupuy. All rights reserved.
This content was written by Haidy Ear-Dupuy. If you wish to use this content in any manner, you need written permission. Contact Anu Dharmani for details.