Potato Salad with Pickles and Pimentos Recipe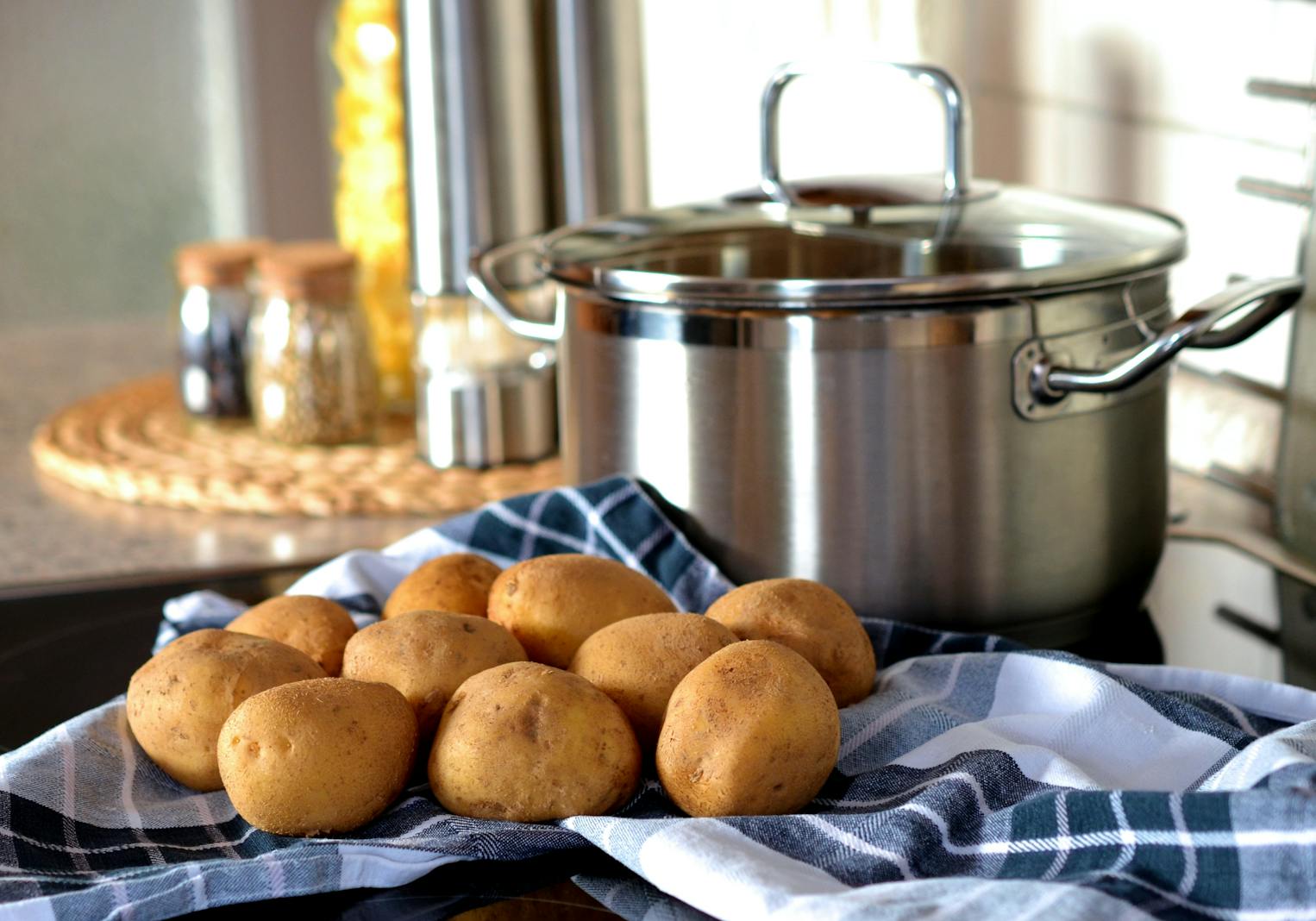 Perfect potato salad is more than just tasty ingredients. It also depends on how you handle the food. Cooking the potatoes is the first step.

Use a wax potato like a red or Yukon Gold potato. Russet potatoes are mealy, and not especially suited for making potato salad, even though many recipes seem to call for them.

If you have potatoes that are a uniform size, just cook them all in salted water until they are easily pierced with a fork. Don't overcook them, or your potato salad will be mushy. How long you cook your potatoes depends on their size and age.

If you have large and small potatoes from a bag of potatoes, place the large potatoes in a Dutch oven with salted water that covers the potatoes, and cook them for about 20 minutes. Add the smaller potatoes and cook for 20 more minutes. Check for potatoes that are already done. They are cooked when a fork easily goes in as far as the middle of the potato. Pull any cooked potatoes out of the water and place them in a bowl. Finally, turn the heat off and cover the potatoes that need to finish cooking. Let the potatoes stand for up to one-half hour. After that, drain the water and rinse in cold running water for about 5 minutes. Have the pan filled with cold water, and then add a tray of ice cubes. Let the potatoes stand until the ice cubes are at least half melted.

Slip the skins off and rinse the potatoes in cold water. Let them drain in a colander. If you are using new, or "B" sized potatoes, you may want to dice them with the tender skins on. This will give you a "Redskin Potato Salad."

Cut the potatoes in half. You may dice them into your desired size. I like to slice off small bits, about the size of the end of my little finger from the edges. They are irregularly shaped.

Potato Salad with Pimentos and Pickles Recipe

Ingredients

1/2 cup of red onion or Vidalia onion
2 tablespoons + 1 tablespoon Claussen dill pickle juice
6 extra large hard boiled eggs-peeled
3 pounds of red or Yukon Gold potatoes –boiled with skins removed
1 teaspoon canning salt
1 teaspoon celery seed (You may use more or less, if you prefer.)
3 tablespoons Claussen pickle relish
1 small jar of chopped pimentos-2 ounces
1 tablespoon Ingelhoffer Stone Ground Mustard (optional)
1/3 to 1/2 cup of mayonnaise
Pepper to taste
Paprika for garnish

Method:

Cook 3 pound of potatoes according to the directions above, or use the method that you prefer. Slip the skins off, rinse the potatoes, and drain them in a colander.

Dice the onions in a medium dice into a small bowl. Add 2 tablespoons of dill pickle juice and let stand until the potatoes and eggs are cut up (about ½ hour). Drain the pickle juice. This helps to sweeten the onions.

In a large bowl, cut the eggs up into small pieces. Then, cut the potatoes on top of them. The potatoes should be cut according to your family's preference. Sprinkle the potatoes with the salt and the celery seed. Add the onion. Spread the remaining dill pickle juice, sweet pickle relish, pimentos, and stone ground mustard on top of the chopped potatoes and onions. Then, dollop the mayonnaise over the salad. A good way to measure mayonnaise is to spray the measuring cup with non-stick cooking spray. Then, the mayonnaise will pop right out of the measuring cup.

Mix gently, and stir as little as possible to mix thoroughly. Chill the salad for at least 3 hours.

Potato salad is a staple food at picnics and potlucks. It's a fantastic addition to a hot dog or hamburger sandwich meal. It's also great for breakfast with a sausage biscuit! Accent your sandwich meal with this delicious potato salad, Then, watch your family and friends glow with happiness!

What do you like to serve with potato salad? Share your favorites with us in the BellaOnline Sandwiches Forum. We would love to hear what you have to say!

You Should Also Read:
Bacon Lettuce and Tomato Sandwich Recipe
Juicy Hamburger Recipe
Grilled Deli Meat and Cheese Sandwich Recipes


Related Articles
Editor's Picks Articles
Top Ten Articles
Previous Features
Site Map





Content copyright © 2022 by Connie Mistler Davidson. All rights reserved.
This content was written by Connie Mistler Davidson. If you wish to use this content in any manner, you need written permission. Contact Connie Mistler Davidson for details.