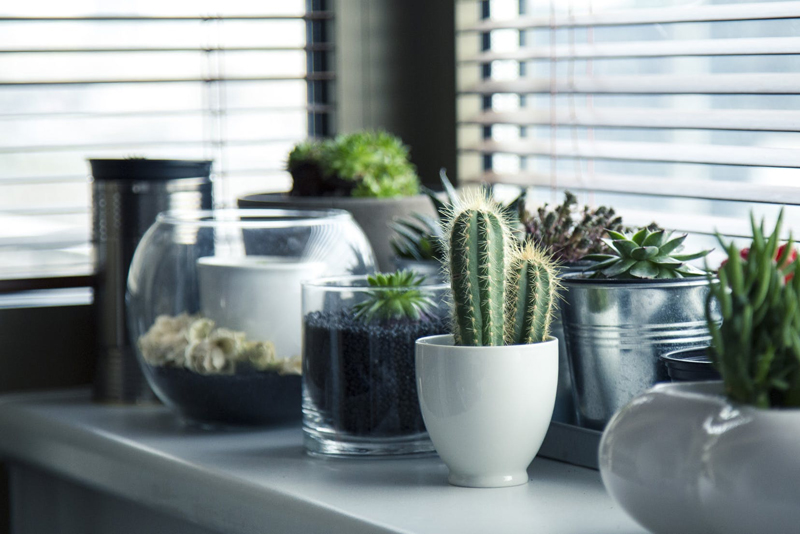 One of my favorite plants to grow indoors during the snowy season is Cyclamen. It is at its most beautiful when the weather is cool and enjoys the cold air coming off the window pane when other plants would sulk. The most common Cyclamen grown as a houseplant is Cyclamen persicum, also known as the Florist's Cyclamen. Cyclamen can be found in a wide variety of colors, including pink, purple, red, coral, and white. The colors are vivid and some varieties have an amazing fragrance.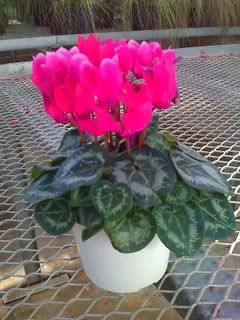 Cyclamen like bright, but indirect sunlight. Here in the northern hemisphere, a northern or eastern window is best. Provide as much light as possible to keep the plant flowering for as long as possible, but be sure to keep it out of the direct sun. In the summer when the plant is dormant, you can move the plant to a darker place away from the window to rest.
When watering your Cyclamen, take care to keep water out of the crown (the place where the flowers and leaves originate from). If water gets in, rot could soon follow. Don't let your plant sit in water for extended periods of time. Cyclamen do best with thorough watering, followed by the chance to dry out pretty well. Be careful not to let it dry out all the way: Cyclamen will wilt pretty readily if allowed, and they get very stingy with the new flowers if they aren't being watered regularly.
Water soluble fertilizer is a good choice for cyclamen as you will want to refrain from applying fertilizer when it is going dormant and while it is resting. Cyclamen usually go dormant during the summer, although some people are able to keep their plant blooming on and off.
If the leaves are yellowing and dying off and flowers stop appearing, it is probably time for it to take a break. Check to be sure that the corm (or potato-like root) is not mushy. If it is, it is rotten and isn't any good. If it is slightly soft, but firm, keep it in a cool, shady area and refrain from fertilizing. A little water is okay, but stay on the light side until you see new growth again. Resume your normal watering and fertilizing routine when the plant begins to grow.
Cyclamen are not normally targeted by insects, but keep an eye out for spider mites. Spider mites love the dry air of the winter and can take over the moment you step out of the room. There is also a Cyclamen mite, but they are more of a greenhouse pest than a problem in the home. Occasionally mealy bugs or scale can make an appearance.
If you are feeling the winter blues, pick up a Cyclamen and put it somewhere in your home where it will get a lot of enjoyment. Some varieties do not have a scent, so if that is important to you be sure to check before you buy. Enjoy your glimpse forward to the spring!
This site needs an editor - click to learn more!


Related Articles
Editor's Picks Articles
Top Ten Articles
Previous Features
Site Map





Content copyright © 2022 by Lisa Beth Voldeck. All rights reserved.
This content was written by Lisa Beth Voldeck. If you wish to use this content in any manner, you need written permission. Contact BellaOnline Administration for details.