Tips for Planning Your Trip to Ireland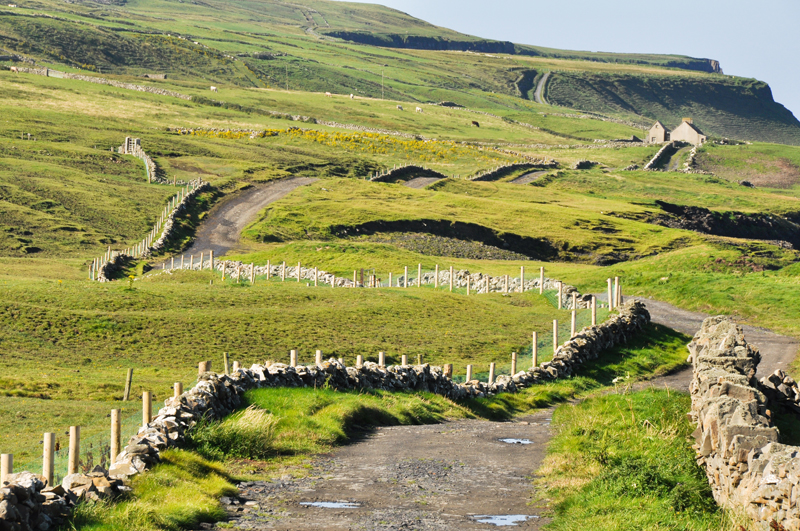 Some people adore solo traveling, but most prefer to have companions on their journey. Package tours are attractive to some for that very reason. But perhaps you want to travel with relatives or friends and there is a huge age spread, even a generation gap. Maybe the packages on offer aren't broad enough to appeal to all members of your travel group. Planning your trip to Ireland carefully should ensure that everyone feels that Irish magic on the trip.

Like many women, I think making a list is essential. It probably starts in your head when you can't sleep one night and you are panicked when you realise your teen is going to be surgically amputated from their cellphone for a fortnight. For the next two hours you probably lie rigid imagining the horrors that can be inflicted by a sulky fourteen year old.

Take a deep breath! It'll be okay. I've been there, even if the fourteen year old wasn't mine. But there were points on the holiday when I was the only one still speaking to him.

Here are some tips that I have picked up touring around Ireland with friends and family over the past thirty years. Consultation in planning is important, but thinking on your feet and being spontaneous also helps. A lot!

1) Pick a Theme
Most people have some goal for their trip. It might be researching ancestors and visiting the ancestral homeplace and tracing distant relatives. A sporty family might want to combine golf with horse back riding, trail biking and a day at surf school. Some people may just want a general 'culture vulture' adventure hitting all the museums and heritage parks.

Pick a theme for the trip and then research places that will fulfill the goal. This will help you create an itinerary.

2) Access All Ages
What fascinates a six year old will bore a teenager rigid in many cases. Granny may need a more sedate pace and the teen may not be able to cope with jetlag and keep dropping off to sleep. You won't all be at the same pace and energy levels. Jetlag effects people differently, too. Be realistic. You may please most of the people most of the time but not all of the people all of the time.

One former client was very clever and wise in that she planned a surprise day that was just for each person on their multi-generational trip. For instance, her daughter was interested in fairies and all things fey. So she booked a fairy themed day out that was her daughter's 'special day.' For her husband, she organised a day in Cong, Co. Mayo to visit the sites where "The Quiet Man" was filmed since he is a big John Wayne fan.

Knowing that a day that is dedicated to granting your biggest wish for the trip can help soothe you on days when you may not be as enthusiastic about the sites.
Varying your route through cities, county towns and rural areas will alter the pace and offer wider choices.

3) Tricky Travelers
Referring back to my own experience of touring Cork with a moody teenager, always entertain many alternatives. Yes, we packed Scrabble because he often trounced the adults and that put him in good humor. But we also were firm in hauling him up hills to waterfalls in the pouring rain. Fresh air and precipitation tires everyone beyond the point of argument.

While there were some tense moments on that trip and he reported it on postcards to friends as the most boring week of his life, many years later his mother heard him waxing positively nostalgic about that 'wonderful holiday on the Beara Peninsula.' Even when you are feeling the pain, remember that they may well reframe this memory in the future. Hang in there. You will (someday) be the hero who took them on that wonderful trip!

4)Outdoor Activities
I feel some people make the mistake of driving in too long stretches. Being cooped up in a car in a country with unfamiliar roads and confusing signage is tough on the driver and the navigator and tempers. So try and route yourself and drive in 'laps' of no more than three hours. Make sure that you stop and have a good walk on a beach or on a woodland trail. Take a half day of surfing lessons or go dolphin spotting. Ireland's scenery is majestic, awe inspiring and it is calming when your fellow travelers may be getting fractious. Yes, it rains here, so do pack waterproof shoes and outerwear. But it is often 'soft rain' and that softens hearts and souls, too.

5)Don't Try To Do Everything
One of the best tips is to have some 'give' in your plan so that you can be spontaneous. You might find just the perfect day out by accident. Try not to lock yourself in to too tight a schedule; this can prove too exhausting for everyone. Basing your group in one place for a few days allows you to explore from a central point. It is more restful not to adjust to a new pillow too often. A central base where you can do looped routes also allows for you to discover things that you never found out about on the internet.

Enjoy your time in Ireland and let her weave her magic for you and your fellow travelers.


Related Articles
Editor's Picks Articles
Top Ten Articles
Previous Features
Site Map





Content copyright © 2022 by Bee Smith. All rights reserved.
This content was written by Bee Smith. If you wish to use this content in any manner, you need written permission. Contact Bee Smith for details.