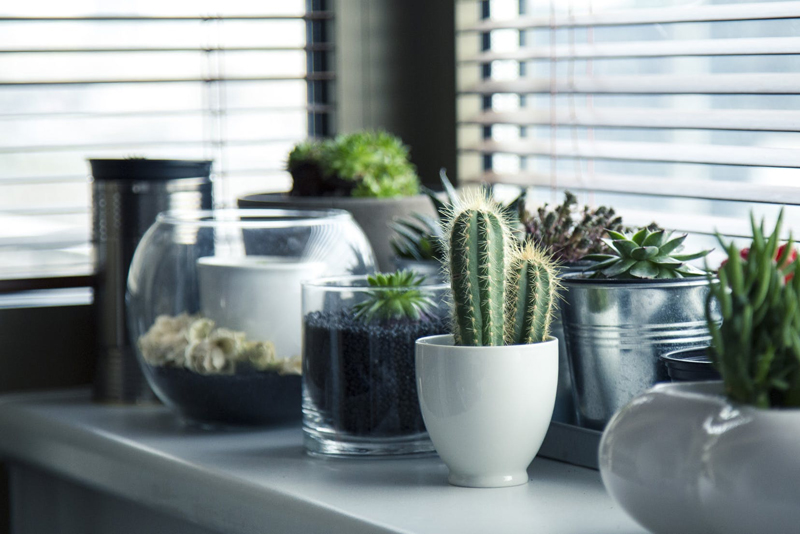 A lot can be gained by familiarity with the leaves of a Phalaenopsis. They are great indicators of the overall health of your plant and can help you learn how to care for your plant. Once you have gained experience growing these orchids, looking at the condition of the leaves will become second nature. Until then, it's nice to have a little guidance.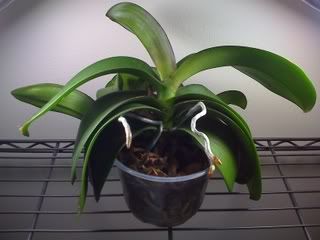 Phalaenopsis leaves are thick and fleshy because they hold a lot of water in reserve for the plant. Healthy leaves should be a medium green and firm. If they are dark green, they are likely not receiving enough light. If they are kind of floppy or soft, the plant needs water. If you know that the plant's root system is healthy and the leaves are soft, you should water it. The leaves may also be floppy if the plant is not getting any water because its roots are rotten off, but I will go into more detail on that in a moment.
Some things you may find on Phalaenopsis leaves are black spots, dry brown spots, yellow patches, or sticky, amber-colored honeydew. Black spots are an indication of a bacterial infection, usually caused by physical wounds that were contaminated in some way. These black spots should be cut out, or off, with sterile utensils and treated with cinnamon or a fungicide. Dry brown spots are usually a symptom off too much sun. If a portion of the leaf appears to have died and turned brown, that is scorching. You do not need to remove this from the leaf, but you should probably move your plant to a shadier area.
Yellowing of the leaves can mean one of three things: If it is the bottom-most leaf, and is yellowing uniformly, it is probably just normal aging and you need not be concerned. If it is an upper leaf, it depends on whether the yellowing is coming from the outer edge of the leaf or from the part of the leaf connected to the plant. If it is the leaf tip, over-fertilization is the likely cause. If it is coming from the part of the leaf attached to the plant, or from the center of the leaf outward, your plant has probably been over-watered and is rotting.
Sticky, amber-colored goo is a sign of scale infestation. Scale is the most common pest to Phalaenopsis, and they must be washed off by hand, preferably with an insecticidal soap. Repeat washings once a week for 4 weeks. Other, much more infrequent pests can include mealy bug or spider mites.
Hopefully, by sharing what I have learned through trial and error, your orchid-growing experience will be more of a pleasure. All Phalaenopsis ask for is a little attention at the start. Once you have grown to know them, they will be thankful for just an occasional minute of your time.
This site needs an editor - click to learn more!

You Should Also Read:
Phalaenopsis in Flower
Phalaenopsis Roots
Houseplants Newsletter




Related Articles
Editor's Picks Articles
Top Ten Articles
Previous Features
Site Map





Content copyright © 2022 by Lisa Beth Voldeck. All rights reserved.
This content was written by Lisa Beth Voldeck. If you wish to use this content in any manner, you need written permission. Contact BellaOnline Administration for details.