Get Fit, Get In Shape & Have Fun With The 'Bellydance:Fitness for Beginners' Video Series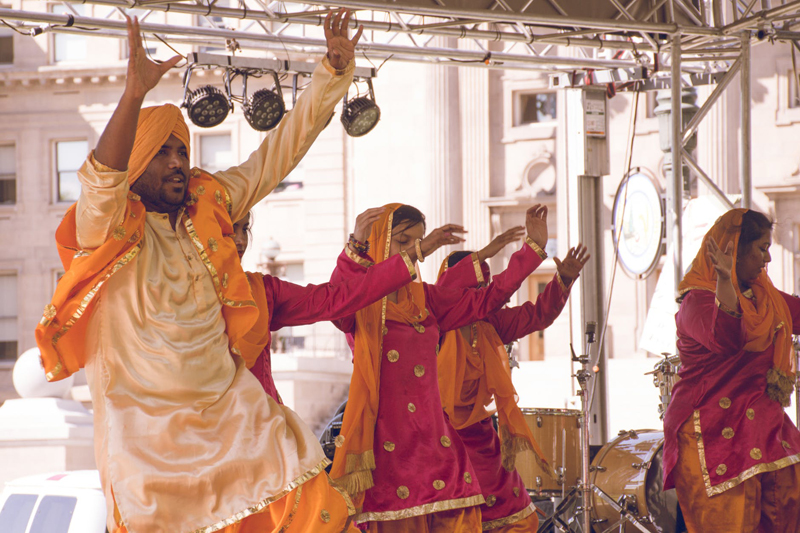 With the summer months approaching, many of you might be thinking about warmer weather, which leads to wearing fewer clothes due to that weather. Those thoughts were on my mind back in early February. After watching the HBO broadcast of
Janet Jackson's concert from Hawaii
, I thought "I want her ABS!" but in order to get that body of hers would mean actually working for it. I didn't want to do the usual types of workouts or even diet. A few days passed and while watching television I happened across a commercial that featured a series of workout tapes that caught my attention. These tapes instructed and demonstrated by
Neena & Veena Bidasha
, also known as "The Belly Twins", would prove to transform me mentally, emotionally & physically.
The videos in their series includes the following:
* Basic Moves
* Arms & Abs
* Hips, Buns & Thighs
* Fat Burning
* Slim Down
Basic Moves
This was the first tape I started with & did exclusively for about 4 weeks
before I got the other tapes. Low-impact and very easy to follow, this tape incorporates many basic moves used in Belly Dancing including, hip slides & twists, arm movements and isolations. While doing this tape, you can't help but feel good...feminine and graceful. While this won't have you panting heavy, sweaty or gasping for air, it is DEFINATLY a good tape that will help to tone your body and give you energy.
Arms & Abs
Now THIS is the one I was looking forward to doing (remember my desire for Janet's ABS?).
If you were to just sit & watch it through the first viewing, you will think, "Oh, this is easy...no sweat...piece of cake!". Wrong! Think again. You will DEFINALTLY feel the burn and toning in our arms and ABS with this tape. Again, using Belly Dancing moves to execute these exercises, I did this tape for only about a week before I started to noticed those muscle lines forming on my tummy. This tape also helps give you "pretty arms"...perfect for if you like to wear sleeveless dresses/tops, tank tops and/or spaghetti straps. This tape won't leave you out of breath but it is an amazing workout for these trouble spots for alot of women.
Hips, Buns & Thighs
For those who are living the "A moment on the lips, a lifetime on the hips...." phrase, fear no more. I had a BLAST with this tape. Shaking hips, squeezing cheeks and burning thighs should be the mantra for this workout. I especially love doing the "shimmies" and "hip bumps". As with the other videos, you will see and feel a difference in no time.
Fat Burning
Maybe I was spoiled by the laid-back yet effective workouts on the previous tapes to see this one coming. This tape hit me like a Mack Truck! As with all the videos, I gave this one an initially once through viewing and figured "No problem!". Neena & Veena make this one look easy but this is definitely an
energized cardio workout like no other. This is not what I'd call low-impact. There is alot of jumping, twisting and all over body moving. I'm still not able to do this one completely through as Neena & Veena do (I do however do a lower impact version and keep in step & time with them). I'd say that if you have troubles with your knees or ankles that you do this tape with caution. It is a great work out but right now, I'm a little intimidated by it and have to work on upping my cardio tolerance before I give this one a try again. For the brave, be prepared to sweat, sweat & sweat some more.
Slim Down
Now this one I love, too. This is their newest cardio (produced in 2001 vs. the previously above mentioned tapes were produced in 1999). This one I am able to do completely through. There is alot less stress on the knees, very little jumping but in this one your calves get a MAJOR workout as does the rest of your body. I'd consider this a hyped up version of the
Basic Moves
or a simple combo of all the videos (minus the
Fat Burning
of course) set to a higher tempo. I really feel good after this one. You can work up a sweat and feel the toning and burning but it is completely tolerable during and after the workout.
~~~~~~~~~~~~~~~~~~~~~~~~~~~~~~~~~~~~~~~~~~
What I just absolutely loved about the series wasn't just the actual workouts and toning exercises but the mood of the tapes. The sets are beautifully decorated, the music is entrancing and the exotic beauty of Neena & Veena is spellbinding. As an added treat, each video (except the newer
Slim Down
) ends with a full costume solo performance of Neena or Veena which will leave you saying "When I grow up, I wanna be just like HER!". While the videos don't claim to be able to turn you magically into a Belly dancer just by doing the tapes, they DO provide you with some of the moves required to execute this beautiful dance correctly. Doing these videos might even spark an interest to actually take classes! Hey...why not, right?
Produced by
Natural Journeys
and also available on DVD, I HIGHLY recommend this series to anyone interested in a different form of fitness and especially if you want to learn more about your body. These tapes have provided me with more confidence, a heightened awareness of my inner & outer self and in touch with my feminine side and the beauty of the female body.
You Should Also Read:
The Belly Dance Book: Rediscovering the Oldest Dance, Edited by Tazz Richards – A book review


Related Articles
Editor's Picks Articles
Top Ten Articles
Previous Features
Site Map





Content copyright © 2022 by Asmina. All rights reserved.
This content was written by Asmina. If you wish to use this content in any manner, you need written permission. Contact Ronnette Ramirez for details.