Guest Author - Marjorie Colletta
Knitting is basically made up of two stitches; the knit stitch and the purl stitch. How these two stitches are combined, how many stitches you make and what kind of material you use to make them makes-up the total knitted fabric. Learning to purl is generally accomplished after you learn to cast on and are comfortable with the knit stitch, but it isnít any harder than the knit stitch. A swatch of knitting that has one knit row and one purl row alternating creates the smooth fabric we generally associate with a simple knitted garment, alternating rows of knit and purl stitches create a fabric called stockinette in the United States and Stocking Stitch in the United Kingdom as shown in figure 1.a or the purl side of the work and 1.b or the knit side of the work.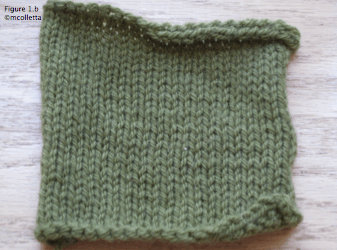 To make a purl stitch bring the yarn to the front, see figure 2, of the work and insert the right needle into the first stitch on the left needle from back to the front as shown in figure 3.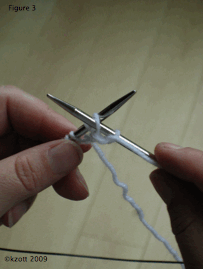 Then wrap the yarn around the needle from the back to the front as shown in figure 4.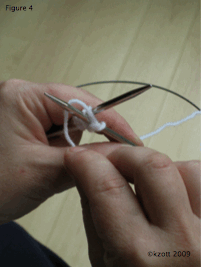 Finally pull yarn through the stitch and leave the resulting loop on the right hand needle and slide the loop off of the left hand needle as seen in figure 5.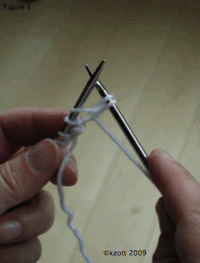 To get used to this stitch practice on as many rows as necessary to get comfortable with the technique. Once you are comfortable you can try alternating knit stitches and purl stitches within a row to get a fabric that draws together and is called ribbing seen in figure 6. Just remember to move your yarn from the front of the needles when purling to the back of the needles when knitting.