Celtic Spirituality and Ireland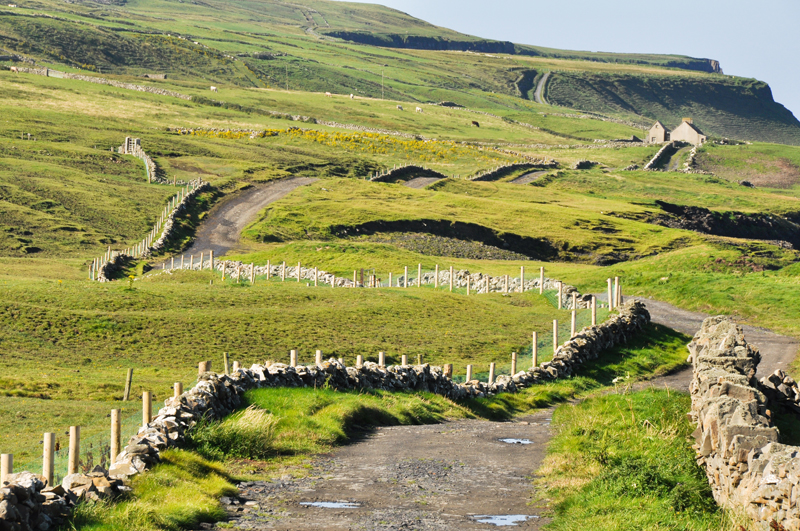 Ireland, having been known as a religious country and the Republic as a virtual theocracy, has undergone a huge shift in spiritual consciousness in the past decades. The clerical abuse scandals revealed in the past twenty years, the discussion of the Magdalene Laundries and industrial schools, have loosened the unquestioning allegiance of many congregants. As one friend says, "it chills you" to know the priest imprisoned for child abuse is front and centre in each of your children's First Communion pictures. This is a far cry from the early Christian era in Ireland when a Celtic spiritual sensibility infused and promoted the new faith on the island of Ireland.

The Christianity on the fringes of Western Europe was different from the top down authoritarian Roman model. Firstly, the ancient Irish Brehon laws preserved women's rights in a way that many 21st women would envy. Women abbots, like St. Brigit of Kildare, had bishop status. Male and female religious were free to marry and have families. The Christianity of the Celtic world retained much of the pagan past, adapting and therefore avoiding 'red' martyrdom, or losing one's life for one's faith. The conversion of Ireland to Christianity was relatively peaceful and bloodless. With the Synod at Whitby in 684 AD, the adaptable form of Christianity, with women priests and married clergy, was superseded by the Roman model of top down obedience to (Rome based) papal authority.

Not that Ireland ever completely lost the old ways. Last spring I was guiding some young visitors. We visited my local holy well, with the rag offerings at the sacred spring, known as clooties. Then we visited the ruins of Creevylea Abbey. There was a priest's grave littered with metal spoons, knives and forks. This parish priest was thought particularly holy and the clay from his grave considered a 'cure' for illness. The spoons adorning his grave were used to get and return the curative clay. These young English Catholics just shook their heads in amazement. If this was Catholicism, it certainly was very different from the type they were reared in!

The late John O'Donohue did much to revive the ancient spirituality of Ireland in what is now often referred to as 'Celtic spirituality.' In his ground breaking book "Anamcara: Spiritual Wisdom from the Celtic World," he revived ancestral spiritual practices. What distinguishes Celtic Spirituality is its reverence and intimate relationship with nature, which is a throwback to the pagan past. In terms of its Christianity, it holds that offering hospitality is virtually sacramental. Lastly, it honours the special relationship of the soul friend, or anamcara; this is not a spiritual director. The relationship is one of equals where you become intimates in those things which are eternal and written in the heart. Celtic Spirituality, whether in a Christian or other terms, is rooted in love of the earth, love of one's neighbour, and love of oneself through the reflection of deep soul friendship.

John O'Donohue became a bestseller in Ireland and globally. It was a message that went to the heart of many a souls' searching. In his subsequent books, all looking at aspects of living out this spirituality, he strayed from Rome's canonical jurisdiction. O'Donohue left the priesthood before his premature death. Celtic spirituality places great responsibilities upon an individual in terms of interacting with the world, but it also reinforces that individual's independence of external authority.

If you are interested in the turns that Celtic Spirituality are taking in contemporary Ireland, you could far worse then consider a collection of essays edited by the late Patricia Monaghan in "Irish Spirit." "At a time when religion has been de-centred from the lives of Irish people, both individually and as a collective, the world looks to Ireland to save, if not civilisation, at least civilisation's spiritual component." Certainly, this is borne out by the tourists who flock to our neolithic graves that are older than the Pyramids. In the essays included in the book, Irish writers, as well as those who are part of the global Irish diaspora, write about how the land, history, legend and contemporary challenges interact with ideas held sacred over millennia in a culture that has evolved and keeps evolving.

While it can be debated whether Celtic Spirituality will save the soul of our civilisation, what can be affirmed is that the spiritual consciousness that is embedded in the land herself, continues to call. The many tourists travelling to Ireland, when they are not in hot pursuit of a pint and the craic, pause and hear those ancient echoes. Some shudder and turn away. But others are embraced in that divine like silence and face forward to answer its call.

I purchased "Irish Spirit" when browsing in a bookshop many years ago; later I met the editor of the book that had a profound personal effect. "Anamcara" was purchased by my partner and borrowed from his bookcase. They are both treasured and we refer to time and again.

You can get your own copies here:








Related Articles
Editor's Picks Articles
Top Ten Articles
Previous Features
Site Map





Content copyright © 2022 by Bee Smith. All rights reserved.
This content was written by Bee Smith. If you wish to use this content in any manner, you need written permission. Contact Bee Smith for details.