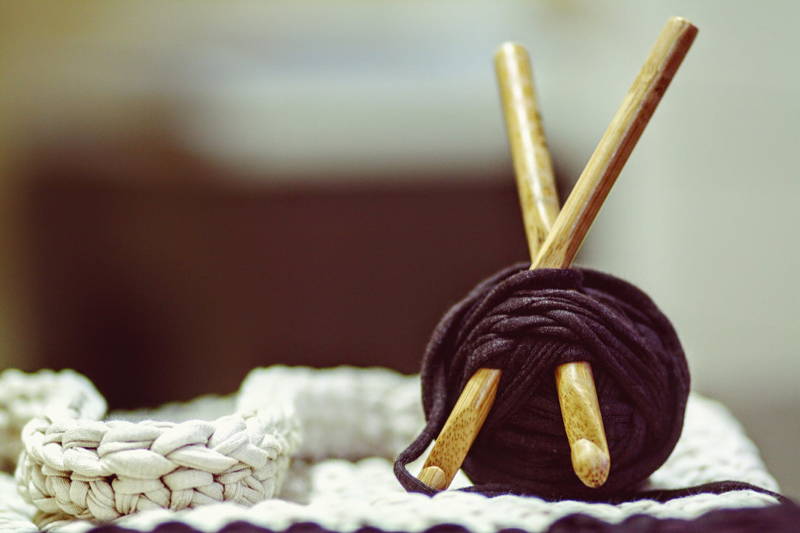 August of 2017 was marked by the "American Eclipse," the solar eclipse whose path of totality crossed the United States during daylight hours. I wanted to make sure my family had the chance to view this incredible event, and since we have family in Oregon, it was an easy decision to make the 18-hour drive down.

We spent a few days enjoying the beaches and the beautiful Oregon scenery, and the day of the eclipse was spent with a picnic brunch in a field with a few pairs of eclipse glasses being passed around.

But of course, the yarnophile in me had to carve out some time to check out some of the incredible local yarn stores in the Portland area! My favorite was Northwest Yarns, which was stocked floor-to-ceiling with luxury yarns from Madeline Tosh and several local Oregon growers and dyers. There was even a small section of locally-grown roving for spinning!

The front section of the store was set up with comfy chairs, occupied by ladies all knitting and chatting together. One of the ladies working in the shop was winding a skein into a ball for a customer when I came in, and there were toys available for my little one to play with while I shopped.

I have to say, I love the feeling of welcome that you get when you walk into a small shop like that! It's like the yarn is just waiting for you to take it home, and the atmosphere is filled with creativity!

One thing I really appreciated about Northwest Yarns was that, true to their name, they focused primarily on yarns produced in the Pacific Northwest. It's lovely to have a place where knitters and crocheters can find locally-made yarns "in real life," rather than having to shop exclusively online.

It also helps that Northwest Yarns is tucked away in a quiet little neighborhood in the Multnomah area of Portland, where there is lovely coffee, food, a handmade boutique, and even a toy store, all within walking distance. We spent the better part of a morning walking through the quiet little neighborhood, exploring and sipping our coffee.

So, if you're planning a trip, make sure to include a stop or two at the local yarn shops! You might find a hidden gem!






Related Articles
Editor's Picks Articles
Top Ten Articles
Previous Features
Site Map





Content copyright © 2023 by Holly Messenger Aamot. All rights reserved.
This content was written by Holly Messenger Aamot. If you wish to use this content in any manner, you need written permission. Contact Holly Messenger Aamot for details.