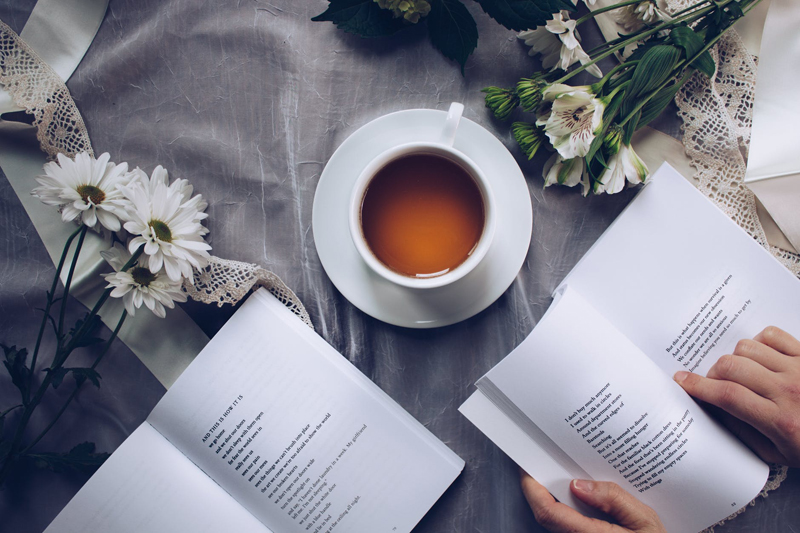 One of the greatest holidays for writing poetry, Thanksgiving gives us the opportunity to write about all the good things in our lives. Such a poem stands as a positive testament to the year, and to our lives, which we can read with warmth and fond memories. It can also be a fun activity to do with kids. Here are some ways to make your Thanksgiving a poetical one.

Write An Acrostic Poem
Thanksgiving seems to be the holiday of the acrostic poem. In case you didn't know, an acrostic is a poem in which the first letters of each line spell out a word. For example, off the top of my head:

Tall beside my house they stand,
Red leaves replace green
Every year in autumn,
Eagerly I await the spring.

The first letters are T, R, E, E, which spells out the poem's subject. The same can be done for this holiday. Write some Thanksgiving words vertically down the page, then give them to the kids to finish. Some suggestions include: Thanksgiving, turkey, pumpkin, autumn, family, holiday. Bonus points if they can make it rhyme!

List What You're Thankful For
Poetry is a great way to let your feelings out. As Thanksgiving is a time of gathering with friends and family, writing a poem allows these feelings to be expressed in a beautiful and sentimental way. You can start the kids out with a sentence, for example, "This year I am thankful for . . .?and have each one write their own poem. These can then be read at the dinner table as a fun family activity. Alternately, you can write the beginning sentence at the top of the page, then pass it around, while each person writes one or two lines on what they are grateful for. This will also make for enjoyable reading, and serves as a pleasant all-inclusive activity for the entire family. What's more, these poems can be saved and re-read at gatherings in the future, and can serve as pleasant reminders of good times, and a sort of ongoing dialogue with the family past.

Describe the Scene
Rich sights, sounds, smells, and tastes infuse the Thanksgiving holiday like none other. Write a descriptive poem about the hustle and bustle of everything around you. Remember, don't only describe the physical sensations, but link them to emotional ones. Write about how the taste of a particular recipe reminds you of the loved one who always makes it, or how certain smells invoke memories of past activities and family traditions. For kids, write down all five senses (Sight, Smell, Taste, Hearing and Touch) and have them write one or two lines for each, describing Thanksgiving. Kids will often surprise you with their creativity.

Write About the Food!
What would Thanksgiving be without the delicious feast? Food is an inextricable part of Thanksgiving, and should not be overlooked, even in poetry. List all the dishes on your table- see if you can make them rhyme! Tweak a recipe and turn it into a poem. Ask the kids to write a poem about their favorite dish, from the dish's perspective (for example: the yams about to be steamed, the baked pie cooling on the rack). This is also a fun chance for a shape poem, in which the poem takes the shape of its subject. Kids will love the creative mix of drawing and writing the poem.



Related Articles
Editor's Picks Articles
Top Ten Articles
Previous Features
Site Map





Content copyright © 2022 by Jessica Smith. All rights reserved.
This content was written by Jessica Smith. If you wish to use this content in any manner, you need written permission. Contact Karena Andrusyshyn for details.