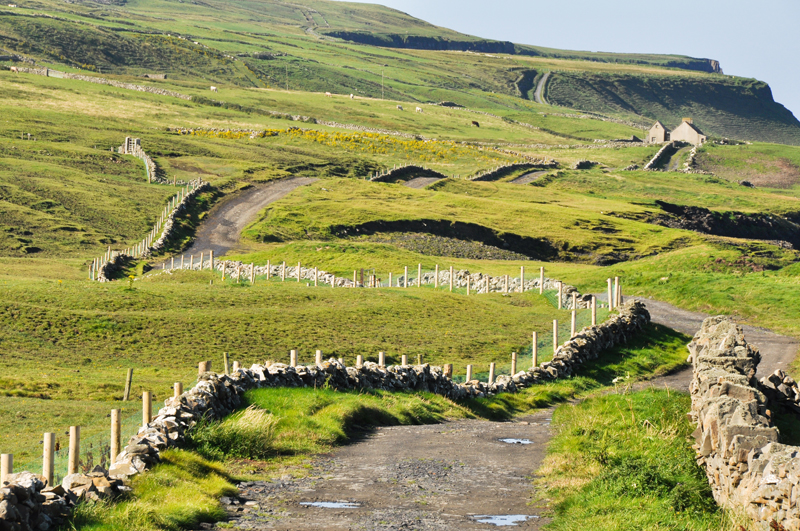 Everyone is in awe of the great passage tomb at Newgrange, also known as Brú na Bóinne. These giant stone tombs are known as megaliths from the two Greek words meaning large rock. These tombs from the late Stone Age began by taking huge glacial eratics left by the Ice Age, and fashioning them into a reverent space to memorialize departed loved ones and heroes. These tombs and standing stones appeared in Ireland in the Neolithic Age, around 4,000 years before the birth of Christ. Newgrange has stood longer than the Egyptian pyramids.

While the awesome outline of Newgrange may be the most famous Irish megalithic tomb, there are many different kinds. In this sense, you might say that fashions in memorial changed over time. There are passage tombs, with Carrowmore in Sligo and Newgrange in Meath, being the best known examples. These had upright stone slabs that can be in a circle, square or even in a cross shape with a corbelled stone roof; the roof is then earthed over. The burial chamber is accessed by a long, narrow passage, giving the megalith its descriptive name. These tombs also had astronomic significance. We know that at Newgrange the sunrise at winter solstice pierces the dark inner chamber. Alignments with stars at the solstices, equinoxes and cross-quarter days are common to many megalithic tombs and stone circles.

By far the most common megalith in Ireland is the portal tomb, frequently termed dolmens. These are tombs made from two to four upright glacial eratics with a flat capstone to roof the tomb. These may have held cremated remains or may also have been used for rituals.

Court tombs or gallery tombs were a later innovation. These had many chambers to then enclose an oval shaped 'court'; the court tomb at Creevykeel in County Sligo is one of the best preserved examples in Ireland.
Wedge tombs are the 'newest' megalithic grave type, being Bronze Age. These occurred from 2,500-2,000 BCE. They are galleried graves with curb stones that would be capped with a cairn, or a pile of flat stones. Many wedge tombs are referred to as Giant's Graves and are principally found in the northern and north-western part of Ireland.

There are a few other examples of megalithic monument. The oldest is probably what geologists call modified glacial eratics. There is a great example of this on the Cavan Burren known as the Boulder Grave. It is a huge stone that has been wedged and propped on one side to raise it up and balance it. It is has a natural alignment with summer solstice sunrise. Rock art, the stone carving art work of our early ancestors is found nearby.

There are also cairns, the pile of stones on a mountaintop. Knocknarea in Sligo is known as Queen Maeve's Grave, although the cairn, dating from perhaps as early as 5,000 BCE, predates the mythic tale of the Connaught Queen who instigated the famous cattle raid of Cooley. In Fermanagh, there is a cairn atop Knockninny. Nearby, straddling the Cavan/Fermanagh boundary is a cairn topping Cuilcagh Mountain.

Lastly, there are the standing stones. These megaliths are not graves but are large upright stones of ritual significance. Early examples may have ogham symbols carved on them. This 'tree' alphabet is the earliest written language in Ireland; it is not dissimilar from the cuneiform writing on the pyramids. Some of these standing stones have become carved into Christian High Crosses. They are not cross shaped but have had Bible scenes carved on them. There is a good example at Drumcliffe in Sligo close by the churchyard where W. B. Yeats is buried. There is also high cross with Adam and Eve depicted on it in Boho Roman Catholic churchyard in Fermanagh.

There are circles of these upright standing stones in Ireland, although not as grand as Stonehenge. My favorite is the stone circle near Castletownbeare, Co. Cork. They also have astronomical alignments and probably had some religious or ritual significance.

Most regions in Ireland have some examples of megalith. No trip to Ireland is complete without visiting these huge rocks that have so much mysterious, soulful energy.



Related Articles
Editor's Picks Articles
Top Ten Articles
Previous Features
Site Map





Content copyright © 2022 by Bee Smith. All rights reserved.
This content was written by Bee Smith. If you wish to use this content in any manner, you need written permission. Contact Bee Smith for details.